The Mojolation Album Cover Story
By Ralph De Palma
I've told this story many times but maybe you haven't heard it yet. Legendary Key West bluesman Bill Blue had been working on his first new album release in over 20 years. Bill was really excited about the new album. It was a mixture of original music that Bill had put together over the years and newer original songs. Everyone wanted to work on Bill's new album and he selected many of the best musicians in Key West.
One particular song Bill had written decades ago "Sing Like Thunder" when they recorded the track the great drummer Richard Crooks who had worked on albums for Bob Dylan and many others "had a few ideas" he wanted to try.  Bill had the greatest respect for Richard but had been performing this song since he was about 20 years old. When they tried the new changes Bill was surprised by the new sound. He loved it.
The music was coming together and now he wanted to get the CD cover photography planned and organized. He approached me almost a year before we finally started shooting and we discussed in detail the theme of the album, the new music, and how to capture the best photo for the album cover.
After one of Bill Blue's famous "Soundchecks" at the Green Parrot, Bill suggested we shoot in the Key West Graveyard for his new Blues CD on a gray overcast day if possible. He asked me to locate all the statuary of angels in the graveyard. We planned the shoot for months. I wanted to get the best cover photo for my friend and I surveyed the entire graveyard over several weeks locating all the angels.
One weekend in August of 2013 it was time to shoot. I picked Bill up at Garrison Bight in a slight rain. We held off and had breakfast at Harpoon Harry's waiting for the weather to cooperate. We joked about the wisdom of two older people like ourselves spending too much time in the Key West Graveyard.
Bill's not the superstitious type but he was very concerned not to desecrate any graves. We had very little contact with anything and were very careful where we walked and set equipment. One of the nicer angel statues had some faded plastic flowers tucked in one arm. Bill would not let me remove them and they pretty much ruined the shots. As I organized the different poses Bill was careful not to touch or lean on the graves. It was one of the more prickly photo shoots I've ever been on.
I shot over 150 photos of Bill standing next to several angels, sitting near an angel, playing a guitar in front of an angel, wearing a hat and mirror finish sunglasses, holding two different guitars every way imaginable. At the end, neither of us felt that any of the photos would be a usable CD cover.
We went to the East Martello Towers the ancient fortress that guarded Key West. We photographed another dozen different poses from about 50 angles. The old fortress was pretty cool but nothing seemed to stand out and Bill said "I'm getting tired of looking at pictures of me."
We were both getting a little frustrated and took a few moments to talk while driving through town. Bill started telling me the story about a house he once owned on Whitehead Street and how much he loved that place. It was close and Bill suggested to take a look at it. It's a really nice smaller cigarmakers house on the south end of Whitehead Street.
For some reason, I have no explanation, we continued down Whitehead discussing ideas for the cover. It was about 10 am and we were both a little unhappy that we hadn't got anything to consider a cover photo yet. As we passed Bill's favorite venue, the Green Parrot, on the Whitehead Street side. The doors were open to the back bar showing Key West artist Dave Wegman's caricature painting of the legendary Delta Blues singer Robert Johnson. The idea hit us both at the same time – perfect.
Bill called Managing Partner, John Vagnoni for permission and I circled the block and found a parking spot on Southard Street almost in front of the Green Parrot. As we unloaded equipment and walked through the famous venue that Bill had played so many times in his career, we both felt this should have been the obvious place to get his album cover photo.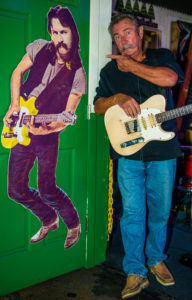 This was home. This was hallowed ground where Bill Blue and the Nervous Guys have performed for three decades to thousands of fans. There was a full-sized likeness on the wall of a thirty something Bill Blue playing guitar. We both felt a great vibe as we walked through the quiet emptiness.  It was as if you could hear the rowdy crowds that Bill Blue had drawn to the Parrot.
The light was getting better on that side of the building. We took our time setting up with all the confidence in the world. It was like we both knew what the photos were going to look like before they were even taken.
The back bar has a set of double doors that were painted by a local artist David Wegman that open to an expansive deck. One door is painted with caricature of a sorrowful Robert Johnson the legendary Mississippi Delta Blues singer, who tragically died at the age of 27, with the tears of the Blues dripping from his guitar. Bill had always been a Robert Johnson fan. The Green Parrot hosts an annual tribute to Robert Johnson on his birthday May 8th.
With renewed vigor Bill and I were ready to go and even more eager to try a few different things at this location. Bill needed a photo with a darker space to place the many credits for the production of Mojolation. The space between the two doors was perfect. I setup and shot the door underexposing the interior of the back bar in between and we had our dark space framing the credits
We tried a few shots of Bill leaning casually on the door frame it seemed a little pedestrian. I tried a pose with Bill sitting with and without guitar nice but not quite what Bill had in mind. We had already tried three locations, and hundreds of poses. After about a dozen poses from a dozen angles Bill was getting physically tired. He sat down on a step to rest a moment near the Robert Johnson door.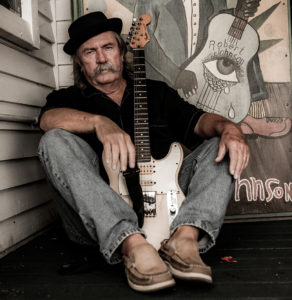 He wasn't even posing and all of a sudden it looked very special. The grittiness of the frame included the tears of the Blues from Robert Johnson's guitar in the background. It was perfect! The image of this tired old Key West Blues legend posing in front of his inspiration helped capture the meaning and purpose of his music. Almost instantly we had what we both thought was the cover of Mojolation.
I quickly shot about a dozen frames with guitar, with and without hat, this was working. The only problem we had now was choosing which one would be best for the cover. We knew we had what we needed. Ironically the CD cover would come from the music venue that Bill Blue had loved all these years.
Just to make sure, we came back a few days later and tried the same photography with different wardrobe and light. It didn't make any difference. The photos from the first session were selected for the final version of the Mojolation CD cover.
Many thanks to artist Dave Wegman for being so creative, thanks also to John Vagnoni for letting us use the Green Parrot, and to the great Robert Johnson for his musical inspirations.
Make sure you get a copy of Mojolation it's not only a great CD cover that I am immensely proud of, but it's an album of fantastic original music by a legendary Key West Blues man.
Photos and Bio of the Key West legend Bill Blue and 45 others are available in the "Soul of Key West, Volume I" order your copy now.
8 Comments