You don't make a photograph just with a camera. You bring to the act of photography all the pictures you have seen, the books you have read, the music you have heard, the people you have loved.        Ansel Adams (1902-1984)
This page will display photos of Key West musical artists and music events. The photos will change from time to time so check this page often.
I have a huge library of Key West Music photos. If you have a favorite performer that you would like to see displayed send a request at the bottom of the page – "Contacts".
Check out photos and stories at our Blog Posts
Also please like our Facebook "Soul of Key West" Page – HERE
__________________________________________________________________________________________________________
__________________________________________________________________________________________________________
Barry Cuda, Mick Kilgos, Dave Langan posed underneath the iconic sign at Blue Heaven, in Bahama Village.
__________________________________________________________________________________________________________
Channing Lynn plays almost every instrument with a special flair. Her music is usually a mixture of Django Gypsy Jazz, a touch of New Orleans standards, and a bit of a French twist thrown in for extra flavor. One set performed this night did not include any song written after WW II. 
---
The Coconut Victrola is one of the hottest bands in Key West. Almost every gig band leader Jerrod Isaman can no longer control himself  and literally jumps for joy. This was at a Higgs Beach Free Concert sponsored by Satuté.
---
The Meeting of the Minds occurs every year a week after the rowdy Fantasy Fest and is a breath of fresh air filled with Trop Rock music fans that sell out the Casa Marina Hotel. It's a five day event that culminates with a Saturday night music extravaganza on the beach front stage with a couple thousand in attendance. Howard Livingston and the Mile Marker 24 Band entertained the crowd of the faithful and brought on the Key West Comparsa dancer to add a little color.
---
While we're on Key West sunsets here is one of my favorites. Standing at the Mel Fisher Museum one October night waiting for a friend I couldn't believe all the colors that came through between the Customs House and Maragritaville Hotel. I have not been able to duplicate anything close to this fall evening.
---
The Key West City has allowed Rams Head to begin limited concerts at the Coffee Butler Amphitheater. The first "Sunset Concert Series" was held October 10th with the Coconut Victrola performing.  The audience was awarded a great night of music and a fantastic sunset to re-open the amphitheater.
---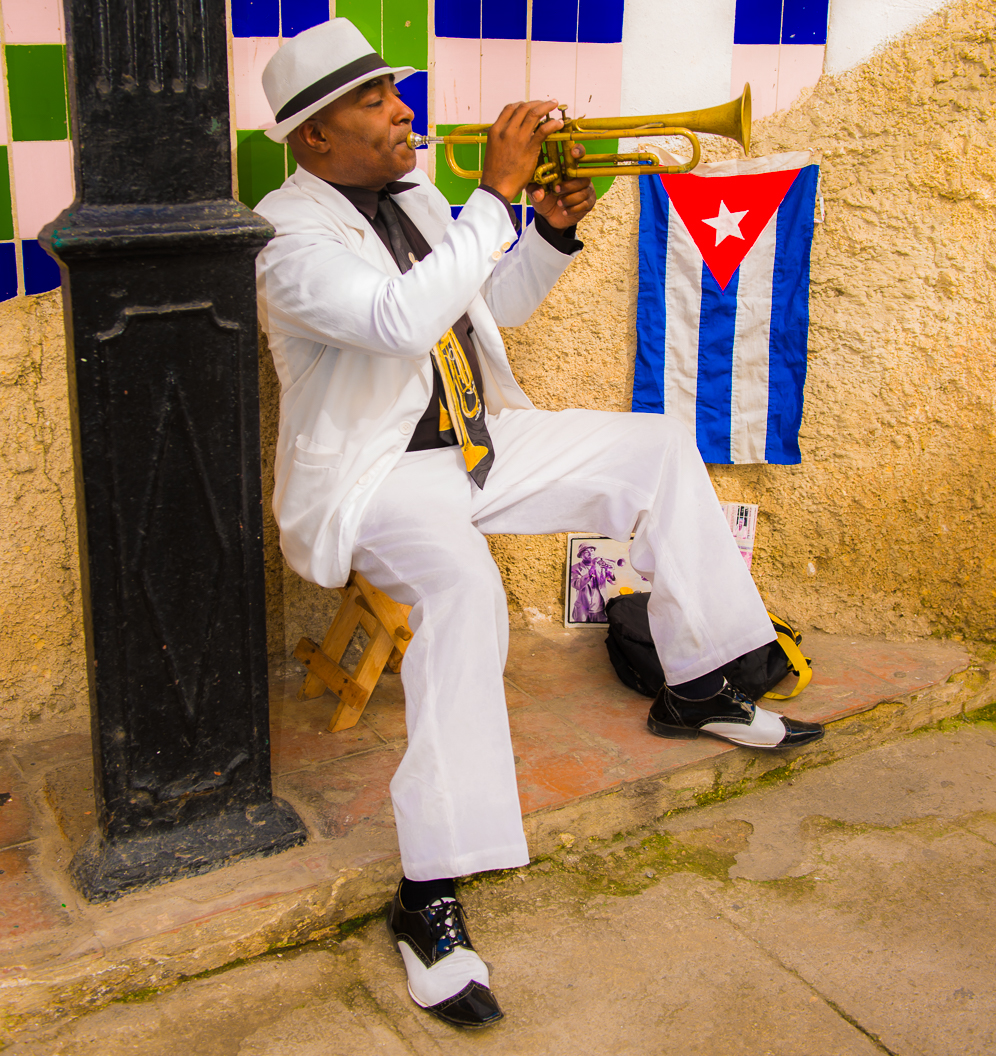 During the December 2016 Havana International Jazz Festival my wife and I walked a street in old Havana and heard this solo Trumpeter playing Christmas songs. He was dressed for success and playing as good as he looked. We listened with a crowd of tourists. I left a tip in his bag and when we began to walk away he blew us a kiss with his trumpet.
---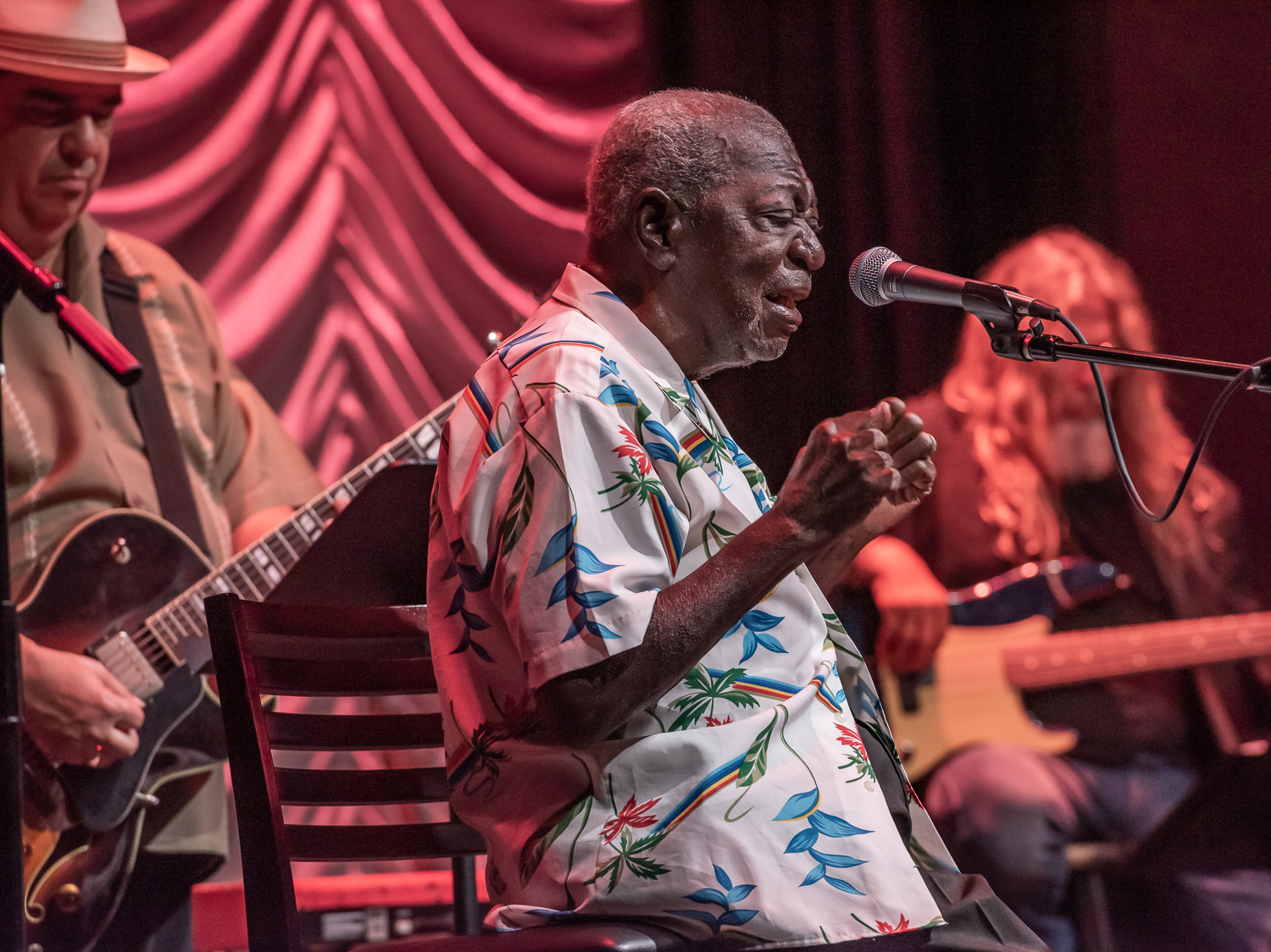 Lofton Ambrose Butler AKA: "Coffee", was born in Key West November 23, 1928. Coffee has entertained Key West for over six decades. Recently the City Commissioners of Key West voted unanimously to name the beautiful new amphitheater at the Truman Waterfront Park the "Coffee Butler Amphitheater".  Coffee Butler and his best friend Cliff Sawyer released a great album of their favorites on his 90th Birthday. He seen above celebrating the release by singing a beautiful blues song written by Ericson Holt called "Moonlight In Memphis."
---
Thursday March 12, 2020 Bill Blue Released his latest album the "King of Crazy Town" Green Parrot Manager Jim Fossum brought out the this beautiful cake for the celebration (donated by Two Friends Cafe).
---
For the past ten years the Green Parrot Bar on Whitehead Street in Key West has celebrated the life of legendary bebop jazz trumpeter, Fats Navarro, who was born and raised in Key West – The Annual Fats Navarro Day Celebration. Also for the past eight or nine years Key West Trumpeter Ken Fradley and I have been trying to capture a moment of "Trumpet Zen" between him and the painting of Fats Navarro hanging near the stage. Attached the latest attempt!
---
At the second Keystock Music Festival May 2, 2015, Howard Livingston and the MM24 Band were warming up the crowd of over 3000, stage manager Glenn Himmaugh pointed something out to me while I was on stage photographing the set. The Music Gods began to smile on us. Beautiful rays of sunlight began to poke through a solid overcast sky as to say to the crowd "this is good."
---