Soul of Key West, Volume II
For Just $20!
…"from the eye of a photographer with the voices of the musicians."
Volume 2 has taken two years to complete and includes a thorough analysis of the Key West music scene that tries to answer the question "How did all this music happen in this tiny island community?" Another 65 wonderful musicians, vocalist, and a dancer were included.
The pages include over 160 photos, a Key West legend or two, two special music scene members, even Jimmy Buffet's most famous "Roadie". The Master of the Mix, JL Jamison, not only makes the trains run on time during tours he is behind every album Jimmy Buffett has recorded since he opened Shrimpboat Sound.
Ther are several tributes and a Memoriam to former Key West musicians that are no longer with us.  The Soul of Key West, Volume 2 is a very comprehensive guide to our world class music scene.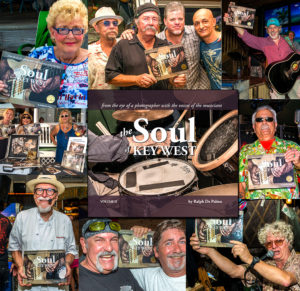 De Palma has lived in Key West since 2001 and was amazed with the unique musicians that play the local bars and venues. De Palma's passion for Key West's vibrant music scene led him to spend countless hours photographing and interviewing 112 musicians for Vol. I and Vol. II. The Soul of Key West, Volume III will include another 42 musicians – available in December 2023.
His vivid photographs capture the rocking spirit of a tiny island filled live music, and his words roll out the stories, struggles, and triumphs of musicians who play in Key West night after night.
In a recent interview De Palma made the following statement,  "I think I'm more excited about Volume II than I was about the release of Volume I.  Everything is a little better.  The design is a little better, editing went much better, my photos are significantly better, even my writing has improved, and most importantly the story is great."
"The Key West music scene is much more than I had imagined.  It seems alive, breathing, growing, maturing, changing.  I am so glad that I started this project."
Select the above "ORDER NOW" button, review "Purchase Details" select continue, use your PayPal Acct or select bottom button "Pay with Credit or Debit Card", complete payments, and you will receive your order in a few days.