Alexander Michael – and his gypsy jazz
Alexander Michael hails from North Minneapolis. His father, Greg, played guitar and started   teaching Alexander music at eight years old, around camp fires and in the kitchen.
When Alexander was 20, he took a month long, 200 miles, confidence building sojourn along the Lake Superior Trail alone. He says the experience helped him gain the confidence needed to strike out on his own.
In 2005, Hurricane Wilma damaged a Minneapolis friend's father's house in Key West, and Alexander was asked to travel to this quirky island and help with repairs. The Key West connection was quickly established.
Alexander's first band was in 2012 with Jerrod Isaman and the Love Lane Gang. He enjoyed entertaining audiences, playing old period music (some songs were over 100 years old) that the Love Lane Gang specialized in.
After spending some time in New Orleans, learning more about the roots of jazz and blues music, Alexander returned to Key West with an increased appreciation of Preservation Hall music. He hooked up with his old friend Jerrod Isaman again. Jerrod introduced him to violinist Martin Sedlak of the Czech Republic. Jerrod likened Martin Sedlak and Alexander Michael to the famous 1930's jazz duo of violinist Stéphano Grappelli and gypsy jazz guitarist Django Reinhardt who had toured pre-WWII Europe as an all string Hot Jazz group.
Reinhardt has been an inspiration of Alexander's musical career. Alexander is in good company as a number of famous musical artists were also inspired by the unique guitar style and music of Django Reinhardt, including Willie Nelson and Jerry Garcia.
After 'jamming' old period music one afternoon on Jerrod's porch with Martin and another musician, they became determined to start a band playing gypsy jazz and roots swing music. The band was large and there weren't many opportunities in Key West for 6-7 piece groups so they split up into smaller groups playing the same style of music.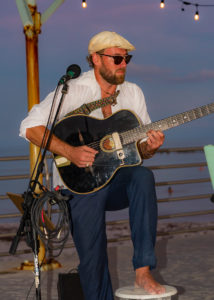 In 2020, Jerrod formed the Coconut Victrola group. During the COVID recovery period, after vaccines started, Coconut Victrola began a much needed open-air gig on Sunday evenings at Higgs Beach Pavilion, behind Salute, which ran January-May 2021. Alexander filled in and got to play with another gypsy jazz aficionado, Channing Lynn and her magical clarinet. The two continue to perform throughout Key West and formed a duo, Jitterbug Jazz, and also a quartet, the Cantina Band, that includes Bubba Lownotes on bass and Martin Sedlak's violin.
About five years ago, Dave Wegman, T-Bone, Richard Hatch, and Alexander started an open mic night, on Thursday nights, at Andy's Cabana with all the professional performers. It has grown exponentially. No format, no signup sheet. The "open mic etiquette" calls for a musician to observe the proper amount of stage time without cramping others performance.
They host everyone and every type of instrument, including bagpipes, washtub bass, full horn sections, and even a puppet show. It makes for a unique Key West experience on the island.
When the world shutdown for Covid on March 17, 2020, Alexander and Seth Kessel had an evening gig scheduled for Blue Heaven. Owner Richard Hatch told them that the bar had to close at 5pm but to 'come down and see what happens'. Hatch filled two coolers with beer and wine from the closed bar and told the remaining patrons the bar was closed but to just tip the band well. Over 100 people attended their 3-hour gig, and it was a nice shutdown bonus for the duo.
Alexander's favorite music experience, to date, was a special gig with a quintet called the Sweet Petronias at the Green Parrot on April 7, 2022. The group included Channing Lynn, Bubba Lownotes, Seth Kessel, and Martin Sedlak.
They rocked the usual Green Parrot audience with Django and Stéphano's music, plus some classic French clarinet tunes, and added a touch of New Orleans Jazz for good measure. They tried all manner of new twists and turns. The musicians were on fire enjoying their new adaptations of 100-year-old music. The amazing part of the gig was to watch so many 30-40-year-olds enjoying and responding to these styles of swing jazz. The dance floor was full.
Alexander will try to venture to the outskirts of Paris this summer to the small town of     Samois- sur-Seine to celebrate his inspiration at the 70th Django Reinhardt Music Festival. I hope Martin (Stephano) can join Alexander (Django) for a duet.
One Comment