Belle Jampol   – Original music comes from the heart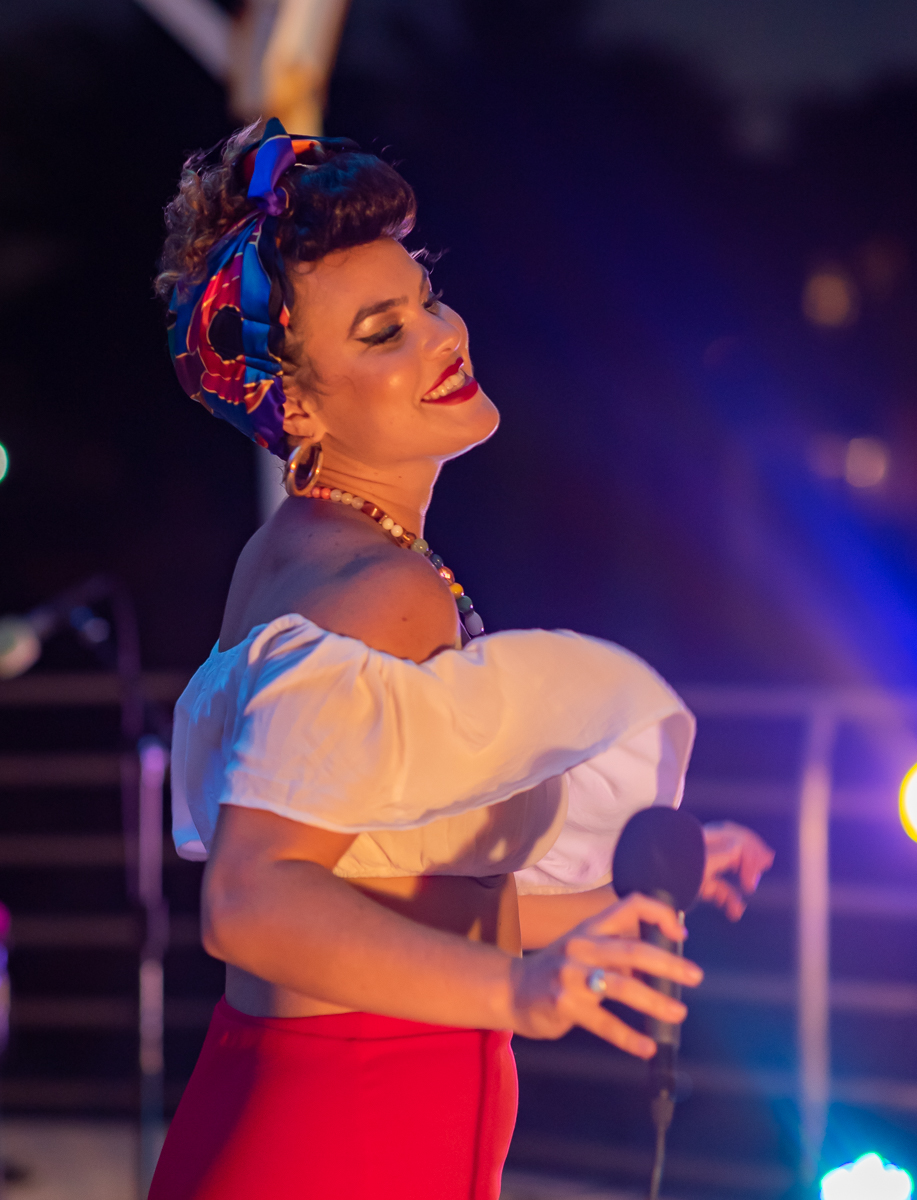 Belle Jampol was born in Key West to multi-talented musical parents, guitarist Mateo Jampol and singer/dancer/choreographer Penny Leto, so she was off to a great start. When asked how early she started learning music, Belle said it was before she was born.  Her mom was one of the singer-dancers in the group, The Fabulous Spectrelles, performing on stage while pregnant with Belle and going into labor shortly after one performance.
The great Franco Richmond was her first piano teacher and later, another great music teacher, Robin Kaplan continued Belle's piano lessons. Long before high school, she began performing with Nora Revelin's Keys Kids productions of musical theater. She was involved in the production of "Guys and Dolls" and later, she got to fly in the production of "Peter Pan". The productions were huge and partnered with the Key West Symphony led by Sabrina Alphonso. Belle gained the beginnings of her vocal skills from musical theater.  She also learned dance skills at her mother's Coffee Mill Dance Studio. Additionally, she sang in choir in high school, rounding out a very thorough musical development background.
Graduating from the University of Florida in 2017, Belle returned to Key West and joined her mother's former group, the Spectrelles, and performed with her godmother, Allison Mayer at La Te Da (drummer Skipper Kripitz is her godfather). While performing with the Spectrelles, she met Jerrod Isaman and started collaborating with him and a new group called Coconut Victrola.  This became a high-energy band covering bygone eras of music which was a perfect fit for Belle's background in musical theater. Many of the theatrical productions she had performed covered music eras that were part of the Coconut Victrola music. It was a great fit for her talents.
Coconut Victrola became a very successful local group. During the COVID era, they performed a much-needed outdoor concert series on Sundays behind Saluté at the Higgs Beach Pavilion during the entire 2021 winter season. Belle especially enjoyed when her mother would join the group on stage and sing with her. She loved her mother's energy and her beautiful voice.
After the winter season, Coconut Victrola went on tour in upstate New York and several other places in the Northeast through the summer months. After returning to Key West, they unexpectedly broke up.
When Belle attended the release of Tony Baltimore's latest album, "Lets All Go Insane", with Jeff Clark, she was overwhelmed. She loves musicians performing their original songs. For Belle, original music comes from the heart. She has been working on some of her own original music. It takes an enormous amount of time and effort to produce an original song.
Key West is so beautiful and inspirational. It's like a family – it's hard to leave. Everyone is down here on vacation and in a good mood. It has a great community of musicians that like to experiment, help each other grow, with very little sense of dread, allowing everyone to enjoy the music for just what it is.
Belle gains strength from her fellow musicians. She is working in the town that raised her, making people smile, performing, singing, dancing – it's like a big dream come true
When the Black Pumas performed recently at the new East Martello Parade Ground they reinforced Belle's love of Soul music. To Belle, Soul music connects with her and puts her more at ease than any other genre.
Belle and good friend, Nina Newton are always performing together and working on new ideas. They are collaborating with Mark King, Evan Valentine, and Aaron Newton, coming up with new ideas to be based on Soul music. The music of Sam Cooke, Otis Redding, Ella Fitzgerald and Etta James will come alive in Belle's new works. They are experimenting and performing together with a new name, "Jam Belle Ayas" (word play on jambalaya). Beginning in May, they will be performing at the Sunset Pier. Belle is currently appearing at the Waterfront Theater in the production of "Something Rotten" and appearing with the Spectrelles from time to time. Stay tuned for much more from this musical phenomena.
There are no comments yet, add one below.