Bill Blue & Caffeine Carl Wagoner –  A sight and sound to behold
by Ralph De Palma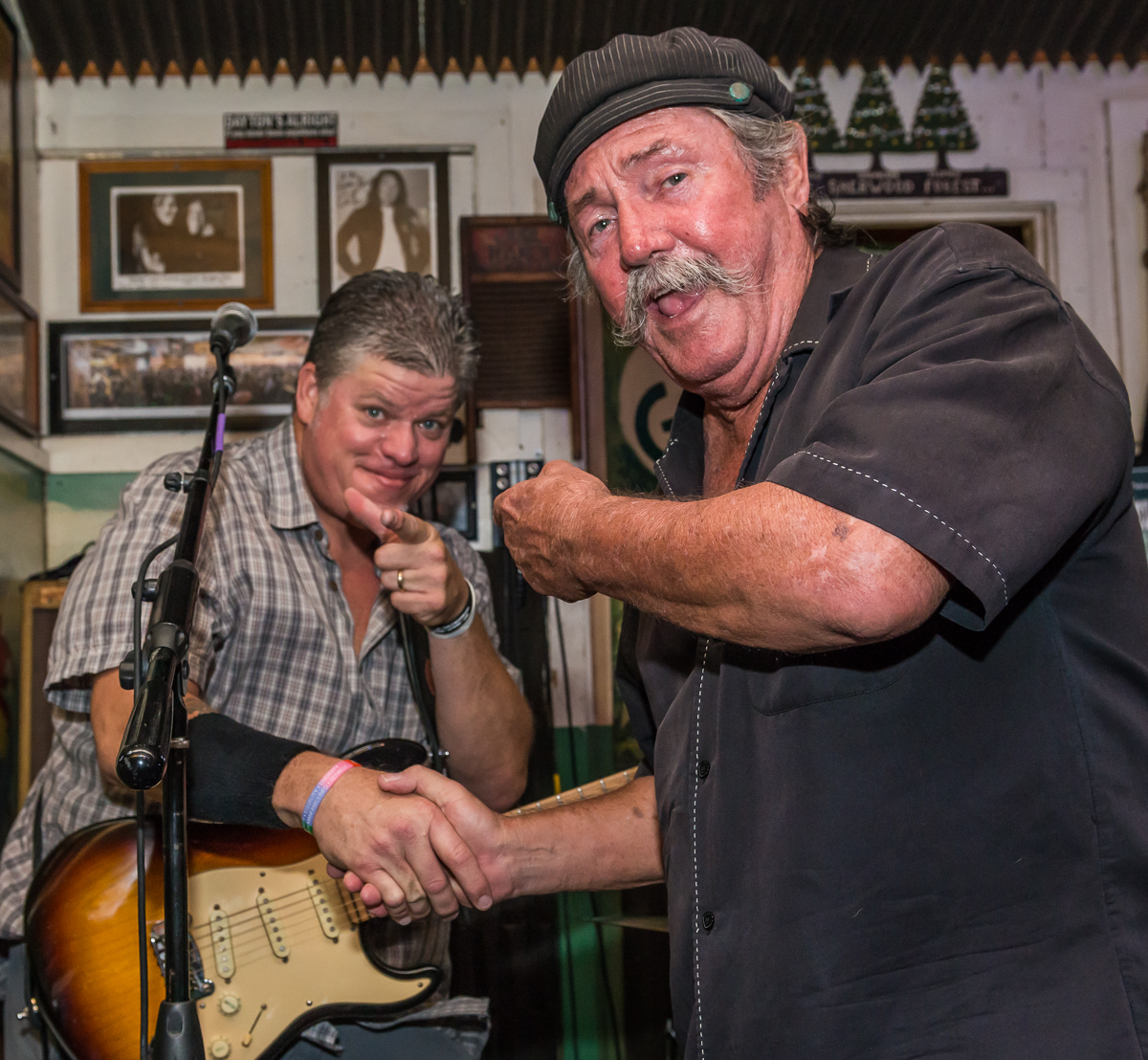 Bill Blue and "Caffeine" Carl Wagoner have been friends and playing music together for over three decades. It started at one of the first Hemingway Days Festivals in 1984 when high school student Carl Wagoner's first band, Bad Oscar, opened for Bill Blue and the Nervous Guys. After these long-haired guys walked on stage, Carl said he was amazed how "Bill Blue played with such conviction." It wasn't until 1990 that Caffeine Carl got to play music with Bill Blue at the Bull & Whistle. They both enjoyed it so much that they kept it going for nearly 30 years of Key West slide guitar, rock n roll music.
Key West probably has more guitar players then bar tenders, but there are none better than Bill Blue and Caffeine Carl Wagoner. It was always special when they were together on stage. Bill is a bit older but they shared music like they were cut from the same cloth.
Gig after gig, I have photographed Bill and Carl, not only 'ripping up' the stage but genuinely playing music to each other. It wouldn't have mattered if there was an audience present at all. These two guitar masters will play their hearts out for the pure joy of playing music together.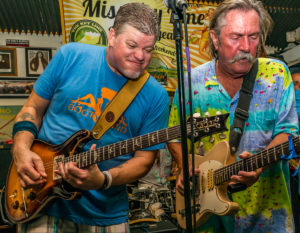 Bill Blue jokes that Carl's mother use to have him baby sit Carl, and while doing so, he taught Carl how to play guitar – not true. Caffeine Carl jokes that Bill is his uncle – another fabrication born out of love. In reality, they are closer than most blood relatives, and the decades of playing music together have formed an unbreakable bond.
For his last decade or so, Bill would play a little less often but one gig that was always special fun was a full band, with horns and the Nervettes backing him up, at the famous Green Parrot sound check. It was only an hour and a half of music starting early at 5:30 pm but Bill Blue made the Parrot rock and gave his fans enough joy to last the rest of the night. The Green Parrot's John Vagnoni said, "Bills sound checks were great simply because he was one of us!"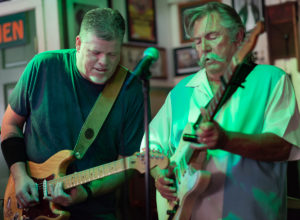 The Green Parrot was hallowed ground for Bill. He was first to play music in 1983 at this most famous venue. He probably performed on the Green Parrot stage hundreds of times to tens of thousands of adoring fans. It's a cathedral of Bill Blue music, a magical holy place.
Early one morning, Bill and I walked into an eerily still and empty Green Parrot to shoot photos for his Mojolation album cover. As Bill casually strolled passed the stage, you could feel a ghostly chill from his thousands of fans in this special place. We had searched all over Key West for a cover shot. When we walked past the stage full of instruments ready for the next gig, we both knew instantly, we would get the photograph we needed.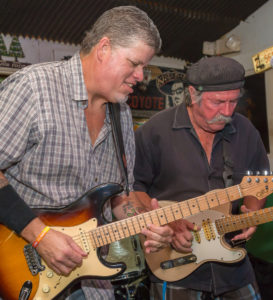 Bill loved the Green Parrot stage and especially his sound check fans. Caffeine Carl would often perform with him at sound check, and they would both let it rip. I remember Carl asking me one evening why Bill hadn't offered him a sound check gig in a while – not sure how long it had been but it seemed very important to Carl. I mentioned it to Bill, and don't remember why the oversight happened, but at the next sound check gig, Carl was on the Green Parrot stage blasting away with his 'Uncle' Bill.
Michael McCloud once said that watching Caffeine Carl and Bill Blue trading licks on stage was like a celestial event when two galaxies collide or two black holes get too close. It's not just two great guitarists performing together, to Bill and Carl, it's all about the way a guitar is supposed to be played.
Carl knows every note of Bill's original music and could play them backwards. Likewise, Bill knows exactly what to do to get every ounce of talent out of Caffeine Carl on stage. Sometimes it just takes a look like, "go, it's your turn". Sometimes, it's the way Bill will shred a slide guitar solo himself, and Carl can't stand it any longer and has to jump in to share the fun. When the two of them get started in the middle of a song and in the middle of the stage together, it's a sight and sound to behold. The audience becomes mesmerized by the display of raw talent.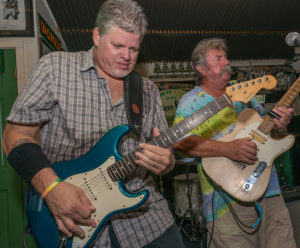 After a sound check gig, I always tried to capture a candid photo of the two of them. Most times, there would be a hug or a huge laugh. In April 2016, after a sound check, Carl was overwhelmed with joy and gave his Uncle Bill a friendly kiss on the cheek. Not only did I capture that moment but a few months later, Uncle Bill returned the kiss to a surprised Caffeine Carl.
After a twenty-year recording hiatus, Bill Blue released a new album titled, Mojolation, on October 13, 2013 at a packed Green Parrot sound check of course, and Carl performed with him. Then Mayor Craig Cates was on hand to present a proclamation from a grateful city to Bluesman Bill Blue Day. Bill was overjoyed surrounded by friends, signing CDs after the gig. There was a brief moment shared with his good friend Caffeine Carl. Carl hugged him a little harder than usual and had tears of joy in his eyes.
6 Comments