Dave Bootle     "Sing, Dance, Laugh"
David Wayne Bootle, the youngest of four brothers, was born just outside of Toronto in Orangeville, Ontario in 1962.  His parents were from England and immigrated to Canada. His father worked at McDonald Douglas Aircraft and was a solo pianist who played in small venues. Bootle started playing drums in high school, and, when he was thirteen, his father invited him to sit in with him. In 1978, sixteen-year-old Dave started playing his own gigs.
Bootle has lived in four different countries: Canada, Australia, Bermuda, and the United States. He was a gymnast and a competitive diver in high school. His first job was doing stunts at a local theme park in Ontario.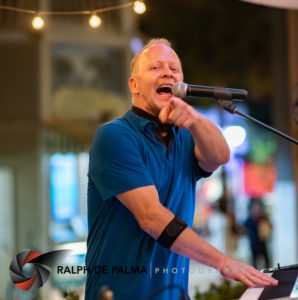 Later, he received a job offer in Australia, along with female stunt artist and Australian citizen Kathy McMorrow, to do stunts at Australia's Wonderland, a theme park outside of Sydney in Parramatta. Bootle worked in Australia from 1984 to 1988.
The show was very successful and he became the director. While at the theme park, Bootle auditioned for the musical show, "Rock Around the Clock" and got the lead role. He was singing and acting in the new show while continuing to direct the stunt show.
In 1990, he left Australia and returned to Canada. While singing in local venues in Toronto, Bootle was invited to Bermuda for a gig at The Cock and Feather, an old English pub with a high-energy music scene. The gig lasted for twenty years.
While in Bermuda, Bootle met Maria, a lovely lady from Allentown, Pennsylvania who was on vacation. They fell in love and were married in 2005. He played another five years in Bermuda and then began looking for another place to live that had fewer restrictions than Bermuda. They searched for a while, until someone suggested Key West. They came to Key West in 2009, after the financial meltdown, and purchased a house. They rented the house out for a year and moved back permanently in 2010.
Bootle saw an ad in the paper for Larry Smith's Sunday Showcase at the Pier House. After a brief rehearsal, Larry introduced Dave during his Sunday Showcase. Half way through the show, Larry turned things over to Bootle. After the show, Larry drove Dave around Key West to eight or ten different live music venues, introducing him to all the owners and suggesting they should hire Dave before someone else did. Dave has always been grateful for Larry Smith's generosity and introduction to Key West.
Bootle got his first gig at Virgilio's, during Fantasy Fest in 2010. It was a huge success and he played there for several years. His next opportunity to perform was at La Te Da which lasted for over four years and was also a huge success.
The current owners, father and son, purchased Mangoes in 2016 and invested in updating the restaurant. They have a great chef and the food is excellent. The owners pursued Dave Bootle while he was performing at La Te Da for two years before finally convincing him to switch venues. For the past six years, Dave has performed four nights a week and recently celebrated his 2000th performance in Key West.
Bootle loves to connect with his audience in a personal way. He says that having someone see the show, which he has been doing for over 46 years, for the first time, and respond positively, is a great experience. He loves to be "discovered". Nothing gives Dave more pleasure than someone's wife thanking him for getting her husband to dance all night. He also loves when younger folks ask him if he knows any 60-year-old Beatles songs. He is a great entertainer. His motto which is on his business card is "Sing, Dance, Laugh."
He also has a large stock of original songs that he performs from time to time, "Australia, Hurry on Home" and "I'm In Trouble", to name a few. Dave hesitates playing his original songs. We all need to encourage him more often.
Bootle is normally a solo performer but loves performing with bands. Performing with the Paradise Big Band in 2019, Dave, dressed in full James Bond looking tuxedo, nailed three Big Band jazz arrangements. He is constantly learning new music to improve his performances.
Dave started stage acting performances at the Waterfront Theater and Red Barn Theater in Key West. He enjoys acting even more than music but every play seemed to cost him $7,000-10,000 in operating budget. "Dancing Lessons" at the Waterfront Theater was his first play. He was also in "The Producers" with Tom Luna, "Rocky Horror Show", and "Pricilla, Queen of the Desert".
Acting was a whole new artistically fulfilling accomplishment for Dave Bootle, the musician, vocalist, stuntman, director, cliff diver, and gymnast.
There are no comments yet, add one below.