Brian Roberts … I always feels joy when leaving for a gig
Brian Roberts is originally from Manahawkin, New Jersey. His parents, Ron and Linda Roberts had a pest control business in New Jersey and owned a winter home on Big Pine Key. During the winter, Brian attended Sugarloaf school and would then return to Manahawkin.
He studied guitar and took lessons from John Bartus, musician and former Mayor of Marathon. He had an unexplained interest in bass guitar and learned to play bass proficiently in middle school and became more skilled at reading music.
He spent his senior year entirely up north, intensely studying music and winning the Louis Armstrong Jazz award at Southern Regional High School, graduating in 1989.
After graduating, his parents offered to send him to Berklee School of Music. Fearing he could never make enough money as a musician to survive, Brian chose to attend the Academy of Culinary Arts. He graduated in 1991, moved to the Keys, and began working in restaurants but continued to play music. Cooking did not provide the fulfilment that he received playing music. There were so many opportunities to play music in the Keys that he began playing more often and soon left the culinary business.
The Big Pine Key location has made it easy to perform from Marathon to Key West. Since 1993, Brian has performed with a band called the Prime Movers, along with Rob Distasi, and others like Ray Spence, and Alphonse Subarsky. They play clubs, weddings, and also a number of big events like the Mayor's Ball (eight or nine times), CFFK's 30th Anniversary, and the Arts Council Annual Membership Meeting.
There have been a number of different players over the years. Often they enlisted other guitarists when the regular guitarist was not available – Chris Burchard and the late George Victory performed regularly. The Prime Movers, with their huge catalog of music, has stayed together for 29 years. They focus their playlist to fit the event audience – one that gets people dancing and enjoying their music and helps make the event a success.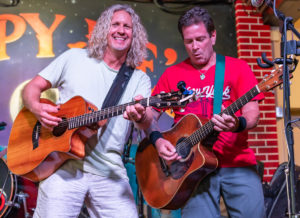 Some couples planning a wedding will ask if they should have a live band or a DJ at their wedding. Brian's response is a wedding is an emotional event, and the glue that makes it special is a live band. It almost never fails that Brian will perform a special song requested in a special way that will cause a bride or groom, or a father or mother to sob with joy.
According to Brian, the music scene has grown to include a huge amount of original music in Key West, especially the past ten years or so. Brian has been writing prolifically and has over 50 original songs. He tries to play one cover followed by an original at his solo gigs. Many of his fans prefer his songs to covers.
The amount of opportunities on this small chain of islands give musicians a chance to make a living doing what they love. Brian never feels anything but joy when leaving the house for a gig.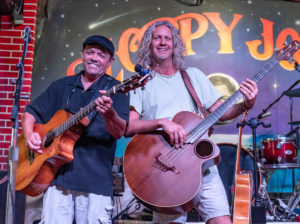 He has two albums of recorded music – At the Time was released in 2004 and Christmas Music was released in 2005.
While playing at Sloppy Joe's one day, the members of the band called Yes walked in. Brian is a huge fan, and he got to meet them. He became friends with their keyboard player, Geoff Downes. Downes got Brian and his wife back stage passes to a Yes concert in Ft. Lauderdale. While signing autographs after the concert, Geoff called out to Brian, in front of a large group, to come over and hang out with the band.
The Tourist Development Council has enlisted Brian to help promote the Keys – he'll debut in the November tourist ads.  They conducted a three-hour video shoot on the upper deck at the Waterfront Brewery, playing music, with a sunset overlooking the harbor, to promote Key West as a world class destination for live music. These ads will appear during the Winter Season on television channels across the nation.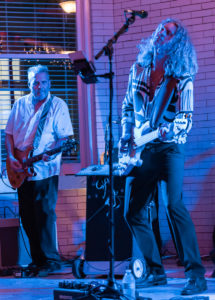 The Hard Rock Café asked Brian if he could play an hour of original music – no problem. A professional team produced a video of Brian upstairs at Hard Rock. It's a joint venture between the Hard Rock organization and Playing for Change, a worldwide non-profit whose philosophy is peace through music.
Almost every Hard Rock Café will feature a local musician performing their original music. The videos will be shown at all Hard Rock Cafés worldwide and also featured on the Playing for Change website – a very cool opportunity for Brian.
For the third time, Brian was nominated for Best Musician in the Bubba Awards. Third time was not the charm, he came in second behind Caffeine Carl but he feels most honored by his nomination.
His wife, Callie Roberts, is Director of Womankind. During Covid lockdown, she suggested Brian go back to school. Brian agreed and enrolled at the Berklee College of Music. He received a certificate for completing three online courses and plans to take more courses.  He built a recording home studio, and one of his Berklee professors gave him the idea to start recording 30 second jingles for commercial use. He works in his studio actively almost every day.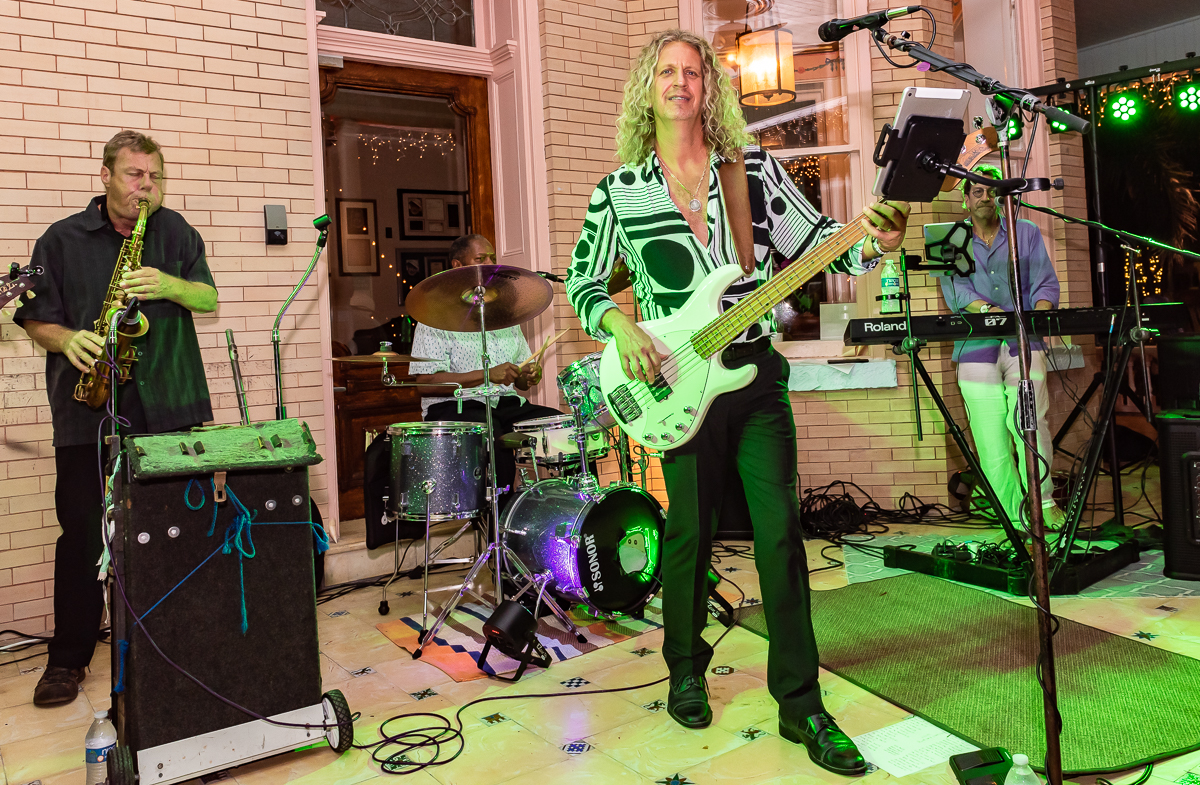 There are no comments yet, add one below.