Channing Lynn Griggs  – the clarinet came to the rescue
Channing Lynn Griggs and identical twin sister, Jillian were born in Pensacola, Florida to U.S. Marine Corp pilot Larry Griggs and Sheryl Lynn, a nurse.  The young couple already had a set of five year-old identical twin boys and  doubled the size of their brood in one shot (quite literally!).  Their father's strict discipline was a blessing and a curse.  It helped pave the way for focused attention on difficult tasks such as learning classical clarinet, or in her sister's case, the flute.  However, combined with the consistent physical domination and belittlement from their older brothers she admits to a deeply diminished sense of self at a young age.  The clarinet came to the rescue.  The clarinet became her confidence.  The musical moments the two young twin girls shared in their youth paved the way for a lifelong and deeply personal relationship with music.
At a young age, the clarinet came to Channing's rescue viewing the Disney production of Sergei Prokofiev's composition of "Peter and the Wolf" where each character is represented by a different instrument. Ivan, the cat, was her favorite. She started playing clarinet at age 10. She attended grades 5-12 in Stafford, Virginia, near the military hub of Quantico Marine Corp Base. She studied classical music, had tutors and private lessons, played in the school bands and the orchestra and competed in all the competitions.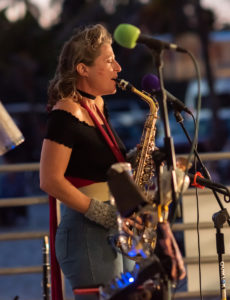 Channing grew up before the internet and Facebook. She would lie in bed at night, listening to the radio. She was inspired one night by the performance of the London Symphony Orchestra with a clarinet solo in Sergei Rachmaninoff's composition "Vocalise". The clarinet became a part of her feeling complete. After graduation, she attended James Madison University and Mary Washington College.
With a couple of friends, Channing first visited Key West in 2001. They stayed a few days and for the first time, she felt really free. She soon returned to Key West by herself at age 23, working on a boat at Peninsular Boat Yard and busking in the evening, playing the clarinet on the Duval to make $20 for dinner. She only knew one song, "You Are My Sunshine".
David Wegman, returning from his eight-year circumnavigation, sailed into the harbor, and everything changed. Channing was intrigued by his unique boat, African Queen IV. They spoke briefly at first, but later, while she was busking, Dave came by and gave her a $5 tip – a big deal when making only $20 a night. He asked her to play at his upcoming art show. Dave always wore a stylish hat and unique clothing. She was intrigued. After the art show he asked her if she wanted to go to Cuba – they sailed away for a month.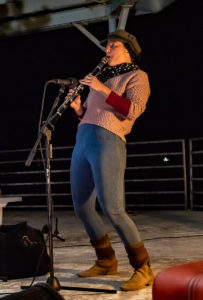 For the next four years, Channing sailed the Caribbean with Wegman in the winter and spent the summers in Maine and the Northeast. Through this association, she made a lot of music connections, learned to play guitar and banjo, learned to sing and improvisation. Later, she connected with Dick Solberg (aka The Sun Mountain Fiddler) and learned to play folk music and be MC on stage.
She returned to Fort Lauderdale, attended Broward Community College, received scholarships to finish her final two years at Florida State University, and in 2017, earned her degree in Music Therapy. Channing's relationship to music was transformed – from a classically trained artist to a music therapist with a different understanding of what she was getting out of the music. She had studied clarinet, guitar, piano, and music theory for almost five years. To Channing, the music therapist channels music.
During her college work she discovered that researchers feel that music most likely developed before language. Archeologists discovered a flute made from a bone that was over 60,000 years old. Some people recovering from serious brain injuries can sing before they can talk. She works with both elderly in facilities and the young with disabilities.
After graduation, Channing wanted to chill out for a while so she started an all-girl band called Sassafras, with her sister. Always the music gypsy, she later moved to Boulder Colorado, working as a music therapist during the week and playing music on the weekends. In 2020, the COVID pandemic stopped everything.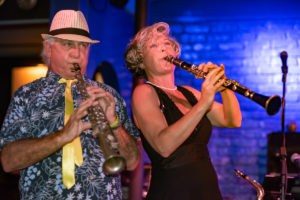 To survive during COVID, Channing moved to Miami with friends. One weekend in 2021, they sailed to Key West, and Channing met Jerrod Isaman. He had just formed the Coconut Victrola band and she was invited to join. Channing moved to Key West, with the promise of three gigs a week. She has been playing with local groups ever since.
Channing is attracted to music of the 1920s – 1940s. To her, the jazz of the 20s is when melody was king; the music is all about the memorable and unique melody. The stories and lyrics of this great jazz is veiled in artistry, innuendo, and melody. Those old jazz songs don't usually require a vocalist to be overpowering or emoting strongly. Who can't whistle the melody of "Sweet Georgia Brown", a song written almost 100 years ago that is simply carried by melody? Louis Armstrong once said, "There are two kinds of music, the good, and the bad. I play the good kind."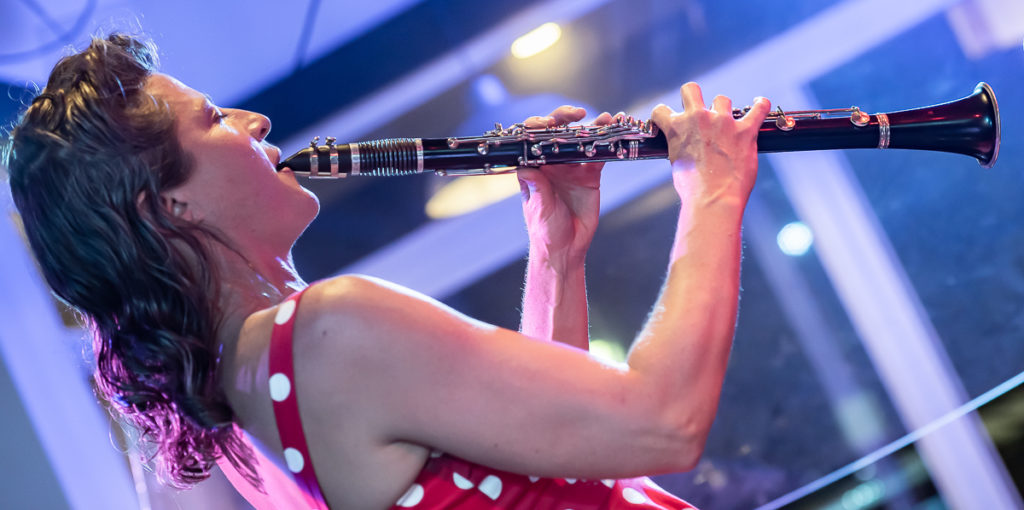 Channing recently formed a new group called the Sweet Petronias, a quintet that specializes in all those melodies. To Channing, Key West is a musician's paradise but don't tell anyone.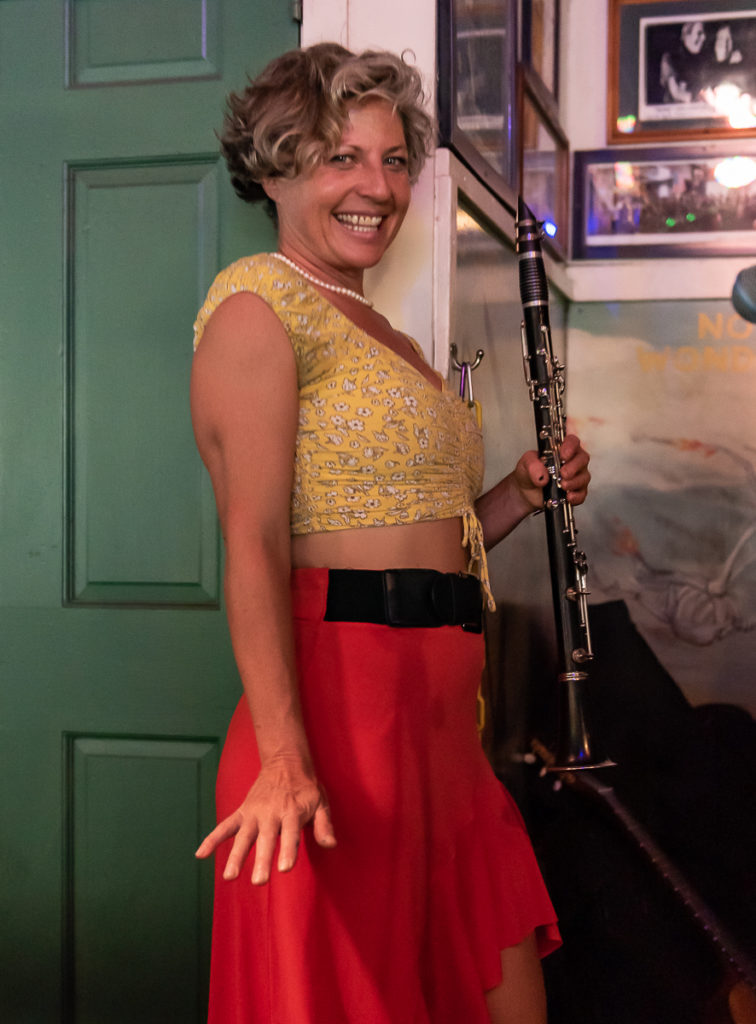 One Comment