Claire Finley: Key West Is A Big Music Sandbox
By Ralph De Palma
Originally from Devenport, Iowa started classical piano lessons at the age of four. A piano teacher, Barb Davis, lived across the street from her Grandmothers who agreed to give a test lesson to young Claire. Claire continued to study piano from Ms. Davis until the age of eighteen.
Claire started playing violin in the fourth Grade, and began playing in the elementary school orchestra. The Middle school Jazz band visited and performed one day and Claire was intrigued by the bass player. By the fifth grade Claire was playing bass in the Middle School Jazz band.
Claire's Mother and father supported every step of the way, every lesson, every rehearsal, outfits for every performance. The musical Director of a Lutheran church group that Claire performed and a Methodist church group suggested a five week summer program at the Berklee School of Music. While at summer camp she qualified for a Berklee World Scholarship program that covered $7,000 of an estimated $170,000 total undergraduate degree. She later qualified for an additional $7000 Berklee World Scholarship, in her second year she qualified for the Wes Waymiller Bass Scholarship. Between all the scholarships and her parents savings she graduated without any loans in 2009 with a undergraduate degree in Electric Bass Performance and Music Business Management.
Claire stayed in the Boston area and played in a wedding band called "Men In Black" until 2014. She substituted for one of her professors with a band called Entrain in Boston were she met Jeff Clark of Key West. Jeff returned to Key West and later called Claire and offered a wedding gig in Key West and the potential for a few other gigs.
When she arrived, Claire was over whelmed by the hard to believe music scene but the clincher was open free vibe of Key West and the late-night bike rides with the smell of different flowers in the air that convinced Claire to make Key West home. Her father would grow plants in their Iowa basement that she would see growing in Key West.
All of Claire's classmates were moving to Los Angeles, Nashville, and New York. None of those places were going to provide Claire with the quality of life that Key West offered. Claire feels the same core issues that will help you achieve success, a positive belief and a good inner compass, will be the same in Key West, New Orleans, Nashville, or anywhere.
Claire gets a number of out of town gigs to work. Key West is always the best place to come home to. She comes back to steady music work on a beautiful tropical island. There is no place like Key West in the world were a musician can work steadily and collaborate with so many other musicians. "I get to go downtown and play music with my friends at the amazing Green Parrot." Key West is like a big music sand box and everyone brings their toys to play with. Good players show up all the time.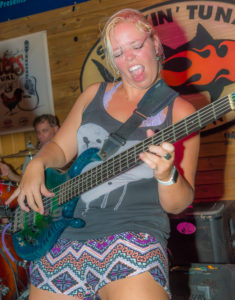 "I probably gained more music skills playing three years in Key West than playing ten Years in Boston. I book my own band, play with other groups, play different styles of music, and live in paradise."
Key West is almost like a drug for visitors. Claire has followers that watch her performances on streaming cameras at various Key West venues long after they have left the island and go back to freezing cold Minnesota or Wisconsin. The Key West culture revolves around live music. It's like a Key West music Reality Show. It's infectious and exciting. Key west does not get stale.
The death of Terry Wetmore was devastating to Claire. He was unlike any person she had every met. He would completely engage you. Terry would find those hidden harmony parts from singing on the boat with Corey.
In a round about way, Claire became best friends with Savannah Jane Buffet and performed at her wedding. A group played the night before that was part of the "Playing For Change Foundation," a non profit setup to promote peace through music around the world. They asked Claire to play with their 13 Piece band. They came to Key West to video Claire for one song and offered her a chance to play on two songs that would be played around the world on "Playing For Change" videos.
Claire's main focus since 2018, has been Playing For Change. A worldwide organization founded in 2002 by Mark Johnson and Whitney Croenke-Silverstein with their first song "Stand By Me" recorded by street musicians from around the world, proving music is a universal language that connects us all.
They've won the Polar Music Prize. Their for-profit section currently supports 16 music schools that provide free music lessons in countries that really need them. Claire has recorded the 50 year celebration of "Dock of the Bay", the recorded "Soul Rebel" with Bunny Wailer. She is currently the Bass Player for the Playing For Change Band recording all over the world, Brazil, India, Bahrain, Australia playing all different styles of music with local musicians. It's a dream come true. They record with huge stars like Ringo Star, Keith Richards, Bono.
Claire has advice to new musicians. Never say no to a new gig even if its scary. Not every situation is a perfect fit but may be a stepping stone. There are many components to becoming a good musician it's much more than hitting the right note at the right time.
Check out the cool first video Claire contributed with Playing For Change – Here  Bunny Wailer, Soul Rebel
There are no comments yet, add one below.