Cliff Sawyer   –   He would have been a household name
By Ralph De Palma
Cliff Sawyer was born and raised in Key West and has been singing since he was four years old. 
While growing up in Bahama Village, Cliff remembers hearing street corner bands singing and playing outside his window. His father played the trombone with Fats Navarro. 
The first song he ever sang was "Bad, Bad Whiskey" – It could make you lose your happy home. Cliff sang in his church choir and at Douglas Elementary School. He played the kettle drums in his elementary school band but was mainly a vocalist. He continued to sing through Key West High School, graduating in 1966.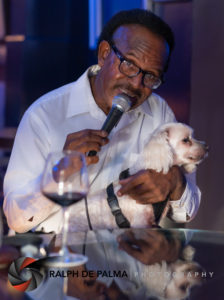 He sang with high school friend and guitarist Andy Johnson. Cliff and his cousin, Charles Hall, were cast as natives in the film PT109 which was filmed on Big Munson Island, now Little Palm Island. Cliff remembers that during their breaks, he and Charles would sing. Co-star Robert Blake asked them to move to Hollywood, and said he would help them get started with Capitol Records. Neither Cliff nor Charles would leave their island home.
In 1967, Cliff was drafted into the Army, along with over 30,000 other young men every month. At age 19, he was sent to Vietnam and suffers today from Post-Traumatic Stress Syndrome. He still gets flashbacks of seeing an Army friend's smiling and happy face and the next vision, sometimes minutes later, is his friend dead.  He came back from Vietnam a changed man. He began smoking, drinking, and developed an alcohol problem, which was far out of character. Cliff learned to manage those demons but the images of Vietnam still haunt him.
Cliff worked as a commercial fisherman from 1985 through the 1990s. He sang mostly Gospel music at the First Adventist Church. He also sang with local performers and bands as often as possible. 
As irony would have it, Cliff performed weekly at Little Palm Island (where he was cast in PT109) for almost twenty years, along with Phil Sampson. Over his career, Cliff has worked with almost every musician in Key West. He recorded a beautiful CD with Fritz Zigler called "Looking Back" in 2005. Larry Smith once said "(Cliff) … is an introverted reserved, polite gentleman who blends in unassumingly with the crowd – until he steps on stage and magically transforms into a star singer by simply allowing his talent to emanate with a joyful confidence." His longtime collaborator and friend Larry Baeder said, "If he had left Key West and gone to New York or LA, he would have been a household name. I was humbled to have him record my tune,The Rain Song."
In the middle of the Bahama Village community of Key West, Mrs. Sara Sands Butler and Mrs. Naomi Saunders Sawyer were the best of friends. Their families spent birthdays and holidays together, and their two sons also became best friends. Lofton Ambrose Butler, better known as Coffee Butler, and Clifford Sawyer grew up together. Both became successful entertainers and made their mothers proud. They speak of their mothers all the time.
Cliff occasionally sat in with Coffee Butler at the Hukilau and usually sang Al Green's song, "Let's Stay Together." In 2005, Cliff organized a concert at the Tennessee Williams Theater. The orchestra included the finest Key West musicians. Performing in such a huge room was quite a contrast from the intimate clubs Cliff was used to. He said when he walked on the stage he couldn't see anyone in the cavernous venue because of the lighting.
The concert included a special guest performance by retiring Coffee Butler, who walked on stage and sang "A Wonderful World" with Cliff.
In December 2015, a concert was scheduled for the book release of Soul of Key West, Volume II. Coffee was coached out of retirement to perform along with Cliff and several other local performers. It was sold out weeks before. An encore concert was scheduled in 2016 which was also sold out. The two insisted on singing "A Mother's Love", a musical tribute to their loving mothers. Written by Cliff Owens in 1957, it was dedicated to the love that only a mother can have. There was not a dry eye in the theater. It's a great song made even better by these two wonderful performers and their passionate love for two fantastic mothers.
There are no comments yet, add one below.