Barry Cuda   The Philosophy of Piano Moving
For the past 37 years Barry Cuda has refused to play a "Robo Piano" (electronic keyboard) and has moved a 500 lb upright acoustic piano down the streets of Key West to thousands of gigs. Over the years he has developed a technique of moving his piano, its systematic, its ballet, and Cuda has developed his own "Philosophy of Piano Moving."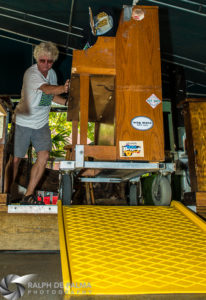 The entire move is a give and take.  Cuda's philosophy of piano moving: "It's like surfing, you have to move around and use the momentum of the piano to help.  I sometimes lean forward like skiing to guide the piano. I'm constantly moving from side to side the take the road at the correct angle. "
The tourists along the way at first are surprised to see a piano being moved by a lone mover. Soon they taunt him with their comments like "What kind of mileage does that thing get?" and "You should have taken up the guitar."   Cuda gets the latter comment most often and considers it the most lame.  He usually retorts "Is that the best you got?  I get better from the street people along the way."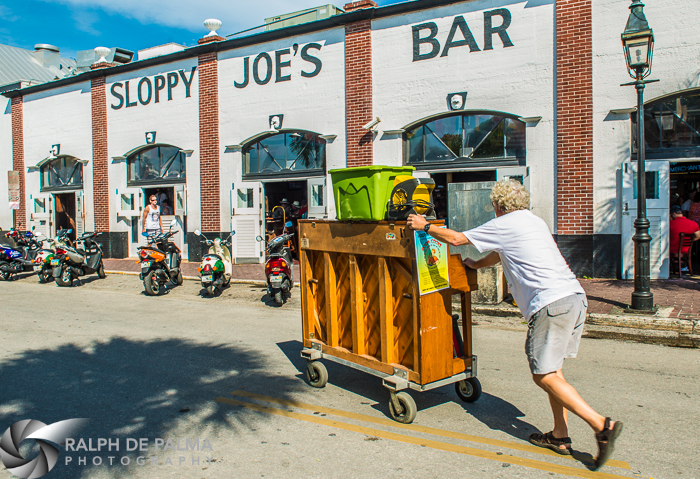 One homeless man did get his attention with a comment,  "You know they have these new things called I-Pods."  Another asked, "Do you take requests?" Cuda says he needs a "tune up" every twenty-two miles.
One night, as Cuda's band was moving from a gig at B.O.'s Fish Wagon to the stage at Schooner Wharf Bar around the corner, audience members all grabbed pieces of equipment and instruments as unofficial roadies, walking along as he pushed the piano. A beautiful young girl climbed atop the piano and "surfed" all the way to Schooner's.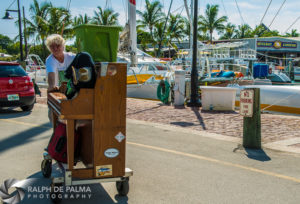 He has moved the piano to the Hog's Breath and then to B.O.'s Fish Wagon for eighteen years, that equates to almost 2000 moves down Duval and Green Street.  Add to this his twenty years of playing at Sloppy Joe's and the number is close to 4000 piano moves.
Cuda played every week at The Casa Marina Hotel, a twenty-seven minute move all the way across town from his storage area near the Conch Republic Restaurant.  He knew every road with the least pot holes along the way.
5 Comments