Daniel Clark – Has made his Uncle Kirk proud
Daniel Miguel Leggett Clark was born in Jacksonville, FL to Daniel Clark and Adriene Lynn Leggett Casamayor. The family relocated to Charlotte, North Carolina where he attended elementary and middle school. He started playing drums very early in life. The multi-generation Bahamian Leggett family had a long history in Key West, and Daniel would often visit his grandmother, Joan Leggett.
The family moved to Atlanta, Georgia where Daniel attended high school, graduating in 2012. He was a competitive athlete, winning Georgia State Championship in track and field, 400-meter run, and the long jump.
Before he started his Senior year his parents paid for a five-week summer program at Berklee School of Music in Boston. He was invited to the Berklee Summer Camp All-Star Competition, competing with the best students, and getting to meet many professionals and instructors. He got a very good feel for the campus and loved it. He auditioned for the entrance exam and was accepted. Immediately after high school, Daniel attended Berklee College of Music, for two years, studying Music Business.
While a freshman at Berklee, Clark joined the David Stuart Music project. In late 2012, they were invited to the South by Southwest (SXSW) Music Festival. They played at the Berklee stage. The band was doing great but his Berklee grade point average suffered. Daniel left Berklee, the band broke up, and he moved back to Florida, finishing up at Full Sail University near Orlando in 2017.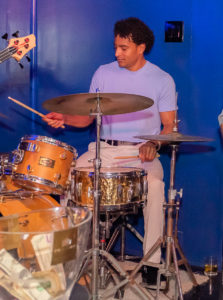 While studying in Orlando, Daniel played in a local band. He continued his family relationships with his Grandmother, aunts and uncles, and cousins in Key West. After graduation, he resigned from the band, saying he was moving back to the family home in Key West. The band leader was upset about his leaving and said, in a somewhat sarcastic tone, "Have fun playing covers the rest of your life". Obviously, he didn't know much about the Key West music scene which has more original music performed on any given night than in all of Orlando most of the week. When covers are played in Key West, they are usually performed with a very original strong Key West vibe.
Daniel started working in Key West with Billy Davis at A Positive Step of Monroe County, teaching younger people how to get jobs and be successful. One Sunday morning Daniel's uncle and fellow drummer, Kirkland Allen, took him to the Green Parrot for the Sunday Jazz Jam. Allen introduced him to Joe Dallas and Hal Howland, and Daniel got to sit in on the Jazz Jam. His uncle had always wanted to play on the Green Parrot stage and beamed with pride as his young nephew performed with some of Key West's finest jazz musicians. Later, Daniel would describe this as one of his best Key West music experiences.
On very short notice, Joe Dallas invited him to perform in the musical production, "Hedwig and the Angry Inch", at the Key West Theater. He had to learn fourteen songs and score all the music, in one day.
In September 2017, Hurricane Irma barreled through the Keys. The devastation of the Category 4 storm to the Lower Keys was enormous. A group of Key West business owners and then Mayor Craig Cates scheduled a fundraiser at the brand new, still unnamed, Key West Amphitheater (now the Coffee Butler Amphitheater) on December 17, 2017. Daniel performed with Coffee Butler, Bill Blue, Larry Smith, Robert Albury, Howard Livingston, Cliff Sawyer, and a host of Key West finest musicians at the very successful "Keys Strong" fundraiser. This performance started his music relationships with many others in Key West.
He met Jerrod Isaman, Marshal Morlock, Ross Brown, Henry Lysy Jr. and several other Key West musicians. Clark now performs almost every day of the week in almost every venue with a number of Key West musicians and groups. A special gig is when Larry Smith asks Daniel to 'keep the beat'. The music is always great, and Larry Smith is a demanding perfectionist – Daniel loves it.
In Daniel's opinion, the Bahamian soul of Key West has been at least partially forgotten. Many of the older musicians with Bahamian and Afro Cuban roots have passed away and newer musicians have come from all over the country bringing their roots music and culture to Key West. The affect has been more pronounced in this small island community.
There are no comments yet, add one below.