Dave Burns – Jazz piano and private eye
By Ralph De Palma
Dave was from Providence, Rhode Island. He was raised by a single mother who was constantly working so his grandmother, Alice McKenna, watched over him. She taught piano all over town so naturally, Dave started piano lessons at three years old. Due to an undiagnosed form of dyslexia, Dave had difficulty learning to read music. Frustrated with his early lessons, he quit piano around eight years old.  
Around 1957, Dave met Freddy Starks, a black piano teacher and music educator at Boston University. He learned music theory and harmony from Starks who did not require him to read music. They became very good friends. Once a week, Freddy would take Dave to his church where he played music, and 'this white Irish Catholic teen' learned old fashioned gospel music.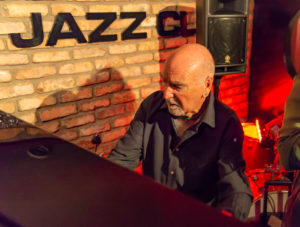 Dave stayed in Providence until he was seventeen and joined the Coast Guard in 1960. He returned briefly to Providence in 1964, then moved to Miami Beach. Dave performed at Jazz clubs and hotels, working with a lot of singers. In the 60s, Miami Beach had a number of big shows in the winter season -Tony Bennet, Dean Martin, and Frank Sinatra regularly played Miami Beach along with literally hundreds of others.
In 1965, Dave played a lot of clubs in the black section of Miami. He met another musician who become one of his biggest mentors, Noel Cruz. They now live close to each other in North Carolina. Dave learned lot about playing piano from Noel, the best piano player he ever met. Noel had two brothers that lived and played music in Key West. Victor Cruz was a trombone player in Key West.
Dave played three or four nights a week. He played a Holiday Inn lounge where on one side of the room there would be judges, lawyers, and investigators, and on the other side of the room were several of the biggest jewel thieves in Miami, including Jack Murphy (aka: Murph the Surf). He would supplement his income by working as a private investigator – there was always plenty of surveillance work in Miami and Miami Beach. When working clubs in the 60s and 70s, one of his decision factors was whether or not he would be home in time for Johnny Carson's monologue.
Danny Knowles, a horn player from Key West, happened into a Miami club in the 70s. He asked to "sit in" at one of Dave's gigs.  Dave and the audience were blown away with Danny's famous flugelhorn. They became good friends, talking often, and Danny would frequent Dave's gigs when in Miami.
In January 1978, Knowles called and said he had just bought a club in Key West, and naturally called it "Captain Hornblowers." He asked Dave to come play for eight weeks. Dave loved the club and Key West – eight weeks turned into more than 30 years.
One night, Dave arrived at Hornblowers there had been dissention between the drummer and the bass player – and resulted in no bass player. As Dave wandered around the balcony of the club, he spotted a fancy Volvo, with New York license plates, parking below. A man got out with what looked like a bass guitar case. Dave quickly headed down stairs to see where he was going. The stranger said he was going to sit in with some friends next door at the Roof Top Café. Dave asks if he would rather make a little money. Dave and Lonnie Jacobson became best friends and musical partners, playing together for the next 27 years. According to Dave, Lonnie was by far the best bass player he ever worked with.
They had always had a great band at Hornblowers. There were significant changes in the Key West music scene from 1978. The increase in tourism, a burgeoning gay community, and a vibrant Jazz scene. Between 1989-1991, Dave Burns and Lonnie Jacobson had a steady gig at the "Top of the La Concha". They also played upstairs at Louie's Backyard. According to Dave, in the early 1990s, the really good jazz players just stopped coming to Key West – the once vibrant Jazz scene slowly disintegrated.
Authors footnote: Key West author John Leslie wrote a series of murder-mystery books using Dave Burns as the basis for his main character, Gideon Lowry, who was a private investigator that also played piano in a Key West Jazz club. Several Gideon Lowry titles include Killing Me Softly, Night and Day, Love for Sale, and Blue Moon. Dave has "issues" with how he is portrayed as the main character – he never drinks rum and coke.
2 Comments