Deb Hudson she needs music to have an identity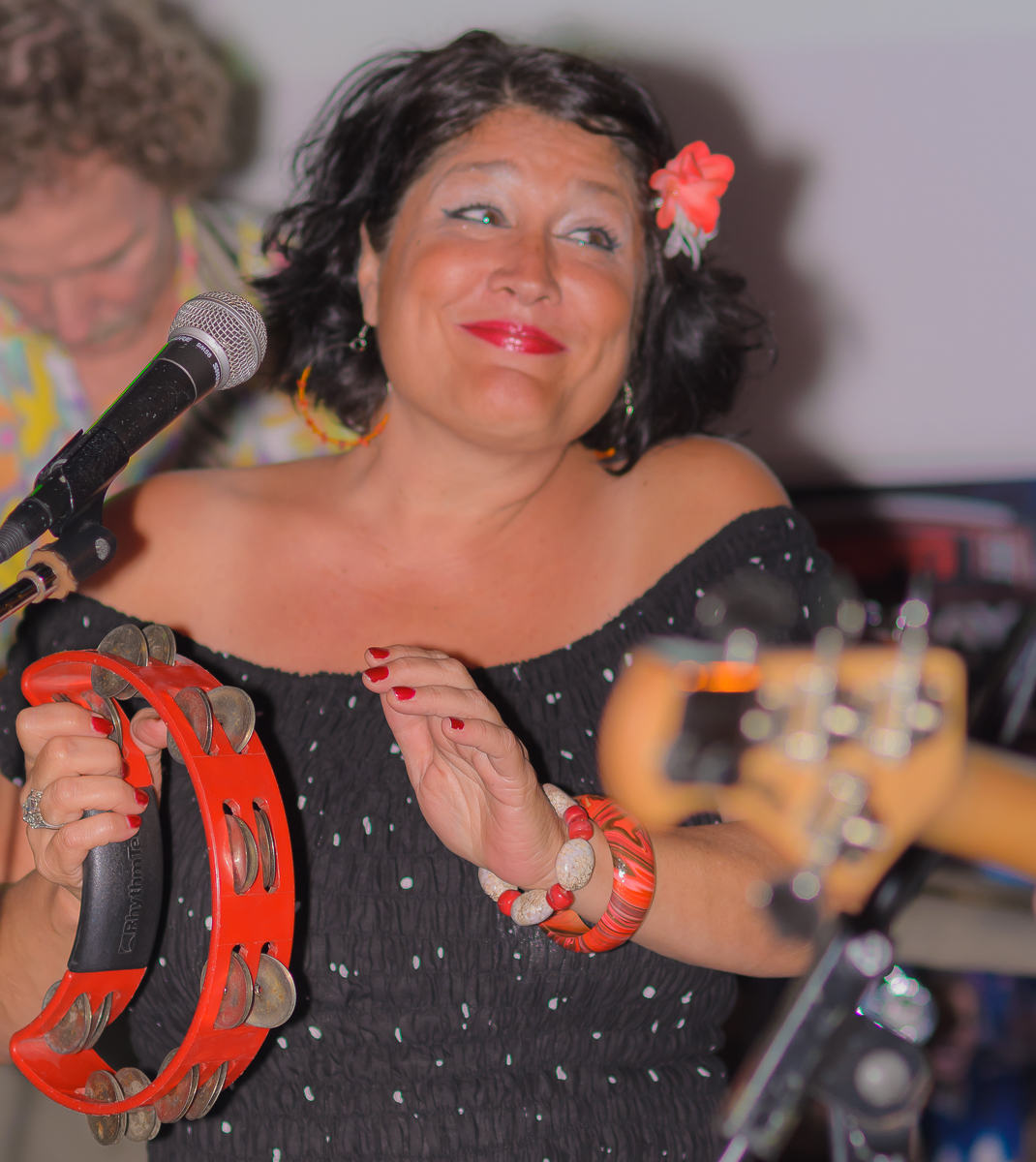 From Raleigh, North Carolina, Debra (Deb) Hudson grew up sitting on the piano bench next to her father who was a Jazz musician. She credits him with her style of singing, down to the little inflections in her voice. She began playing guitar and writing songs at age 12.
Deb spent many years in Nashville finding her musical direction. She began to write music, sing, tour, record demos, and jam with great musicians. She wrote songs with Grammy winner John Prine, and they developed a serious relationship. In the 80s, she gained a songwriting contract with MGM but the 'business' of the music business began to takes its toll. This, combined with a break up with John Prine, Deb decided a hiatus from music was needed.
She told friend, Don Everly, that she wanted to go somewhere to get away from the music business and relax for a while. He suggested Key West. Another friend, songwriter Harlan Howard ("I Fall to Pieces") suggested while in Key West that she should hook up with Shel Silverstein.
In September 1989, Deb arrived in Key West and soon discovered that music wasn't the problem causing her stress, it was the music business in Nashville. Like many coming to Key West, she fell in love with the laid-back life style – the peaceful no stress ambiance fit her needs. Key West is a confluence of artistry that brings all creative energy together on this tiny island and has an amazing stress healing power.
The first meeting with Shel Silverstein was a bit crazy. Deb accidentally set off the alarm at his Williams Street home. Luckily, Shel was walking down the street carrying groceries. Shel had some songs he needed to record and Deb had three songs that she had been working on. They hit it off and were almost immediately collaborating. When leaving, she discovered her bike that she left on the front porch had been stolen, Shel graciously gave her one of his bikes.
Deb had several partially completed works: "Once You're Out of the Picture (or sometimes called, I'm in a Lonesome Frame of Mind), Shel wanted to pitch this one to Kodak. They worked on several others "I'm Looking Forward to Looking Back on You", "Love Isn't Love Until You Give It Away", and "I'll Never Forget Ole What's His Name". Shel also had a number of songs that he wanted Deb to record demos. Deb remembers Shel's rough edges and an odd quirkiness that was combined with his sense of humor.  His creativeness was amazing and would easily overshadow everything else. It seemed Shel had a very simple form of lyrical compositions that reflected his sense of humor without his trying to be funny or witty.
Everything was fine when they were at his home writing and composing but Deb remembers when recording at Bill Blue's Out of the Blue studio, she was often very intimidated by Shel's no-nonsense approach to the music.
Another Nashville friend, Bill Satterley, asked her to look up a friend, Courtney Haycraft, who was performing at the Full Moon Saloon. Deb went to the Moon on her first night in town. Courtney was playing saxophone with Bill Blue and the Nervous Guys. During a break, she introduced herself and Courtney asked her to sit in and sing "Shaky Ground". Deb and Bill Blue almost immediately became great friends and performed together for next two and a half decades. She became part of the Nervettes (backup singers), arranging music and some of the choreography, and she would rock the house with her amazing vocals. A favorite song was Etta James' hit, "I'd Rather Go Blind".
She said, "One of the reasons I love Key West is I get to sing everything." Jazz was always part of Deb's music, she started out singing folk songs and later started playing in rock bands. Deb has recently grown fond of acoustic guitar music.
Deb formed a band called the Groove Daddies with Din Allen, Mick Kilgos, and Tim McAlpine. The Jelly Fish Martinis featured Deb performing at Virgilio's. She had a hugely successful Motown Monday soulful gig at the Little Room Jazz Club.
Deb has had a five year long rough patch caring for a brother who passed away in 2019 and losing two daughters to COVID. She has been a family caregiver and music would constantly tug at her heart. Without music Deb feels empty. A former bandmate and ex-husband, Woody Jenkins, has moved nearby to be close to their children and has invited Deb out to sing with his group. After five years, hopefully Deb will give music another chance. She said once that she needs music to have an identity.
There are no comments yet, add one below.