Ron Gregorcic  – all over the map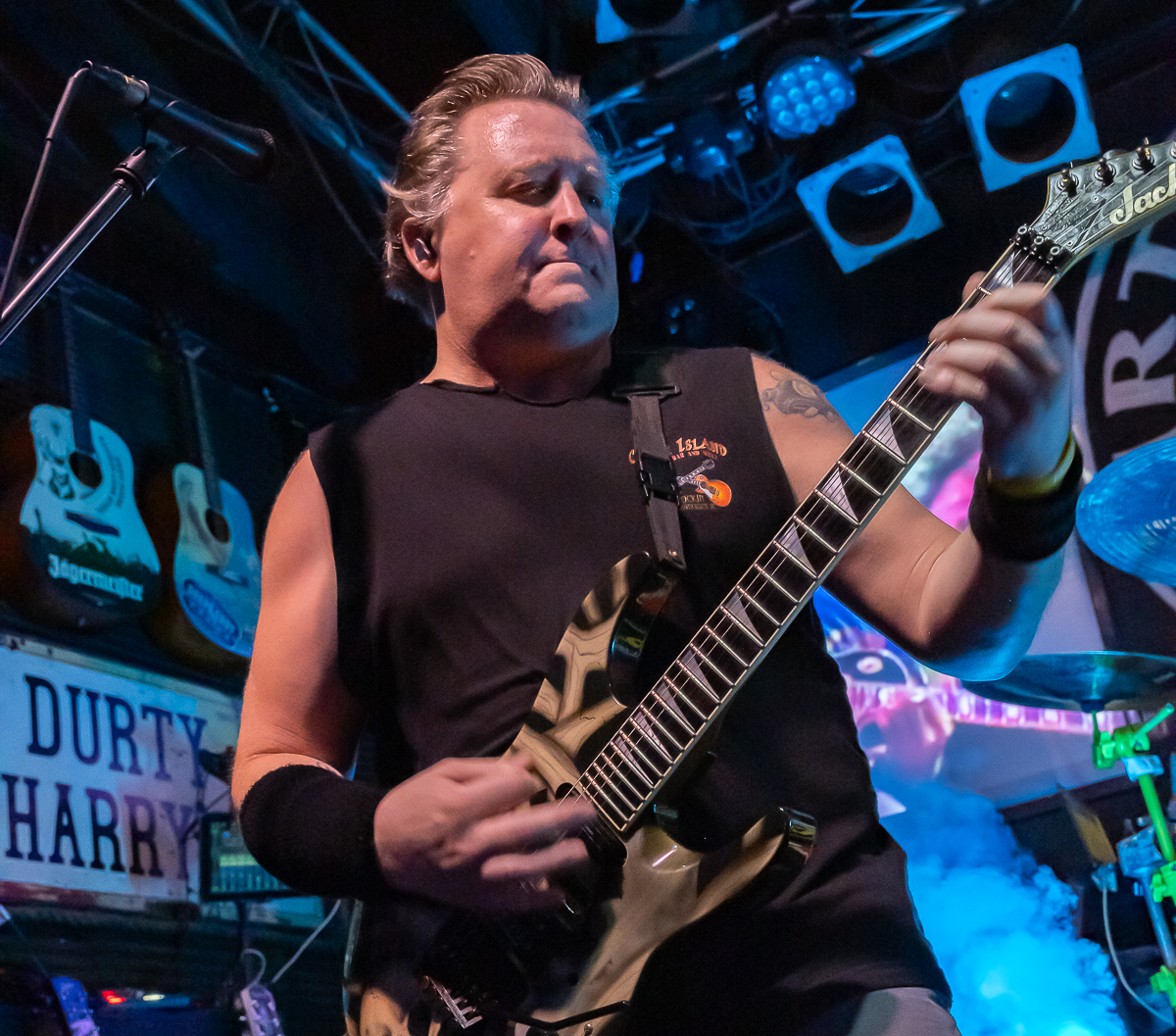 About 30 miles east of Cleveland, Ohio, in a small town called Chardon, young Ron Gregorcic was hanging with a sleepover buddy when they discovered Mötley Crüe ("Looks That Kill") and were introduced to hard rock on the new Headbangers Ball on MTV at midnight. Until that night, he had been exposed to pop and mainstream music like Cindy Lauper and Duran Duran but after that night, it was all Def Leppard, Van Halen, Ozzie Osborne, smoke, fire, and loud guitars.
Ron acquired his first electric guitar when he was 15. There was no money for lessons so he had to figure things out on his own. He was able to get into bars to watch and listen to bands, and later widespread rock clubs helped him learn. He graduated from high school in 1988. Looking back, a few formal lessons would have made learning music and playing guitar much easier.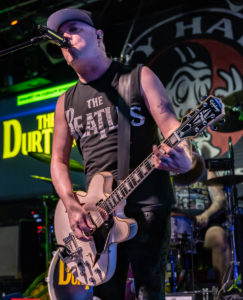 When he was 17, Gregorcic formed a garage band, connected with other musicians, and started performing with groups in the area. He quickly hooked up and spent the rest of the next ten years touring the country with several groups. He was touring with group called the Cocktones that played frequently at Sloppy Joe's. They became a staff favorite, performing two week gigs. During his Key West visits, Ron met Zack Seemiller and other Key West musicians. He would sit in with local players. He played at Island Dogs and Irish Kevin's. After the Cocktones broke up, he decided to move to Key West full time.
Gregorcic was already a familiar musician when he started full time. He played at several clubs and filled in with a group called NFI at Durty Harry's. The NFI band leader moved back to Orlando and band member Jerrod Conners moved to Irish Kevin's to play solo gigs. Ron picked up new players, including drummer David Baron, and together they formed The Durtbags. In 2010, club owner Mark Rossi asked Ron to "fix all this", referring to his main stage. He wanted a solid steady group playing at Durty Harry's. The Durtbags have been the house band ever since.
Good friend George Chapman would fill in occasionally. He later moved to Key West and joined the band, remaining for over five years. Merrick Astroth joined the group, part time at first then full time after Chapman left the group. The youngest musician, Adam Sikora, was in Key West on Spring Break. Ron walked down in the audience, playing his guitar. Six-foot Sikora, walked up behind Gregorcic and, with guitar pick in hand, reached over Gregorici and started playing the guitar.  At that point, Ron handed the guitar to Adam and let him play. Adam became a fill in musician until he was convinced to join full time after Hurricane Irma.
During the COVID shutdown, they were allowed to host internet broadcasts, live from Durty Harry's, three nights a week. They had all the stage lighting, sound, four cameras, and equipment for their broadcasts. They had always talked about recording an album but playing five days a week, they never had the time. In July 2020, after their online gigs, they started recording songs for their new album, "New and Used." The album includes twelve songs, six cover songs (Used) and six of their originals (New). A punk rock version of "Country Roads" is included. Caffeine Carl Wagoner plays slide guitar on one song. They covered a NSYNCH song, "Bye, Bye, Bye", with a little Durtbag tweaking. Their music is currently on Spotify and surprisingly, they have been getting requests for one or two of their originals at gigs. The album release party is September 12th at the Key West Theater.
They were recently on the "Hoebee In the Afternoon Experiment" on Wail 99.5 FM. Bill Hoebee asked the group how many songs they could perform in their act. Gregorcic thought for a moment and off the top of his head, said he thought they could play 1000 songs competently. With a quick cell phone search for chord charts, they could double that estimate.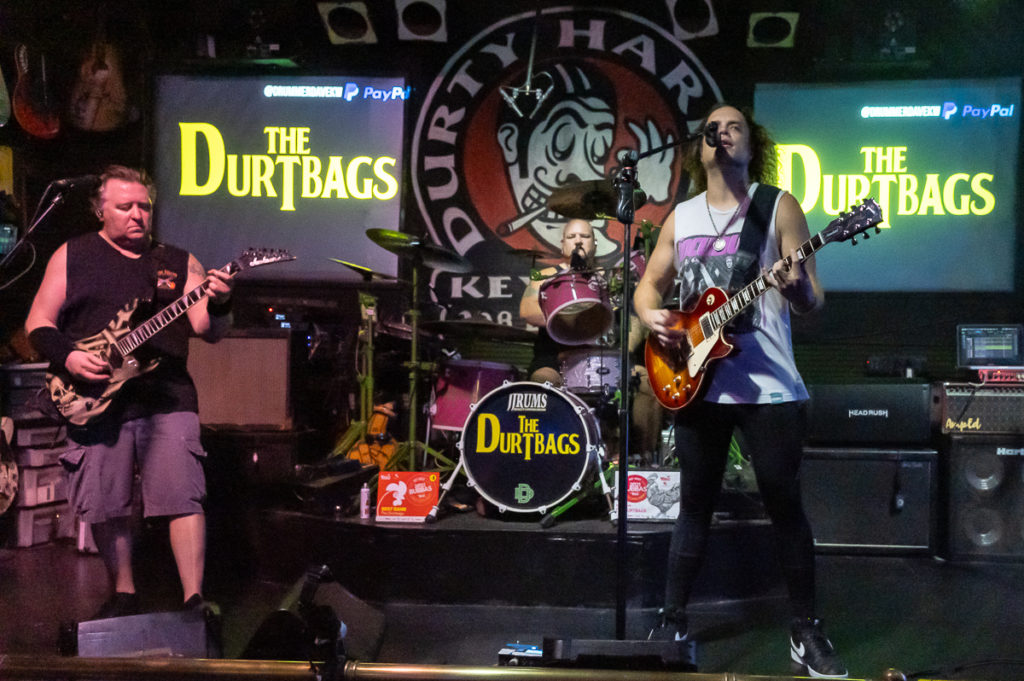 The Durtbags are all over the map from Beatles to hard rock. They have no set list and play audience requested music from the first song to the last. Their Durty Harry's audience is all over the map as well–requests could come from any direction and almost any genre.
Gregorcic started as a hard rocker but after the 80s, he moved to some lighter tunes. Band members Merrick Astroth and David Baron both cite the Beatles as a big influence. They all love good melodies and rhythms, especially if the lyrics make sense.
The DurtBags perform Wednesday through Sunday, from 8:30pm until closing at Durty Harry's on Duval Street – amazingly 5-6 hour gigs with no breaks. They're all good musicians, their vocals are all good, and anyone can sneak in a short break without disrupting the gig.
3 Comments