George Chapman     "making memories for people"
George Chapman was raised in Lakewood, a suburb of Cleveland, Ohio. He played drums in the school band and, at age 11, started playing guitar. When he was 12 years old, George started playing drums in his guitar teacher's wedding band but had to hitch a ride to gigs with his grandfather. He had money in his pocket, ate great at the weddings, and considered he had already "made it."
After high school, he attended Kent State University briefly. Music was his passion so he decided to attend the Musicians Institute (MIT) in Los Angeles, California.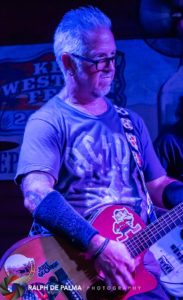 He was accepted but hitched up with a cool band called Spoiled and cancelled school. He was a member of the band almost continually. He has always wondered how he would have fared in Los Angeles in the 1980s if he had attended MIT.
This decision led to about twenty years of traveling around the area as a drummer, guitarist, and vocalist. George performed part-time throughout the Northeast as far away as New York, supplementing his music as a part-time plumber.
George had been good friends with Ron Gregorcic who was also from Northeast Ohio and was manager of longtime Key West band, The Durtbags. George would be asked to fill in from time to time. During one of those times, Ron asked George to come to Key West for an extended gig around July 4, 2011.
Chapman's tenure was quickly extended, and he continued with the Durtbags, performing five nights a week for the next 4-5 years. It was a great band and   playing was fun but the long, and always, late hours took a toll. George decided to try some new Key West adventures and left the group.
George almost immediately connected with Caffeine Carl Wagoner and The Buzz, as a vocalist and guitarist.  He loves performing with them and feels just standing next to Carl makes him a better musician. When Caffeine Carl covers songs that people have heard a thousand times, its different. He adds a special guitar magic to them with his solos and George complements them with his amazing vocals – the audience loves it.
Chapman grew up with the 70s and 80s music and has written ten songs, mostly while in Ohio. They were all relationship based. He has released one song called "Everyone Cries".  It's played often by "The Hoebee in the Afternoon Experiment" on radio station Wail 99.5.
During the pandemic, George and Caffeine Carl would do a weekly "Pickin at the Pool" at a friend's home. They still get comments from people that often say the online show helped them get through the pandemic.
Since Chapman moved to Key West, he loves being able to make a living playing music full-time. It changed his mindset about music. In Ohio, it would have been a lot more travel and moving around to perform continually. In Key West, he performs almost every day or whenever he wants to perform. He feels he can do this until he can no longer perform or "he drops dead". This seems to be the retirement plan of most Key West musicians.
George says that there are days when he is tired but then he finds himself on a boat playing music for people that are having a great time singing along.
It reminds him he's got the greatest job in the world here in paradise. You can have a great job at the office every day for 33 years but how much more fun is it to be Michael McCloud sitting at Schooner Wharf Bar (for 33 years) making memories for people that they will never forget.
The Key West music scene is very special. Chapman knows almost every musician on the island and enjoys the friendships and camaraderie. It's not like a big city where a musician can be a mere dot on the end of a music paragraph.
Years ago, he just loved being on stage if front of people. He always wanted to make a million and be a rock star. While living in wonderful Key West, playing music and making a comfortable living, he says, "It makes me really happy to make memories for people." It's fun to be part of this scene and he's equally happy that people enjoy it.
2 Comments