Jerrod Isaman   … where gospel and rock n roll collided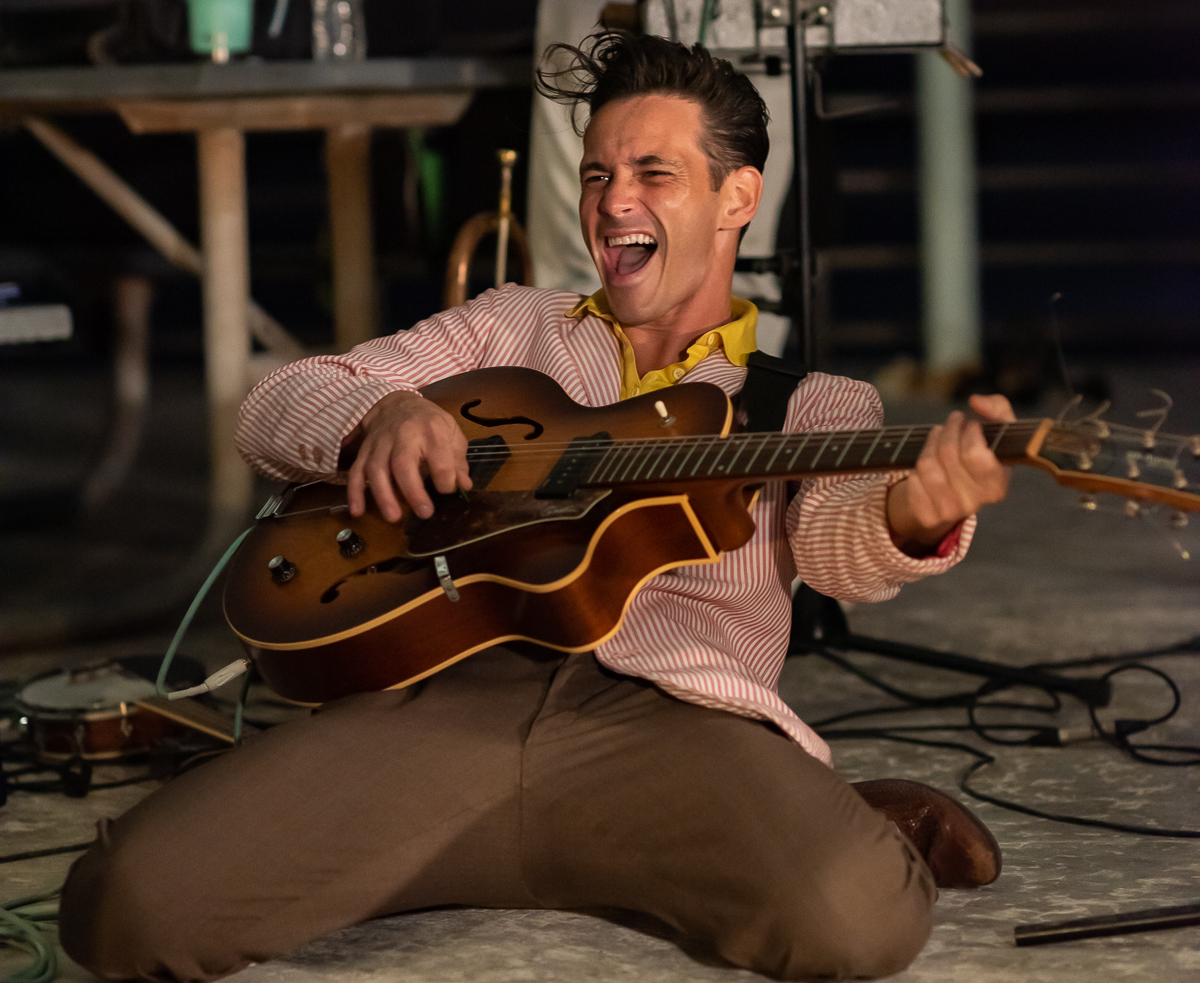 Jerrod Isaman is from Olean, New York, near the Pennsylvania border. His father was a rock guitar musician. His first music mentor was his grandmother who was a huge Hank Williams fan. Jerrod never had a formal lesson but plays guitar, accordion, and piano.
He was traveling around the Northeast, playing acoustic guitar folk music, and met some musicians in Philadelphia.  They got along great and began playing music together. His new friends had planned a trip to Key West and invited Jerrod to join them.  So, in 2008, Jerrod tagged along, met some of the Key West characters, and immediately decided to stay.
He got his first gig at Salute and then a Sunday gig at Blue Heaven. He was simply amazed at the talent of some the Key West musicians. The sense of community, including his neighbors and friends, and the abundance of music made Key West quickly feel like home.
Over the years, Isaman has been instrumental in putting together four very successful bands in Key West: The Love Lane Gang, Patrick and the Swayzees, Billy the Squid and the Sea Cow Drifters, and Coconut Victrola. He has always been drawn to the music of rock n roll eras, especially the rockabilly genre with its country roots that was part of his grandmother's influence.
His solo performance at Salute was going well. He had a neighbor, Steve Gibson, who played the mandolin and decided to add him to the gig. Gibson introduced Isaman to a weekly jam on a porch on Love Lane. He met Stephen LaPierre, who played a stand-up bass, and a few other musicians.  They started playing together at Salute, just for fun. They began performing some of LaPierre's gypsy swing music and Jerrod's 50s rockabilly, and 'accidentally' became a group, calling themselves, The Love Lane Gang. They were a huge hit all over town but only for a short period – Jerrod said. "It soon ran its course."
The group, Patrick and the Swayzees, was more planned. Isaman met bass player, Patrick Stecher, drummer, Tyler "T-Bone" McHone who had just moved to Key West. One summer day, in 2016, the three of them were just hanging out at a boat yard playing old Surf music. Isaman had just switched from acoustic to an electric guitar. He credits that day with starting the band.
Later, they added the amazing vocals and energy of Les Greene. They specialized in early 50s rock music, even writing their own doo-wop song, "My Baby Left Me in The Keys".  They later added a keyboardist, River Seine. When Isaman originally started performing with Greene, he was reminded of his all-time favorite singer – Little Richard. After one of their first performances, Jerrod told Les that his vocals sounded like Little Richard. Les responded, "Who's Little Richard?" Jerrod was shocked.
Fast forward a few years – an executive of Warner Brothers Studios found a YouTube video of Les Greene, with Patrick and the Swayzees, covering Little Richard's "Rip It Up". He selected Les Greene to do the Little Richard voice overs for their new movie, "Elvis", featuring Tom Hanks.
The band has been a huge success and began to travel all over the East coast. Jerrod's wife became pregnant with their second child and long tours could no longer be part of his plan. Patrick Stecher was not a fan of long tours either. Les Greene became more of the front man, the business agent, and soon, the band leader. Today, they are very successful and tour constantly.
Isaman continued his gigs and playing Rockabilly music which led to the formation of Billy the Squid and the Sea Cow Drifters. They were an always shifting lineup but the main players were Jerrod on guitar, T-Bone on drums, and Megan Whedon on bass and keyboard
A favorite gig was after an Island Cleanup Day held just across the harbor on Wisteria Island. They brought a barge for debris. Later, they setup a generator on the island. Billy the Squid and the Sea Cow Drifters along with other local musicians performed. The water taxi brought over people from Key West. They built a bonfire and had a great night of music and fun.
His fourth band, Coconut Victrola, started digging up early R&B songs, and Jerrod discovered the music of Sister Wynona Carr. Carr was gospel singer in the late 40s who later moved to secular music. She was part of an era when gospel sounds collided with rock n roll sounds.  She became Isaman's inspiration for the Coconut Victrola band.
During the COVID recovery period, after vaccines started, Coconut Victrola began a Sunday evening gig at the Higgs Beach Pavilion behind Salute which ran January-May 2021. Owner Richard Hatch beefed up a couple of circuit breakers and placed a long extension chord in the sand from Saluté to the pavilion. It was exactly what Key West needed at the right time, an outdoor venue, with plenty of space, and great music. They played sets of 1930s jazz, old New Orleans classics, and, of course, 50s Rockabilly.
Isaman is amazed there is so much live music in Key West. We even have music on boats. We have venues with three shifts of music daily. One venue, Two Friends Patio, frequently has a 'Breakfast with the Blues' starting at 8:00am. When Isaman first arrived in Key West, many of the smaller bars had music but were known more as a bar. Now many of the smaller bars in town are known more for their music.
Wait for it – Jerrod has started a fifth band "Jerico" they perform Weds. at the Sunset Pier.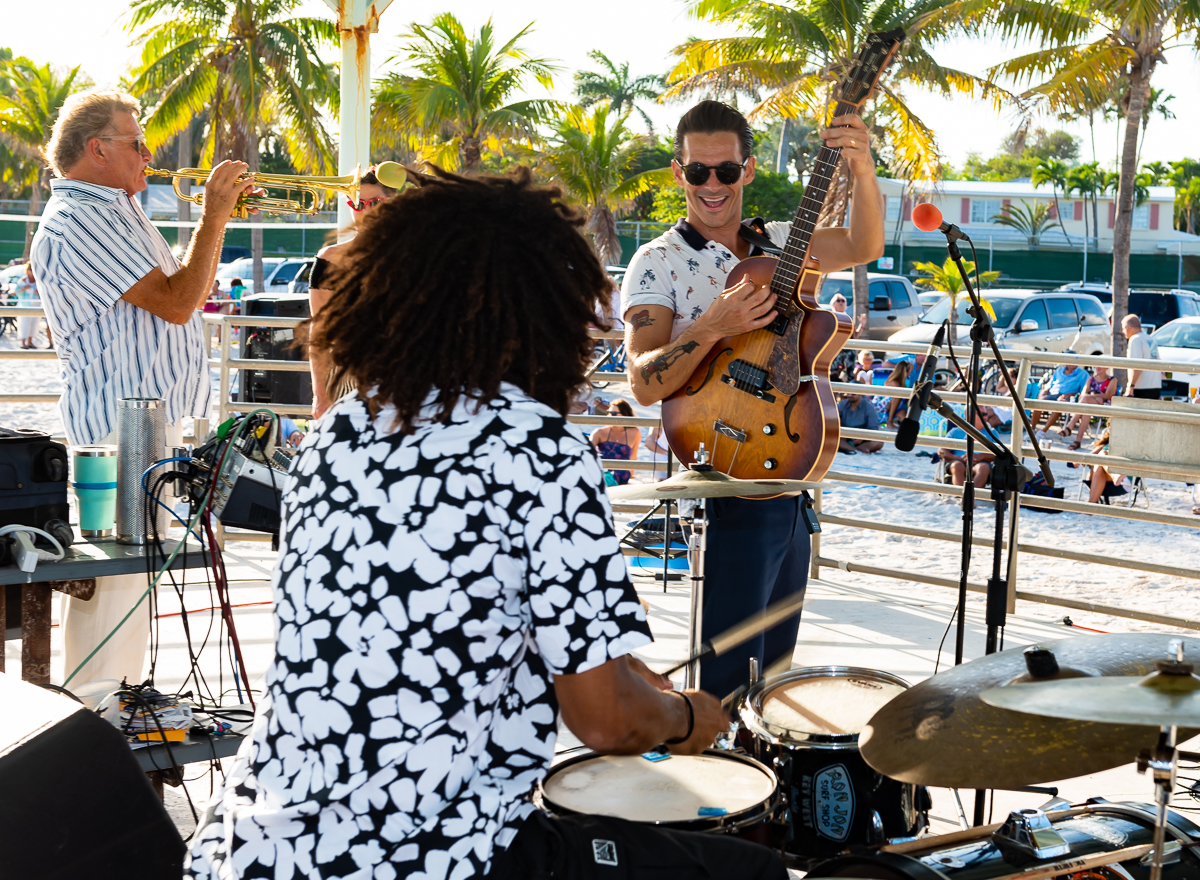 There are no comments yet, add one below.