Jesse Wagner   –    He and the Happy Dog band just stopped leaving
Jesse Wagner was born and raised in Montgomery County which is located between Allentown and Philadelphia, Pennsylvania. He considers himself part of the "Philly Mafia" of the Key West music scene along with Gary Hempsey, Ross Brown, and several others.
Around 1985, Jesse's father started teaching him to play the guitar where he first learned the Beatles' music. His mother was a folk guitarist in the 60s and 70s. His "prettiest" high school teacher encouraged his vocals and he joined the chorus. Later, Jesse started learning new songs and recording himself on a four-track recorder. He said no matter how bad you sound, it was much better on a four-track. He also learned harmony and music structure. His grandmother, Betty Jean Wagner, took him to a Willie Nelson concert while he was in high school and it convinced him to perform music live.
Wagner had a huge collection of music. He originally fell in love with the music of John Coltrane and planned to be a jazz horn player. He tracked down Coltrane's original teacher who took him on as a student. This older "Yoda" style music teacher was instrumental in Coltrane's music theory of harmony. While learning, Jesse had a revelation regarding the complexity and improvisation of jazz on Coltrane's Giant Steps album and similar improvisation of the Grateful Dead and Allman Brothers music.
In high school, Wagner and a friend started playing music together and began the saga of the Happy Dog band. While attending the Philadelphia Folk Festival, an older master of ceremonies, Gene Shay, would start every act by telling the worst corny jokes. One joke was about a dog who bit a postman. He said "What do you call a dog with a postman's arm in his mouth? (Answer) A Happy Dog!"  Jesse looked at his partner and said, "That's the name of our new band." The Happy Dog band was born almost 30 years ago from a very corny bad joke and continues today.
The first Happy Dog recording was made in Wagner's basement on January 15, 1995–it was a complete and utter musical joy. Along the way, he collected musical influences from Led Zeppelin, Pink Floyd, progressing to Grateful Dead music. Jesse was told by other musicians that he would never make it performing the kind of music that he loved. He kept evolving with about 50% original music in their repertoire, learning and interpreting more songs. Contrary to what he was told, his audience continued to enjoy their musical interpretations.
To Jesse, the Grateful Dead's music is a complete song book of dance music, psychedelic jams, with some country mixed in. They have played and recorded interpretations of many other bands also. He said they didn't actually pattern their shows after the Grateful Dead music but the shadow of Jerry Garcia kept creeping into their set list. They enjoyed the music, the audiences loved it, and it just took over.
The band performed a steady gig at a bar in Hatfield, Pennsylvania, called Fin the Cools.  Si Señorita, a sister band at the same bar, got a gig at the Sunset Pier in Key West in 2009. They asked Jesse to perform a 4-day run with them. It happened again a few months later. By then, Jesse was loving Key West and decided to get the Happy Dog band a gig in Key West. After almost three seasons Jesse and the Happy Dog Band just stopped leaving and have been performing in Key West since 2011. They performed at almost every live music venue in town and in 2019 produced a sold out concert at the Key West Theater.
Although Wagner has performed in a band all his career. His good friend Gary Hempsey recently influenced him to try solo and duo performances. He discovered that he and Jillian Todd have connected, through several duet performances, to his early roots of music.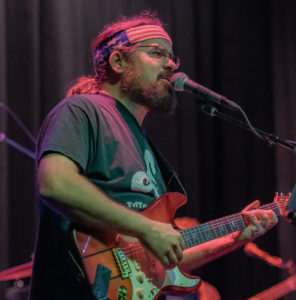 He calls the duet a stripped-down version of songs by Joni Mitchell, Fleetwood Mack, The Beatles, and Bob Dylan along with a couple of Grateful Dead songs. Wagner hasn't been inspired to write music for quite a while. He has really enjoyed the special performances and has now started to write songs especially for these shows.
Wagner recognizes the recent changes in the Key West music scene. He feels that he is now becoming one of the older musicians in town. When he first arrived, he got pointers from older performers like Michael McCloud, Bill Blue, Richard Crooks, and many others. He likes many of the newer performers in Key West and says many are making music that is original, with heart, and often is not derivative of any particular group or genre. He feels it may be indicative to the change and diversity of today's generation.
Wagner worries about the high cost of housing in Key West affecting the music scene along with everything else. Many of our musicians have been forced to leave because of these increasing costs. He hopes that our One Human Family continues to appreciate our musicians.
There are no comments yet, add one below.