Joe Dallas Jr.      "…. learn how to make life worth living"
Joe Dallas grew up in Pittsburgh, Pennsylvania. His father, Joe Dallas Sr., was a Hall of Fame jazz trombone musician, and his mother was an Arts educator. Early in life, he knew what career path he would take. He starting learning to play trombone in the 4th grade.
In the 7th grade, he started wearing braces. It was difficult to play the trombone. His Uncle Sonny, a renown New York bassist, was starting a jazz band in his Pittsburgh basement. Joe was enjoying the music and one day tried to play a little bass with his uncle's help. He loved it and started playing bass in some rock bands. His uncle asked his dad if Joe could get out of school early and play with his jazz band. He agreed.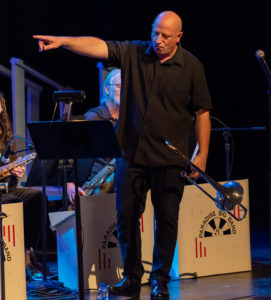 Joe's high school teachers knew he was planning to attend college and become a music educator so they let him conduct the high school band and lead the school jazz band. He graduated in 1989 and attended Youngstown State University, majoring in both trombone and bass. Most students had 2-3 classes daily but Joe would attend sometimes 6-8 classes a day. He learned music education and jazz arrangements, plus he fulfilled the requirements for a Jazz Performance degree. However, he could only receive one degree. In 1994, Joe Dallas Jr. graduated Suma Cum Laude with a Bachelor of Music degree.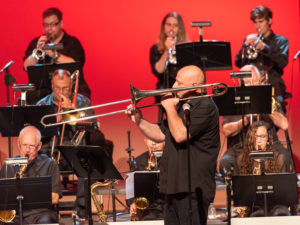 He began teaching in Ripley, Ohio and was the high school band director. In his first year of teaching, he was awarded the 1994 Outstanding First Year Teacher for the entire state. He given a cash award, was mentioned in a Newsweek article and attended a White House meeting and ceremony.
Almost every childhood vacation was spent in Melbourne Beach, Florida. He had always wanted to move to Florida. In 1996, there were openings throughout Florida, including the Keys. Driving over the bridges and beautiful water on the way to his interview at Sugarloaf Middle School, Joe never imagined the amazing level of art and music culture he would discover in Key West. It was truly a dream job, and he has been teaching music at Sugarloaf for the past 26 years.
Every single day has been a circle of music experiences – teaching music during the day and playing music at night. He has been awarded several Teacher of the Year accolades. In his spare time (pun intended), he teaches music with Robin Kaplan at The Music Room.
Music is like learning another language. Every character or symbol means something. A music student has to read ahead, above and below, the music being played and apply spatial reasoning. Music is a universal language spoken by musicians all over the world.
The left side of the brain is mostly the storage of history, math, and science. The right side of the brain is the creative area for music, singing, and art. Theoretically, if one develops both sides of the brain, the level of overall brain function is enhanced, students become smarter.
Joe has 26 years of students that can remember band experiences, like it was yesterday. Musicians and most music students develop a computer like memory file system that stores and retrieves musical memory differently than historical records or math data. Joe said he can remember what he was eating when listening to a particular favorite song, or what he was wearing. He has former students in their mid 30s that can remember their lines from a 1st grade play
When he first arrived in the Keys, Joe had a rock band that he purposely named Group Therapy. His very simple philosophy is, "It's important to learn how to live but creative people learn how to make life worth living."
Joe noticed how appreciative the audience was at his students' jazz concerts. He looked out in the audience of painters, musicians, dancers, and other artists, all part of the Key West arts community.  Joe found joy in teaching and being able to play music that has faded away in other locales but is still alive and well in Key West.
After arriving in the Keys, he became friends with fellow trombone player, Harry Schroeder, and other local jazz musicians. In the Keys if you wanted something to happen, you just do it. Harry and Joe were playing music for the Keys Chorale, and they kept finding other like-minded musicians. They acquired some old Big Band charts from a friend in Boston, and together, they formed the Paradise Big Band.
The Paradise Big Band was a combination of musicians with various skill levels, some could barely read music and others hadn't played in a long time. Joe approached it like a college level course, teaching everyone how to play in a Big Band.
The Paradise Big Band is 15-18 musicians. Joe has been able to create an environment for 25 years where everyone wants to be there, and they all get along. All the musicians work together for little or no money and rehearsing for free. They perform twice annually at the Tennessee Williams Theater.
For a vacation every year, Joe travels to Las Vegas, not for gambling but for creative inspiration.  He usually attends several shows and different entertainment. His father once regularly performed at the Tropicana. There is still a connection that never fails to provide Joe Dallas Jr. with an idea or a vibe, seemingly out of thin air, for the next Paradise Big Band concerts.
Joe Dallas Sr. often performed with the Paradise Big Band. He passed away a few weeks ago. He was not only a father to Joe Jr. but a musical inspiration, music collaborator, and best buddy. Joe Sr. will be up there smiling down on his son, you know they've got a heck of a band.
One Comment