John LaMere   "Playing songs people forgot they remember"
by Ralph De Palma
John LaMere grew up in Glen Cove, a city on Long Island, just outside the Big Apple. His great-grandfather, Stanley Melinson, sang tenor on Broadway with Al Jolson in the 1920s. He has a 1927 recording of his grandfather.
At age 20, after his first college semester, John picked up his roommate's guitar and taught himself how to play. John decided this was what he wanted to do so he quit college. He tried several things to make ends meet. Finally, in 1990, a local pub, the Iron Horse Bar, in Glen Head, Long Island, paid John $50 to play for his patrons. He also made $10 in tips along with two free beers, and for the next 32 years, this is how John LaMere has made a living. Within a year, he was performing an average of twenty nights per month in Long Island pubs.
After a couple of articles in local papers, he was asked to join a local band. A year of entertaining with a group, some wild Bon Jovi hair, and a little frustration, John returned to solo performances. He was having more fun by himself, selecting his own music and gigs.
A year later, he moved to Ocean City, Maryland, then an entertainment hub for New York, Baltimore, Washington, and most of the Northeast. His music really took off on the beach. He would play 10-15 gigs a week in the summer on the beachfront, make enough money to get through the winter, and start all over the next spring. John joked he lived in a beach town and never got to the beach.
John married, had two kids, and moved back to Long Island for a few of years. Later, after he was divorced, John returned to Ocean City. Good friend and fellow musician, Kevin Poole, played in Ocean City during the summer months and would go to Key West after Christmas to perform during the winter season. He would take his family down and rent a house. In 2006, John came to Key West in season and roomed with Kevin and his family. For the next eight years, John started coming to Key West in October and staying until May then returning to Ocean City.
Finally, in 2015, he came down and stayed. John has tried to play at every single music venue in Key West. This helped a great deal in learning the audience's expectation. Every venue is different for individual performers. For example, the audience at the Smokin' Tuna expects to sit back and enjoy blues, with great musicians jamming, while the audience at Willy T's wants more personal interaction with the performer.
John believes the reverse of the old saying, "You can't please everyone". Sure, you can – just not at the same time. One customer wants Buffett, another Van Halen, and another Sinatra – John will get to them, one at a time, but he always keeps the customers happy.
He never got to play with some of the old guard Key West musicians but loved what they did. He loved Barry Cuda's jazzy interpretations and Bill Blue's 'in your face' music. John is a big fan of playing songs "that people forgot they remember". One example, he played Jim Stafford's 1974 number 1 hit song, "Spiders and Snakes". A fan, putting a tip in John's 'love' bucket, said, "I haven't heard that song in 25 years". John says he has a million of those oldies that folks forgot they loved, like Harry Chapin's "Taxi", The Hollies' "The Air That I Breath" plus a killer acoustic version of "Radar Love".
He loves playing solo but also enjoys playing with good friends. One night, while on stage at Sloppy Joe's, with Terry Wetmore, Pete Jarvis and Claire Finley, Finley invited guitar player, Mickey Springston, on stage. Springston played with Jim Stafford regularly in his personal club in Branson, Missouri. Mickey asked if anyone knew "Spiders and Snakes".  John smiled.
John also covers a lot of Tom Petty songs and has a large Petty tattoo on his right arm. While playing one day at Willy T's, a young girl saw the tattoo asked if he loved Harry Potter too.
All the musicians that come to Key West bring a bit of their personal influence to the scene. John likes to play straight through a gig. He wants to keep his audience and tries to pattern his performance after Bruce Springsteen's audience interaction. He tries to plan three songs ahead.
To John, there is no place like Key West anywhere in the world. He plays about three blocks from his home, puts his guitar case on his back, and within 3-5 minutes after arrival, he's ready to perform. He plays music five days a week, and on his days off, John goes out to listen to 'live' music. He jokes that "We musicians pass the same ten-dollar bill tip around forever".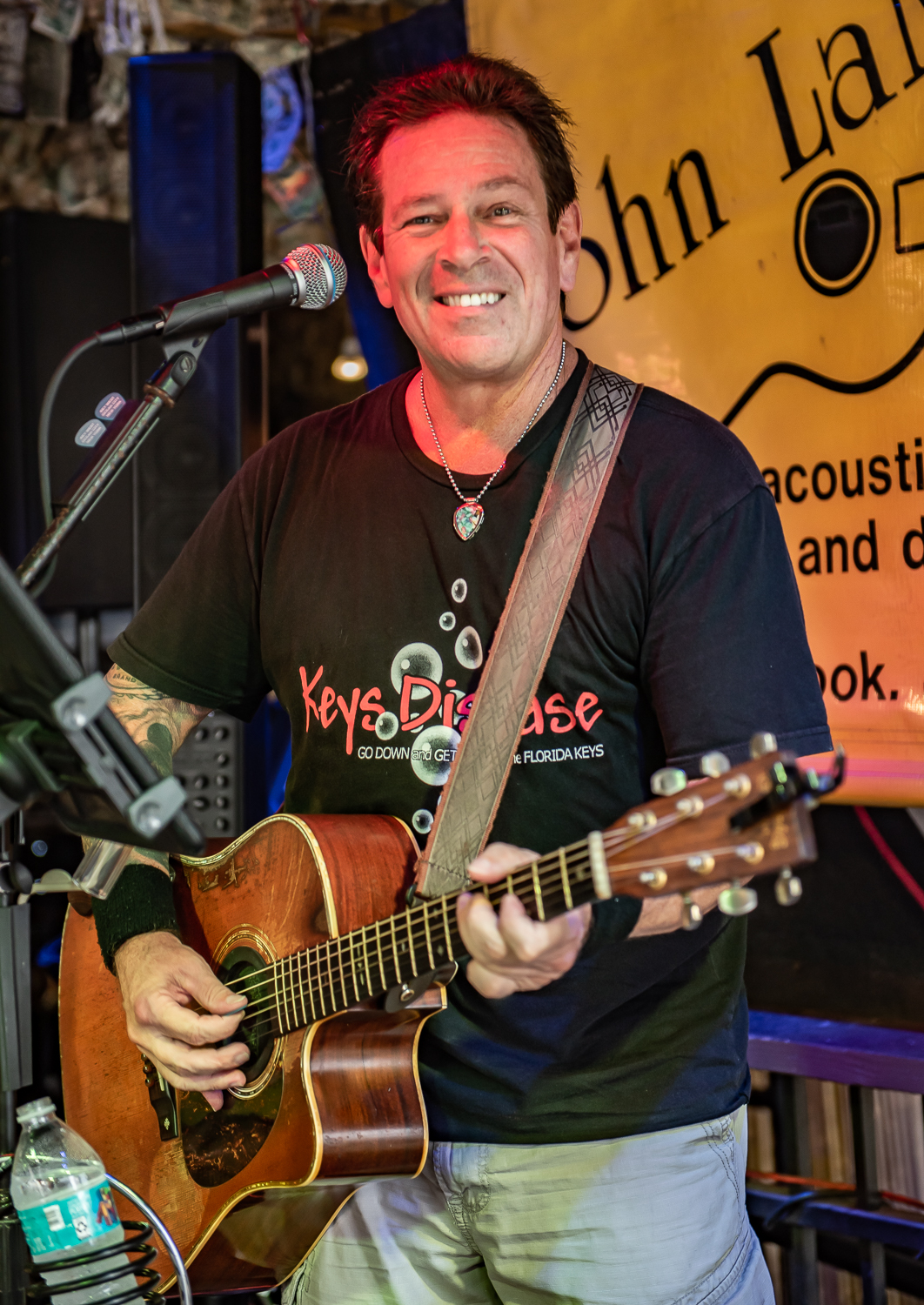 One Comment