Luannen – I have a million business cards
Luannen was born in Cuba in 1979. Her mother, Luisa Ajuria, worked for Radiocentro CMQ in Havana, as an audio operator running live audio programing. It was a huge ten story complex that included a 1600 seat auditorium for productions. She would bring Luannen to work with her, exposing her to the performing musical artists from the very beginning of her life.
In the 70s, life in Cuba was difficult so in 1980, her family paid for passage to the United States via the Mariel Boat Lift, arriving in Key West on Mother's Day. Like many Cubans, they settled in Miami. She grew up in Miami Springs and was exposed to all types of music artists, especially the amazing Gloria Estefan and the Miami Sound Machine.
The merengue bands played all over town. Luannen was inspired watching Las Chicas del Can, a young Latin all-female band, singing, dancing, and playing the güira (a percussion instrument). Later, she would use her mother's cheese grater and a fork to imitate the sound of the guira while singing.
Luannen's parents split up, and her mother raised her through most of her developing years. Luisa worked for a clothing line which allowed her to work from home most of the time. In 1997, when Luannen was a senior in high school, she was asked to sing in a band called Tito y Su Grupo Melao. For two years, they performed at the Flamingo Music Festival, Calle Ocho Festival, and several others. When the band broke up, Luannen started singing in several other bands.
In 2002, her group was invited to perform in Key West for a two-day Virgilio's Latin Night, sponsored by Solaris Hill Publications. Coming from Miami, she said Key West seemed perfect, small, very social, and full of art and music. They rented scooters and drove all over town. Luannen vowed to return to Key West one day.
Luannen returned to Miami, studied art and graduated with an Associate's Degree. She continued dancing, singing, and sometimes modeling. She became a dancer on the Miami TV show, Caliente, which was great exposure.
While continuing her musical and modeling career, Luannen also followed in her mother's footsteps and began to design clothing under the her own label, Veralu.  In the meantime, she had a son, Brandon in 2002. She also modeled for Univision. Her husband jokes that she has a million business cards. At the suggestion of one of the Univision associates, Luanne entered the 2003 Miss Cuba American pageant and won.  One of the prizes was vocal training.
Members of La Chicas del Can were in Miami and held an audition in 2004. Luannen jumped at the chance to apply and was accepted. She became a member of the original group that had been her early inspiration. They formed a Miami based all-girl band, Arismar y la Chicas, and she began living her dream, performing with the group that had inspired her a decade earlier.
Luannen was married in 2009, the same year her mother received a bad diagnosis of cancer. She was modeling, designing, and performing. Her husband's work required him to travel to California for almost a year. In 2010, her daughter, Melody was born, and her mother survives her fight with cancer. Luannen decided to focus on her children and backed away from music. In 2014, her husband got a job in the Keys, and they made it to Marathon.
By 2017, Luannen began thinking of her music again and searched on line for Latin bands in the Keys. She contacted Rolando Rojas who had a gig at Havana Jacks in Marathon that week. They met at the gig, and she sang a song for Rolando. He hired her immediately, and she started singing on Tuesdays at El Meson de Pepe in Key West.
On September 10, 2017, Category 4 Hurricane Irma hit the Keys, flooding everything in Marathon and wiping out Luannen and family. After months of recovery and commuting from Miami, they bought a home in Key West.
Music was a huge part of the recovery for the Keys and for Luannen. Rolando and I started producing the Havana Nights concert series at the Key West Theater in 2018. Rolando and Luannen worked together on the several productions. In January 2020 we produced Havana Tropicana just before the COVID shutdown, it was the biggest show to date, with three dancing groups.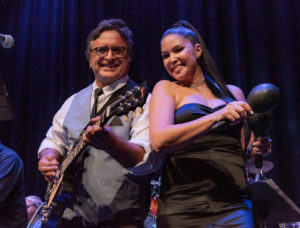 We attempted to bring a little of the famous Cuban music institution, the Tropicana spirit, and the Latin rhythms to the Key West Theater. Luannen enjoyed the magnitude and productions impact on the audience.
Luannen feels tomorrow is promised to no one, and she plans to continue to enjoy every smile she puts on faces. She feels music will always survive storms and pandemics – it is never destroyed.
There are no comments yet, add one below.