Abdul Mateen        aka: Maasai
Originally from Harlem, New York, Abdul Mateen was born in 1954 in Women's Hospital and lived on 115th Street.  He attended school in Queens where there was a great music program. He learned to play the saxophone, cello, and violin.  He brought the saxophone home and while outside with his friends one day, Mateen's father picked up the saxophone and started playing like a pro. He had never heard his father play before and was amazed.
His father's musical associations influenced young Mateen's development. His father introduced him to a friend who played the guitar. Mateen studied with him for about a year. Another of his father's friends, Jerry Smith, taught him to play the drums. Smith opened a number of doors for Abdul including workshops from the Jazzmobile that visited neighborhoods and brought music to children, analogous to the bookmobile. He and his friends rode their school bus past James Brown's house. They discovered that John Coltrane lived near another musician friend and around the corner was the home of Count Basie. They lived and learned music in the center of the New York Jazz Universe.
Mateen feels that the great Bob Marley was not just a musician playing guitar. Marley had a community around him in Trench Town, Jamaica that helped him build and create his music. Clement Dodd and Berry Gordy's Studio One was Jamaica's version of Motown, producing The Wailers, Third World, Burning Spear, and other reggae stars.
While visiting Jamaica, Mateen was able to attend an early Sunsplash Concert in Montego Bay, shortly after the death of Bob Marley. Standing near the stage he sensed a "natural mystic" in the air that Marley wrote about, the music and energy was thick, and a woman standing next to him said, "We have to finish" (what Marley had started). Those four words inspired Mateen. He returned to the United States and in 1983, formed a reggae band "Maasai" named after the famous Tanzanian warriors. He produced his first album, Turn 1 Up, in 1987. He recorded albums Psalm of David in 1995 and Choose Life in 2007.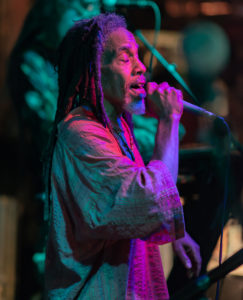 Mateen came to the Keys with his band, met Duane Scott, and started playing in venues in the Lower Keys. In 2003, Scott and Mateen finished an album called Babylon X / No Mystery. The album was nominated for two Grammy awards, Best Reggae and Best Album Cover Design. He's working on a new album with the lead song, "Tombstone City" –  Abdul Mateen is still not finished.
Mateen now lives on Big Pine Key and is often called Maasai after his former band. He lost most of his musical equipment to Hurricane Irma but still insists he is in the best location possible. He recovered quickly and started performing again a few weeks after Irma. When describing the impact of music on a community, Maasai often talks about the perceived decline of the New York music scene because of social and economic changes in the city. He finds the opposite is true for Key West.
While traveling on the Brooklyn Queens Expressway with the Manhattan skyline in the background, Maasai passed a huge cemetery and stopped because he noticed the tombstones blended with the outline of the Manhattan Skyline. He was inspired to write a song about the experience. When walking down a street looking up, one can only see a small strip of sky so Maasai refers to the tall buildings of Manhattan as "sky rapers".
Prior to his passing, good friend and amazing Blues man, Jersey Slim gave Maasai his cherished collection of harmonicas. The harmonica seemed a fitting instrument for Maasai's new song. The final track recorded for "Tombstone City" is a harmonica track using Jersey Slims' instruments.
George Victory was another very special friend whose relationship revolved around their love of music. Victory, until his passing in 2016, would share everything with Maasai and when on stage performing his looks and expressions of pure joy are Maasai's most cherished memories.
The music of Maasai reflects his deep spirituality, the love of all life, and our fragile environment. He often speaks of the thin atmosphere that surrounds us and protects all life on this planet that is orbiting the sun at over 1,000 mph. He says no one notices it because "it's a smooth ride."
The now famous Bob Marley song "No Woman No Cry" was written by Marley with Vincent Ford, a lifelong friend who ran a soup kitchen in Trench Town, Jamaica. Marley gave Ford full credit for the song that has since been covered by many of the greats. The royalty checks have helped keep the soup kitchen running long after Ford and Marley are gone – not a bad legacy.
For several years, Mateen has lead a tribute gig to Bob Marley on his birthday. It has become a special event in Key West and gets better every year. They perform every Bob Marley song anyone could remember. During this performance, Maasai always sings "No Woman No Cry". His rendition would have made Bob Marley and Vincent Ford proud.
2 Comments