Mark Rose – a life of musical adventures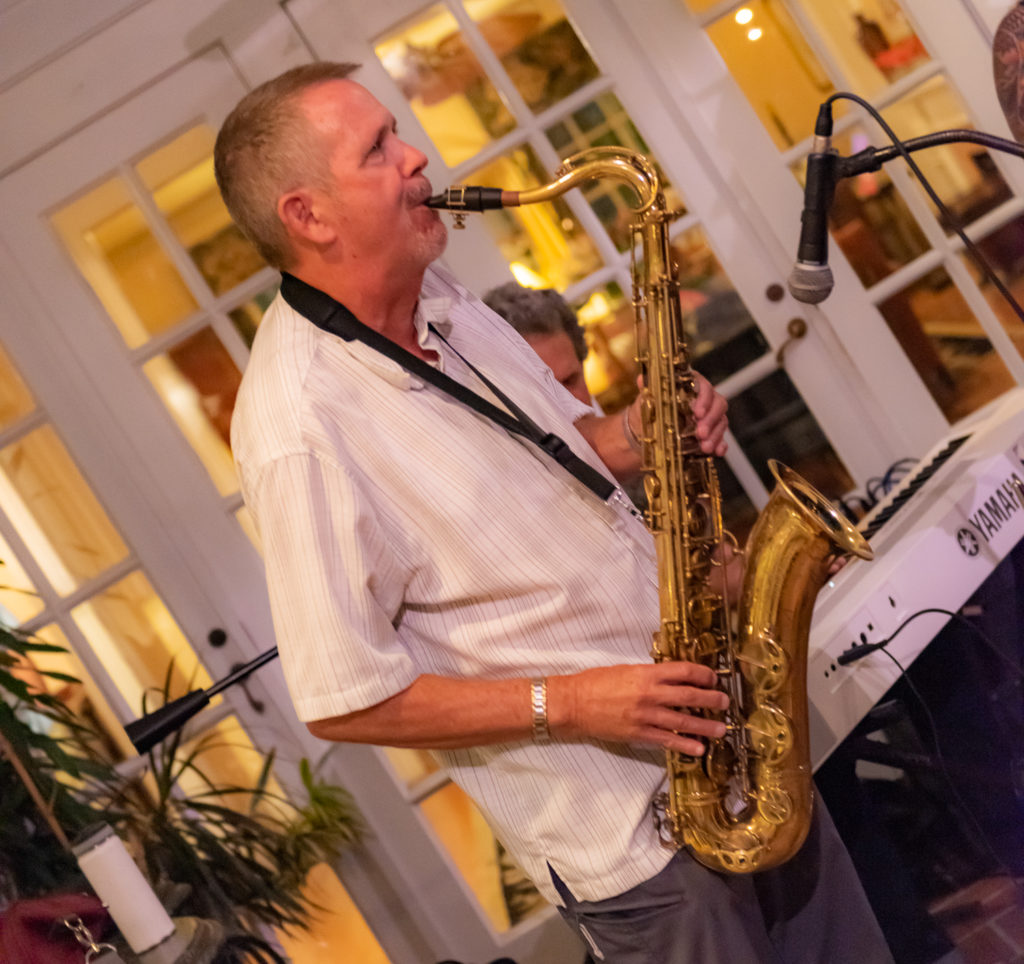 Everyone knows how much I love horns and this week will include one of my favorites. Mark Rose was born and raised in front of the Rocky Mountains in Colorado Springs, Colorado, the son of Trudy and Forrest Rose. His mother was a piano teacher and taught all her children to play music but Mark was the only one that went on to a career in music. His band director, Charles Westfall, convinced Mark to learn to play saxophone, starting in the sixth grade. He graduated from Watson High School in 1977.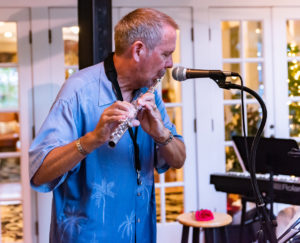 Westfall had a dance band on the side, and Mark performed often, meeting other musicians and bands. Mark attended the University of Northern Colorado in Greeley. He studied and played in a band with swell-respected jazz educator, Gene Aitken, performing in a jazz band called Cross Currents.
After college, Mark joined the Air Force in 1983 and auditioned for the USAF Academy Band's Falconaires. He was accepted and performed with the Falconaires the remainder of his Air Force career ending in 1987. In 1985, Mark had met Roberta Jacyshyn who had graduated from the Berklee College of Music in Boston and was teaching music in Colorado Springs. The spark was immediate with their shared inspiration and love of music – It was love at first note. They married in 1987 and have taken a music journey through life together. Mark returned to school to get a degree in Music Education and also decided to teach music.
Roberta was a music director of a theater. Mark contracted gigs in theaters, performing for Bob Hope, Diana Shore, Charley Pride, and the Temptations and Four Tops, which he continued to perform with later. Roberta attended the University of Miami in 1996 for graduate work. Mark visited and loved UM. He returned to school, receiving a Master's Degree from UM in 2002.
Mark and Roberta visited Key West in 1996, and he remembers an impressive jazz gig at Virgilio's with Skipper Kripitz, Phil Sampson, and Lonnie Jacobson. He and Roberta returned to Key West often while studying at UM.
They returned to Colorado Springs and continued teaching music until retirement in 2013. After retirement, they decided to move to Key West for the water and weather, trading their snow boots for flip flops. These two life-long music teachers discovered the amazing Key West music scene.
The first Key West musician that Mark met was saxophonist Amy Lee. They enjoyed performing together until Amy moved to Hawaii. Mark also met Richard Crooks who invited him to check out the Sunday Jazz Jam at the Green Parrot. From there, he met Skipper Kripitz, Mike Emerson, Joe Dallas, Tim McAlpine, and many others.
Joe Dallas introduced Mark to the Paradise Big Band and a host of musicians. He has played almost every performance since his arrival. Tim McAlpine connected Mark with Howard Livingston and the MM 24 Band. He loves playing with Howard and the band because they all work together to make the performance special, and they have tremendous fun doing so.
Roberta is the music director for two plays at the Waterfront Playhouse this season – "Escape to Margaritaville" in October and "Rock of Ages" in December.
Roberta and Mark perform together as often as possible. They perform a piano saxophone duo called "Roma" for which he wrote the arrangements. Mark has written arrangements for the two of them as well as for other musicians.
Mark likes performing with jazzman Peter Diamond. They have brought music back to the La Concha, on Thursday nights, at the Wine-O bar. Mark, Joe Dallas, and Skipper Kripitz have a trio called Cordless, and they are exploring jazz variations and popular music, mixing and playing their own way. In December 2021, Mark performed, for the tenth time in his career, with the Temptations at the Coffee Butler Amphitheater.
When defining jazz in 2022, one is forced to include elements of Dixie, swing, rock, blues, Latin, reggae, and even blue grass and country. Most jazz festivals include all genres. To Mark, jazz is just music.
While in Tuscany, Italy, Mark started a conversation about jazz with a musician from London. He gave Mark a perfect description of jazz. To him there are two types of jazz music. There's "head jazz" where you listen and the music takes you to different places mentally and emotionally, and there is "body jazz" that wants to make you move, get up and dance, tap your foot. He went on to state, "For me, it's a combination of the two. I like to travel some place in my own thoughts, but I also want to move." If you have your foot tapping and your body moving, and the music also makes you think, "That's primo".
Mark and Roberta have enjoyed their life long quest of music. Mark feels fortunate to have played music around the world with great musicians and looks forward to his next music adventures here in Key West.
There are no comments yet, add one below.