Mick Kilgos:  " …music is the glue that holds Key West together."
Often introduced by Ericson Holt as 'the pride of Kankakee', Mick Kilgos was born in Kankakee, Illinois, a small town 45 miles south of Chicago. When he was 14 years old, he starting playing music. His life mirrors the story of a train ride from Kankakee to New Orleans as told by Steve Goodman in his song, "The City of New Orleans".
The City of New Orleans Amtrak train starts in Kankakee and ends in New Orleans.  The song, made famous by Arlo Guthrie, is a great rendition of what old Blues players, like Muddy Waters, use to go through to get from New Orleans to Chicago and back.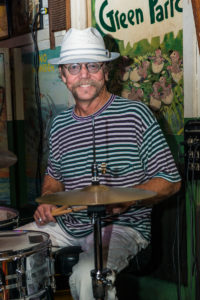 Mick was fortunate enough to work with Bill Blue and the Nervous Guys for many years. Mick remembers seeing a very young Caffeine Carl, peeking over the saloon doors at Sloppy Joe's, watching Bill and the Nervous Guys for years. Carl picked up some very good guitar habits, and became one of Bill Blue's favorites.
He also worked with Barry Cuda for decades, and is now working with Ericson Holt. These are three of the best in Key West.
In 1998, Mick was diagnosed with cancer. They held a fundraiser for him at the Green Parrot that ran all day and into the night. John Vagnoni handed him $14,000, mostly in fives and ten dollar bills. Mick and Bill went all over town counting out the money – he had enough to pay all of his doctors a portion of their bill.  Mick has been cancer-free for 24 years.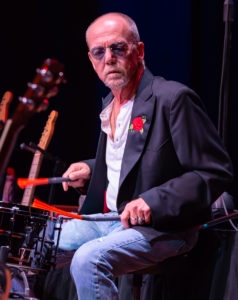 The Full Moon Saloon was located across from the bank on Simonton where Camille's is now located. The night the Full Moon closed down, it was so full that drinks were being served through the side window on Catherine Street. The saloon was usually loud, and the band was often asked to lower the volume. However, on this night, you could hardly hear Bill Blue and the Nervous Guys for all the crowd noise.
Dennis Wally was one of the Full Moon's bartenders. He served spicy pickled string beans in drinks at the Full Moon. When it was closing, Mick asked what would happen to those wonderful pickled beans. Dennis said, "We're closing, you should start making these and sell them." Mick's Caribe Beans were born at the Full Moon Saloon. They are served at the Green Parrot and other locations today
After drummer songwriter Steve Mello passed away, Mick started working with Barry Cuda. They played every Friday for over ten years at BO's Fish Wagon. His most fun gig was with the band, Bong Hits for Geezers. Cuda plays the best Roots Blues music with his roll around acoustic piano.
The famous world class drummer, Richard Crooks, moved to Key West around the same time Mick took a sabbatical to San Francisco, and filled in with Cuda. Mick knew Richard Crooks earlier, and their friendship really became strong when both were together in Key West. They shared BO's gigs as well as other gigs. Crooks became a mentor to Mick.
Richard told Mick a story:  While doing session work in New York in the 80s, he would have lunch once in a while with fellow session drummer Steve Gadd. One day, Steve asks Richard to teach him the famous NOLA Second Line drum beat. Richard had toured with Doctor John and new all the New Orleans beats. Richard gave him some basic second line beats over lunch, and Steve naturally picks up on it quickly. About two months later, Paul Simon releases his famous song, "Fifty Ways to Leave Your Lover". The unique drum beat to the start of the song is Steve Gadd doing the NOLA Second Line beat that Richard Crooks had taught him at lunch.
Mick started working the Blues Cruise with Barry Cuda. It's a huge beautiful ship with great musicians performing all the time and all over the ship. You get to have breakfast with stars like Taj Mahal, Kim Wilson and the Thunderbirds, and Keb' Mo'. There is music 24/7 throughout the ship for a week. Mick didn't even remember where they went. He thinks it was the Eastern Caribbean.
Mick and Ericson Holt met around 2005. They put together a quartet with Bobby Arnold and Drake Leonard. With no rehearsals, they started playing gigs and 'rocked the house'. Mick and Ericson became great friends and continue working together today.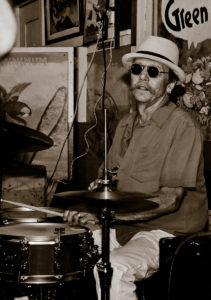 To Mick, playing with Ericson is a treat. Ericson is so plugged into the romance and the feeling of the piano, his music is organic and fits Mick's drumming perfectly.
I almost forgot to mention a near twenty year touring gig with the Sauce Boss. Mick ate a lot of gumbo and kept the beat for Bill "Sauce Boss" Wharton. Great blues and great gumbo.
According to Mick music is the glue that holds Key West together. There is nowhere else that has more live music in such a confined area. February 22, 2015 was proclaimed, by the Key West City Commission, as Mick Kilgos Day. Good friend and local guitarist Carl Peachy had his very artistic wife, Kate, paint one of Mick's drum sets with a heavy New Orleans Voodoo theme.
Kilgos was instrumental starting the Crooks Second Line Celebration in 2015, after the passing of his good friend, Richard Crooks. It has grown into a large annual fundraiser for the Bahama Village Music Program and results in two young music students attending the Berklee School of Music Summer Program every year.
One Comment