Michael Gillis    –  "Never worked a day in my life."
By Ralph De Palma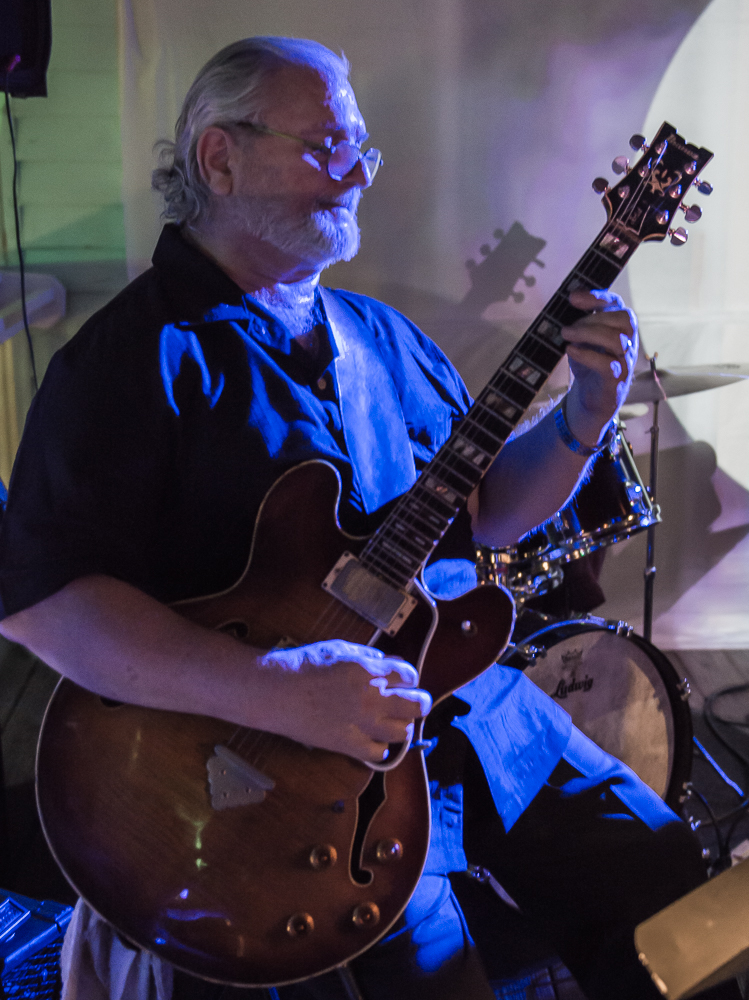 John Michael Gillis was born in Hudson, New York.  He spent his childhood in Atlanta, Georgia and Grove Hill, Alabama.  Michael said, "I became obsessed with music by the time I was 10 years old. Even when I really loved a woman, my first love was music." 
He had a few piano, trumpet, and drum lessons in grammar school but was mostly self-taught on guitar and bass. In the early days, jazz studies were not formalized or codified. Michael listened and copied the best jazz musicians. It was not important to sound the same – it was more important to learn the language.
Gillis came to Key West in 1965, after he had accomplished a great deal in his career. His long resume includes guitarist, bassist, arranger, composer, and educator. He played with big bands: Buddy Rich, Louis Bellson, and Count Basie All Stars. He made appearances on at least eight major television programs, including Steve Allen, Merv Griffin, and Johnny Carson. Gillis played most of the major jazz festivals, including Newport, New Orleans, and Monterey. He performed to packed houses at Caesar's Palace in Las Vegas, Al Hirt's Club in New Orleans, and a list of other clubs – too many to mention. During the 1960s, Mike was considered the "benchmark" for New York Studio guitarists.
From 1968-1969, Mike toured with numerous Motown groups: The Temptations, The Supremes, Smokey Robinson, Stevie Wonder, and his personal favorite, James Brown.  They rehearsed at the bowling alley down the street from the "Hitsville" studio. Later, James Brown recorded a jazz album live at the Apollo Theater – one of the many highlights of Mike's career.
In 1972, Mike started teaching music in the jazz department at the University of Miami School of Music.  He taught harmony and theory, composition, guitar theory, and improvisation.  Most universities could find jazz players but had difficulty finding those who could speak and teach music with the academic language and traditional European classical terminology.  Likewise, the schools had difficulty finding academic teachers who could really play jazz – Gillis filled that niche.
Mike loves all music but, as a professional musician, he enjoys jazz because he feels it's the most interesting and difficult of the performing arts.  He says jazz originated in either New Orleans or Kansas City.  It came out of the fields, worked by slaves, from their blues and tears, coupled with simple European music. As a jazz guitarist in Key West, Mike views Larry Baeder as the "real deal". He feels "People are dying for good music, even if it's not world class. If it's just organized, they'll love it." 
As the consummate teacher, Mike gave some insight into how to write a song: Start with an interesting story, put together a piece that is harmonically interesting – not too abstract, all the best ways of saying "I love you" have been done, great composers take you on a magical mystery tour. There are two ways to approach the creating of lyrics and their musical accompaniment: the mathematical approach and the organic approach. If you learn the tools, both ways of creating music are easy, similar to learning a new language and becoming fluent.
Gillis's cool definition of art:  "The phenomenon of art is a selective re-creation of reality according to the artist's metaphysical value-judgments." 
A favorite Key West music experience was with his six-piece big band, Michael Gillis and Company, at the old Havana Docks Bar in 1982.  Many musicians were his former students from the University of Miami.  Gillis insists he has enjoyed all of his "playing jobs" because he was accepted as a peer playing with many musical idols. He said, " None was more fantastic than any other. They all have been like dreams come true."
John Michael Gillis has battled serious health issues the last five years but, at 77, he does not feel he got a raw deal in life. To the contrary, he feels he got the best deal; he performed with the best players and says, "My career has been wonderful. I got to do just about everything I ever wanted. I never worked a day in my life. I've been able to do what I love."
There are no comments yet, add one below.