Larry Smith and Christine Cordone   "A Musical Power Couple"
Musical couple Larry Smith and wife, Christine Cordone, come from upstate New York and spent many years in the Woodstock area. Originally a schoolteacher, Larry instinctively nurtures others and helps promote them, to raise the level of their performance. He feels music is not about self-aggrandizement or applause but all about the art of making music.
Larry once said, "to be a musician, you don't have to pass a Bar Exam." To Larry, the business of music and the art of making music are very different and separate. He loves to help other people. He considers himself to be very spiritual – he worships the gods of music.
Larry played the Sunday Jazz Showcase at the Pier House for 18 years.  The showcase was set up to debut amateurs and feature professionals. The Pier House Wine Galley was a true music room where the audience celebrated the music as much as the musicians.  Improvisation was the rule.
Once in a while on Jazz Night, the magic and the music would take over. The communication between musicians is hard to explain and elevates spirits. Larry has a gift: he can lead and follow at the same time. Sometimes it's a look, or a simple note, and a fellow musician just knows to go for it because "I got you covered."
Larry is primarily a pianist but the alto saxophone was his first instrument. He plays it often and brings it to most gigs. He does not consider himself a vocalist – he leaves that title to Christine.
Christine Cordone listened to early folk singers and was influenced by many of the 1970s artists.  She earned a teaching degree and started performing at coffee houses.  Christine started enjoying music more than education. She began to write her own music and joined a trio in Atlanta in the mid 1970's. Returning to the Adirondacks, she met Larry in Mayfield, New York. The two began to eat, sleep, and live music together. In 1978, they moved to Woodstock because the town had venues that booked bands who played original music. They were able to honed their art.
Christine is also a very accomplished painter. Her watercolors are widely displayed in galleries and private collections. After 30 years of teaching, she retired in 2019. She refers to it as starting a new chapter of her creative career, allowing more time to focus on her painting and music.
Larry and Christine made an album of all original music titled Key West Island Nights. They had a release party, around the pool at La Concha Hotel, with twenty children from the Bahama Village Music Program. Larry has also produced albums of his original compositions "The Four Man Vision" and the "Sidenburg Sessions" plus a beautiful collaboration between Larry Smith and Adrienne Z called "Dreamsmith, Dream Again".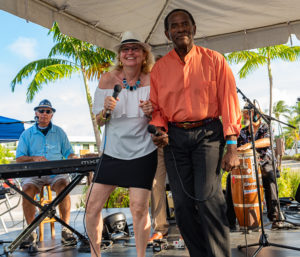 Visiting Havana, Cuba in 2018, Larry and Christine contacted one of my music friends, the famous Cuban pianist Lazaro Valdes. After introductions, Larry was immediately invited on stage to perform at the Parque Central Hotel. The embargo and 60 years of isolation disappeared – Lazaro and Larry became instant musical friends and discovered their styles of piano music were very similar.
During the three-month shutdown, they were able to enjoy an empty Key West but missed the music scene. After shutdown, they moved to Danville, NY to be closer to Larry's 94-year-old mother who was in an assisted living facility, visiting her daily (through plexiglass). They stayed for over a year and returned to Key West after vaccinations.
Larry's brother is an accomplished trumpeter and music director. While in New York, they would meet, along with a bass and sometimes, a tenor saxophone, to play music almost every Thursday. Taking advantage of the shutdown, Larry was able to focus introspectively on writing music – he wrote 35 jazz instrumentals.
While painting in New York, Christine discovered winter's "50 shades of grey" and spring's beautiful colors but was eager to return to the eternal summer of her Key West artist community. She borrowed a mandolin from former Key Wester Chief Billy and joined a ukulele club. She plays twice a week with Key West locals, Bounce and Ooo La La.  Christine and Larry also became mentors at Take Stock in Children.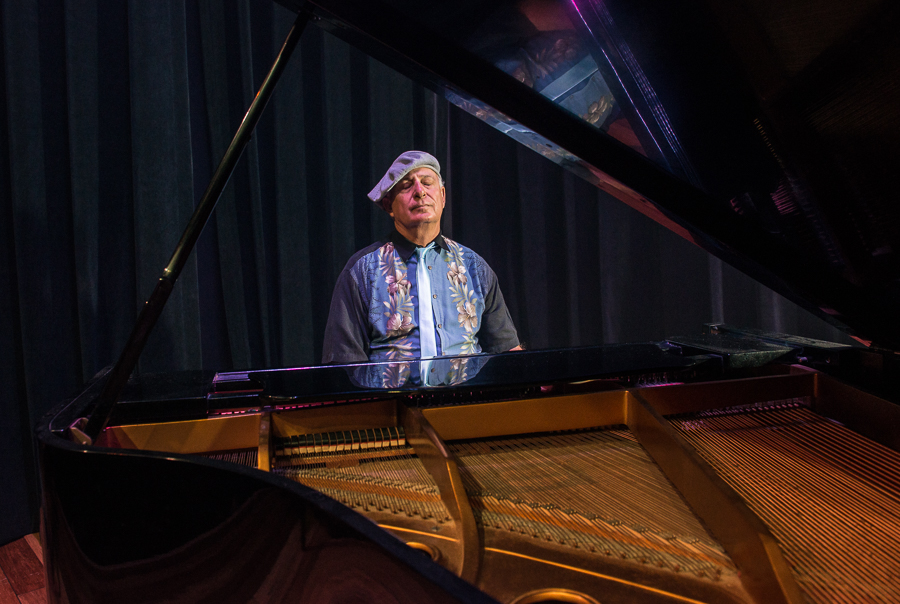 When Larry's gig at the Pier House was cancelled, he purchased their beautiful black Kawai piano. It now resides in the corner at the Little Room Jazz Club. He hopes to get back and "jazz up" that corner as soon as it reopens.
3 Comments