Coffee Butler –  Rest In Peace "My Buddy"
On Saturday, Feb 12, 2022, the community came together to show our love and to celebrate the life of the wonderful Lofton Ambrose Butler.
During the writing of my first book, "The Soul of Key West", about our local musicians, I kept hearing stories about Coffee Butler from almost everyone in town. Naturally, I had to meet this legend.
I have to thank his cousin, Clayton Lopez, for setting up my original introduction. Coffee was hesitant when I walked up to his front door – like what is this guy selling. The chickens were pretty friendly. I brought a copy of my book and opened it to Cliff Sawyer's page. They were very close friends so that warmed things up, and we started to talk.
For two hours, we talked about music, baseball, his wife Martha, and Miss Ellen Sanchez. After the first five minutes, I knew Coffee and I would become very good friends. I knew we would talk often and we did.  He was the kindest person I have ever met and just about the nicest man in the world.
When I finished the 2nd book which included Coffee, I spoke to Robert Albury who told me there was no "soul" at the first book release concert. So, we planned a Soul night with Robert, Clayton & Mina Lopez, and Cliff Sawyer.  Clayton had a great idea – ask Coffee if he wants to perform.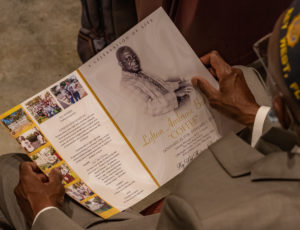 Coffee had retired in 2005, so ten years later on December 19, 2015, he came out of retirement to headline the book release concert at the Studios of Key West. The place sold out a month in advance. We had a real Soul of Key West night with plenty of Soul – and Coffee had a new band.
We sold tickets to old conchs that would never come downtown, let alone buy a ticket to listen to music. I'm not sure anyone knew I was selling a book, they were all there to see Coffee. He did not disappoint them.
By popular request, we had to do an encore concert the next year. We moved to the Key West Theater that held 50 more seats, and Coffee sold out five more concerts over the next three and half years.
At the first concert in the Key West Theater, Coffee and Robert Albury shared    Louis Armstrong's "Wonderful World". During rehearsal, Coffee and Cliff Sawyer wanted to sing "A Mother's Love". Their mothers were great friends and almost every time they were together, they talked about their mothers. It's a beautiful song written in the 50s, made famous later by Aretha Franklin, that tries to explain the wonder of a mothers' love. And just squeezes your heart.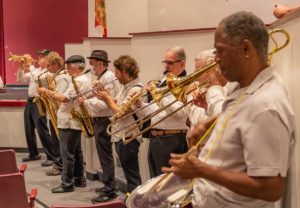 We had a huge grand piano on stage. They both sat on the piano bench and shared their verses of "A Mother's Love" to a packed audience. By the time they finished that song, everyone in the audience was on their feet with tears streaming down their cheeks – both men and women.
Their mothers would have been proud of them. Thank you, Mrs. Sara Sands Butler and Mrs. Naomi Saunders Sawyer for giving us these two phenomenal Key West talents.
We performed that song at every concert. It became the title song to their album which we recorded in 2018. On the way to the studio to record the song, Coffee and Cliff talked about their mothers all the way. The album was released two days after Coffee's 90th Birthday.
It didn't go platinum but the masters will be stored in the Monroe County Library, and thanks to Paul Menta, a copy of my book featuring Coffee, a "A Mother's Love" CD along with a stick of photos, will be placed in the Key West Bicentennial Celebration Time Capsule to be opened in 2072 – when I'm 129 and still singing Pepper.
Coffee loved every one of those concerts. He seemed to get more energy year after year. Pepper seemed to get a little longer at every concert. I caught Ed Swift out of his seat dancing his feet off during the second set of one concert.
The most fun was before every concert. I would bring Café Con Leche and, Coffee, Cliff, and myself, would sit on Coffee's porch and decide what songs they would sing for the next concert. It would go like this – Cliff would ask Coffee about a particular song. One would start to sing a verse, and the other would jump in – I had my own private concert on Coffee Butler's front porch. The musicians loved playing his music. Heck, the musicians even loved rehearsal.
The Coffee Butler renaissance didn't stop there – Coffee was named Grand Marshal of the 40th Fantasy Fest Parade in 2019. His band had the first float in the Parade with eight musicians and five vocalists.  He was also the Grand Marshal of the Key West Annual Christmas Parade that year. Ed Swift donated the use of one of HTA's trolley that had speakers – so the crowd could hear Coffee's music.
The "piece de resistance" came in June 2020 when the new waterfront amphitheater was named the Coffee Butler Amphitheater.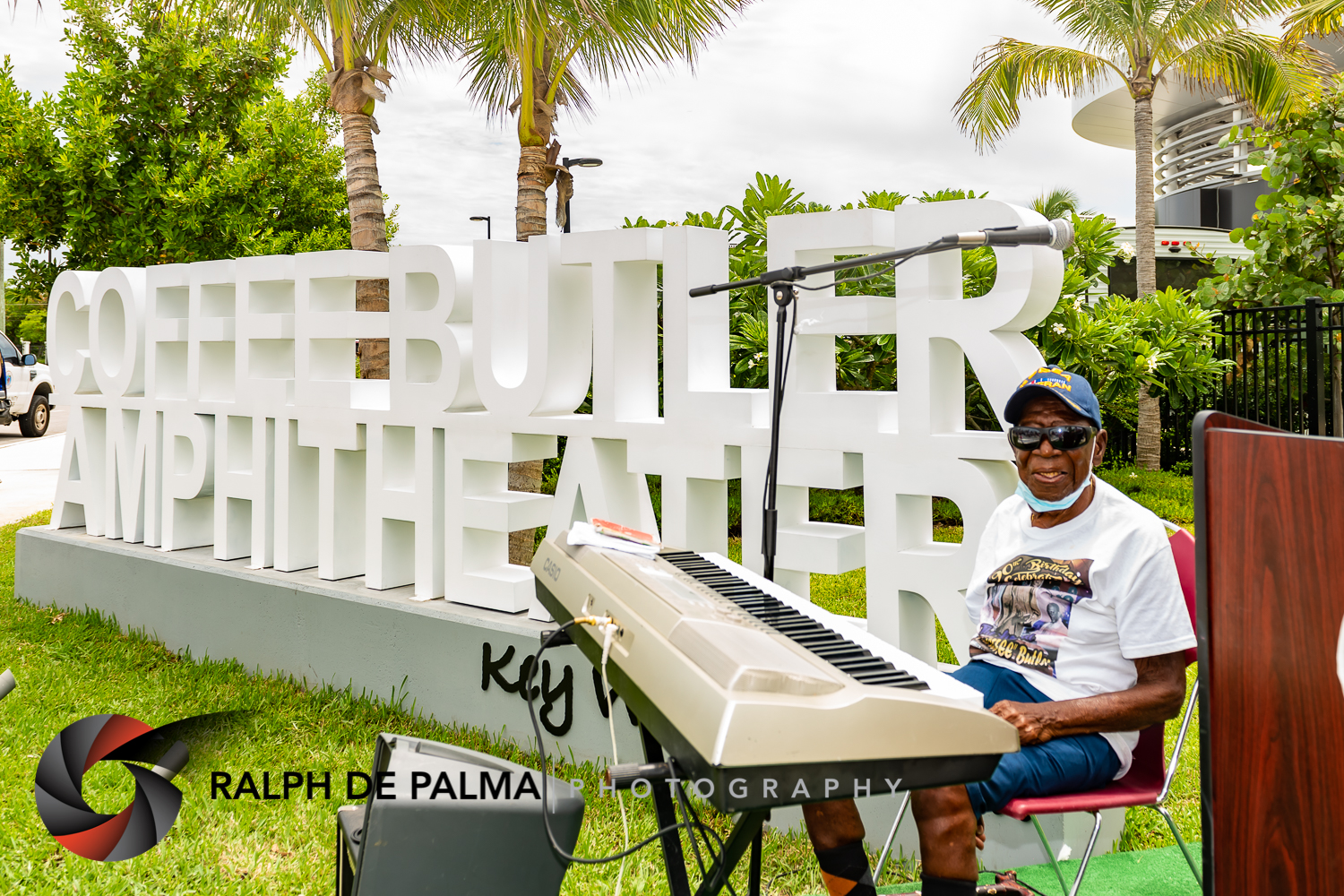 Coffee packed a lot music and a lot of life in those 93 years. Many of you knew him longer than I did but I loved him as much.
8 Comments