Myles Mancuso – legendary Levon Helm was Myles first mentor
In 1995, Myles Mancuso was born near Poughkeepsie, NY into a family of Italian heritage. His parents, Rebecca and Nick Mancuso, have always been his biggest fans.
At age eight, his father introduced him to the iconic 1978 film, "The Last Waltz", a Martin Scorsese documentary about The Band's farewell concert with Bob Dylan and a host of other great musicians, including Levon Helm. From that moment, Myles knew that music was what he wanted to do. His mother never played music and his father was a drummer but both equally encouraged Myles to study music.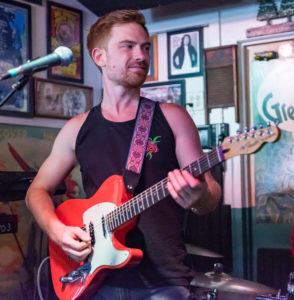 There was always a drum set available, and Myles quickly learned to play. When he was nine, his grandmother gave him a bass guitar and he taught himself to play. He learned classical piano in school, and later connected to rhythm guitar which became his dominate instrument.
Nick Mancuso was an advertising promoter for Grammy Award Winner Levon Helm, at Helm's famous "Barn" studio near Woodstock, during the beginnings of the Midnight Ramble series. He worked almost every weekend from 2007-2009, bringing young Myles along. While they were setting up for the Ramble, Helm would spend time teaching young Myles little things about music and performing. The legendary Levon Helm became Myles Mancuso's first mentor.
Levon Helm had been recovering from throat cancer and was feeling much better during the times spent with Myles. In 2007, at a local festival in Woodstock, his father talked Helm into putting Myles on stage to play bass on the blues song, "I Ain't Lyin' ". It was the coolest gig of this young twelve year old's life. Myles' first real live gig was with his father at the tender age of thirteen.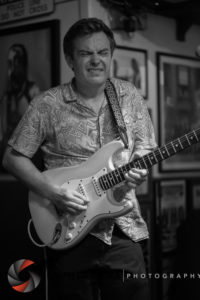 Myles attended the State University of New York (SUNY) studying Jazz Performance from 2013-2014. Through his college friends, he made some great connections with a number of high-level jazz players in New York City. In 2015, he performed in Greenwich Village at the Village Underground, a nightclub connected to the legendary Comedy Cellar. Myles would play four nights a week with "A" list performers that had toured with Christina Aguilera, one singer had toured with the Rolling Stones, and their drummer had toured with Nora Jones. At age 20 and the youngest person in the house band, Myles thrived with the exposure to all these professional musicians.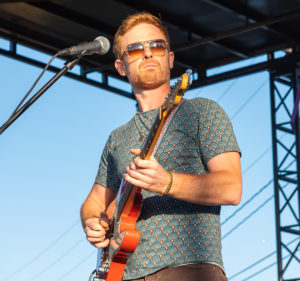 One of the secrets of Myles' success is his huge internal drive to constantly be a better performer. Never being satisfied with how he sounds, Myles is always looking for new inspirations like Jimmy Herring, Derek Trucks, and John Scofield.
The family moved to Marathon in early 2017. Myles quickly took off for Nashville seeking fame and fortune for three years. The much larger Nashville attracts a higher caliber of musicians overall. One difference he noticed in Nashville, there are a good deal of 'cookie cutter' songs and music that requires a music lover to hunt for the best music content. In Nashville, there seems to be a concentration of highly competitive and ego-driven performers trying to get noticed and "make it" in the competitive recording industry. The tourist driven Key West music scene quickly filters out any poor content. Consequently, the overall Key West music scene has good music, almost everywhere, all the time, and a more laid back environment. In Myles' opinion, it was difficult to enjoy the Nashville music scene because of its cutthroat nature.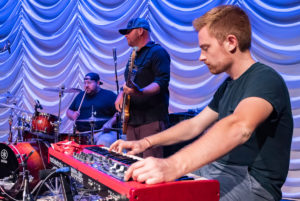 To record an album in Nashville, there are many more non-music related activities that have to be considered, and in some cases, overcome. To get a live theater gig in order to record an album in Nashville, you would have to know how many tickets would sell, an estimate of how many recordings would sell, a label, merchandise, etc. To record a live album at a club or theater in Key West, it's like holding any normal gig with the addition of a recording engineer and recording equipment.
After Hurricane Irma, new business, with more corporate business influences, arrived. There were trends towards more solo performances and less quartets and trios. Myles views the Key West music scene as thriving and growing but he fears some of the Nashville influences taking hold in Key West.
However, there is a significant Key West vibe that is still like not living in the real world. The audience for music in Key West is driven by over a million annual tourists. Some music fans seek the Key West imaginary Margaritaville and discover the vibrant blues scene. Returning home to colder climates, many continue to check out the live cams in Key West and plan their next visit.
Myles played drums during the 2021 Key West Songwriters Festival with legendary Steve Cropper on the Sunset Pier and also, with Robert Randolph at Sunset Green. He has an intriguing new band called Glass Cats, with three other good players, all in their twenties, from the Massachusetts area. They play a mixture of great quality rock and soul and are currently working on some original music. For a fun night check out, Myles Mancuso and the Glass Cats.
One Comment