Paul Cotton – "He didn't have fans in Key West, Paul had an extended family…Rest in Peace"
By Ralph De Palma
It is with great sadness that I report the passing of music legend and Key Wester, Paul Cotton. Paul didn't have fans in Key West, he had an extended family. After spending a life in the music business, his only real friends were the musicians he toured and recorded with, until he arrived on his new island home in 2004. He made some great friends, starting with the members of the Paul Cotton Band, and the people he met in his daily life in this very close One Human Family community that he loved.
Paul loved the vibrant and diverse Key West with its unusually large music scene and many performers playing original music, not just "covering songs". The weather didn't hurt either. Paul always said, "My fans know where to find me."
Paul Cotton was born in Alabama and raised on the south side of Chicago. He played the French horn and took up the guitar in his last years of high school because he found it to be "a more portable instrument". Paul joked that it was hard to sing with eighteen feet of brass tubing in your mouth.
He played Gretsch guitars most of his life.  Working with Gretsch, Paul helped design the White Falcon, their top of the line and considered one of the most beautiful guitars in the world.   Both Neil Young (Buffalo Springfield) and Steven Stills (Crosby, Stills and Nash) played a White Falcon.  It was basically a jazz guitar but they made it rock, and so did Paul.
Paul played with Illinois Speed Press before joining Poco in 1970. He toured with Poco for nearly four decades as the lead vocalist, lead guitarist, and songwriter.  It's difficult with limited space to do justice to his memory. He wrote countless hits and received a number of certified gold and platinum records.  Paul headlined at Carnegie Hall, the Hollywood Bowl, and Madison Square Garden and hundreds of Music Festivals. The Beatles' George Harrison dubbed Paul, "King Cotton".
Paul saw the city of Key West as a cast of characters where everyone has a story.  He also saw parallels between Key West and New Orleans, another of his favorite cities. Paul's biggest hit "Heart of the Night" was inspired by an evening of fun and music in New Orleans. When he got home, he wrote the song in twenty minutes.  Key West has a lot of similarities with New Orleans – diversity, great food, music, and especially songwriting inspirations.
Paul credited Jimmy Buffet for making people aware of Key West. Buffet is a great story teller, creating the mythical "Margaritaville" that helped encourage many of his fans to experience Key West for themselves.  Paul said, "Some of us actually wanted to move here and write stories like that."
One of his favorite Key West music experiences was the 2013 Women's Hope Concert at the Tennessee Williams Theater, where he performed with the great Key West female vocalists. Another highlight was playing with Caffeine Carl at the 2012 Key West Musicians Festival. Paul said they "tore the roof off the place".
I was hired to photograph the 2013 Keystock Music Festival and remember standing back stage in a crowd of more than 50 people talking to Paul Cotton waiting for the nine time Grammy Award Winners – "Three Dog Night"  to arrive.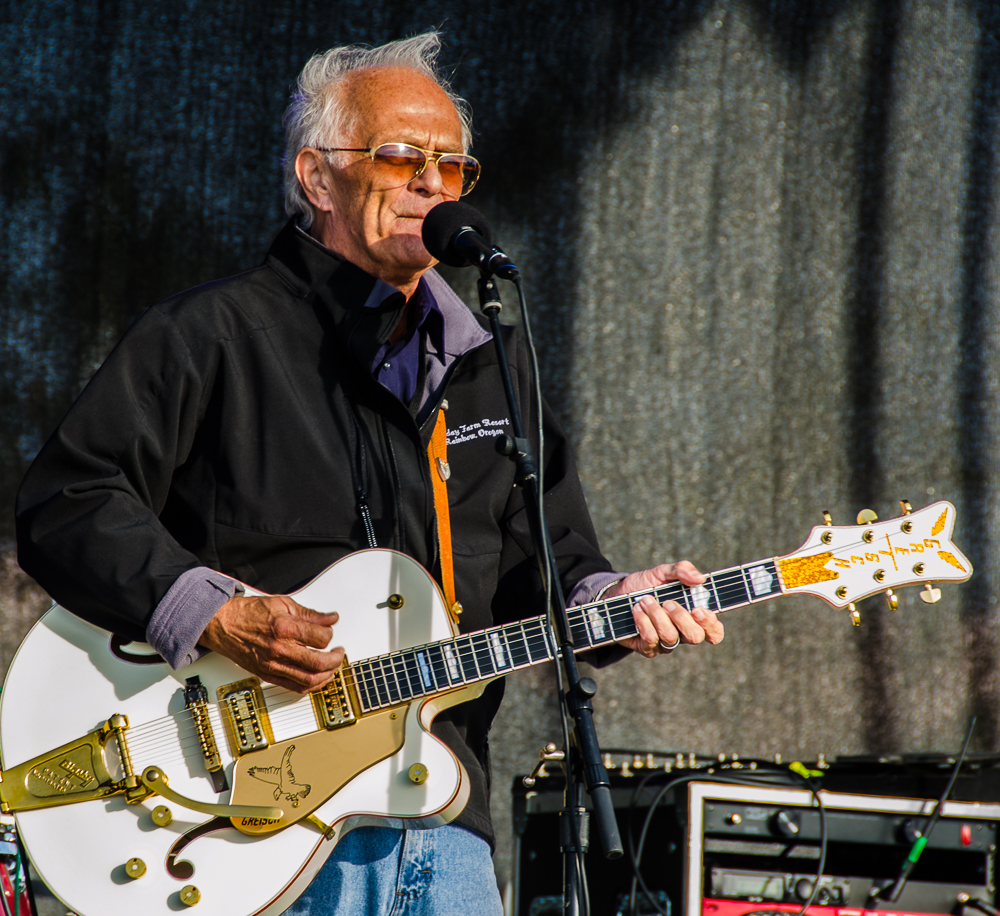 It was a cold February night and they were to go on stage at 9pm and they arrived at 9pm. As they walked in I was trying to get to the front row and get a photo of them, Paul Cotton was right behind me. As they walked by Lead Vocalist, Danny Hutton looked over and said "Hey Paul, how ya doing." That's when I realized what a music star Paul Cotton was.
His latest work,"100% Paul Cotton", recorded and produced in Key West, was released in 2014. All the songs had been previously recorded, but Paul was finally able to produce them the way he had originally conceived them, with the Paul Cotton Band. Album co-producer Russ Scavelli remembers discussing the music with Paul, and him saying "Let's just do guitars."
When Russ and Paul first met, they spoke of the 1970s and Paul's hits. Some of his songs are extremely complex and musically difficult. Russ remembers learning all those songs and how he loved playing them. Paul said, "I remember writing them."  They recorded the "100%" album together for well over 100 hours. In addition, they recorded several other new songs to be released at a later date – one of which Russ feels was Paul's best ever.
For family reasons, Paul moved to Oregon in 2017 but had always planned to return. Their cars still bear Florida Tags and drivers license. They returned to Key West January, 2020 for an extended stay. Paul participated in the Crooks Annual Second Line Celebration in January and a couple of gigs with his Paul Cotton Band at Schooner's Wharf Bar in February. He was scheduled to headline the 50th Anniversary of Earth Day with "That Hippie Band" at the Key West Amphitheater on April 22. Unfortunately, the gig was cancelled due to the pandemic, and they returned to Oregon.
Band member and friend Gary Hempsey said, "He was a rock star for real, with history and an easy way about him. Getting to sing and play beside him and the band was a thrill. Those songs came to life."
A Key West Celebration of Life for Paul Cotton is being planned for early 2022.
10 Comments