Pete Jarvis – Veteran of the Battle of the DMZ
Pete Jarvis grew up in the Adirondack Mountains near Lake George, in Glenn Falls, New York.  His grandfather had an upright piano in a small music room, and Pete would always attempt to play music whenever he visited. At age 9, his mother hired a music teacher to give him a lesson. After a short period of time, the piano teacher walked Pete home and told his mother to not schedule any additional lessons as Pete had no musical talent… so much for the experts.
In the early 70's, Pete played in an Alice Cooper type band called Rockwood. They auditioned for a battle of the bands at a local theater, were accepted, and won – three years in a row. They were "retired" as undefeated. The band toured the Albany area while Pete was still attending high school.
After high school graduation in 1973, Pete enlisted in the Army. While stationed near the DMZ of South Korea, Pete wrote a song for a Rec center talent contest called "Battle of the DMZ" (a harbinger of things to come). He was almost immediately assigned to travel to Army and Air Force bases in South Korea to entertain.
In the 80s, Pete help start a Grateful Dead jam band called Crispy Critters and Crumbs. Later, he spent three months in Denver, checking out the music scene. He quickly had gigs seven days a week. He planned to return to Denver after playing St. George in the summer but a friend, Ray Jett, asked Pete to help open a new jewelry store in 1989 in Key West located on Green Street. Later, he walked down Fitzgerald Street to the Portside restaurant with his guitar and asked the owner if he could play a few songs. As the sunset crowd walked by and enjoyed the music, Pete made $200 in tips. He never left.
He later played, for three years, at Sloppy Joe's with Kevin McNamara. In 1996, Kevin had an altercation with a jealous boyfriend and was beaten badly. He called Pete the next day and said he was leaving town. Scrambling for a replacement, Pete had heard Wayne Hammond performing at the Hog's Breath with Larry Baeder. Pete asked Wayne if he wanted the gig. They made $100 each that night and really enjoyed themselves so much that they continued, expanding their performances, for the next two decades.
While touring together one summer, near Lake George, they heard a comedian doing a parody to the song "Stairway to Heaven", with some funny lyrics as an introduction to his act. It was only a one verse intro, but this gave Pete and Wayne some entertainment ideas. They later finished that parody song along with many others, that are now so infamous, their titles can't be published in a family newspaper. They continued their brash and risqué comedic parody music, with entertaining lyrics, for Sloppy Joe's tourists for over two decades.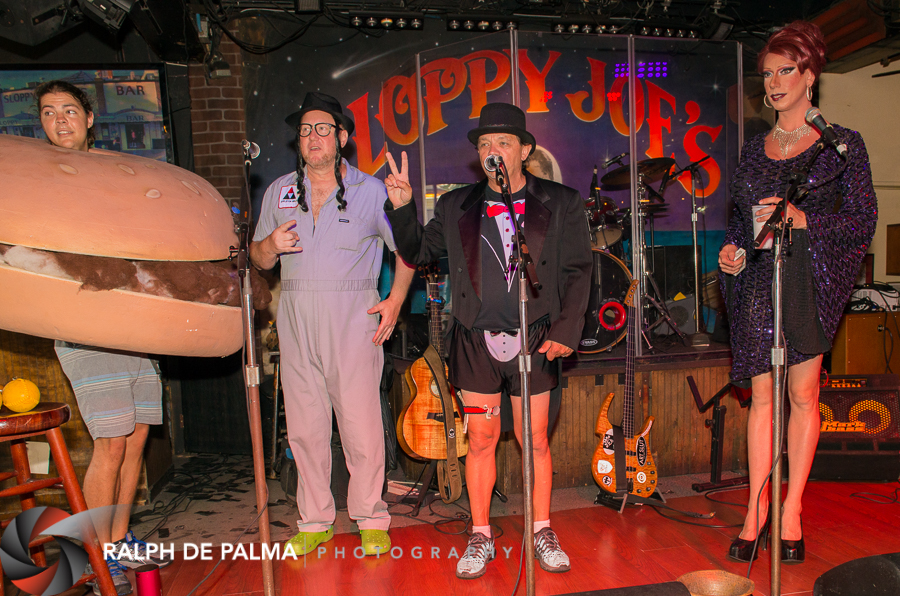 In 1998, they were on a summer tour and stopped at the Old Milltop Tavern in St. Augustine, Florida. There were two folk musicians who were releasing a new album. Their microphone was broken, and they asked if anyone had a microphone. Pete went to the van to get their microphone, and Wayne made a deal to open for the two folk singers. They made a huge mistake. The folk singers' fans got to hear one of Pete and Wayne's raunchier parodies. At the end of the song, the bartender was the only one clapping. Pete and Wayne were quickly asked to leave. They returned the next day to retrieve their microphone.
The two always found refuge and welcome in Key West. For their 20th Anniversary celebration at Sloppy Joe's, they arrived in a limo. Pete was dressed in a formal tux t-shirt complete with tux shorts and a red garter, and Wayne wore a grey jump suit topped with a black hat and Hasidic payot wig. In perfect Pete and Wayne style, the ensemble included some of Key West finest musicians, a drag queen, and a six-foot-wide Sloppy Joe sandwich costumed actor.
After the sudden passing of Wayne Hammond in 2018, Pete struggled to get back into any semblance of a groove. His wife suggested he needed to just get out and play, for free, if necessary. Ben Taddiken, who played solo gigs, invited Pete to play with him. Pete brought Larry Strickland along for percussion but mainly add fun. The first three bars of an old 60's doo-wop song harmony, with three good friends on stage together, and all the pain of losing Wayne seemed to melt away. The new group, Tipsy and the Donuts, continued performing until Ben Taddiken moved to Daytona.
In early 2021 before having a chance to get vaccinated, both Pete and Larry contracted COVID.  Their early symptoms happened almost simultaneously and they were quickly hospitalized in intensive care next to each other. It was very serious Pete went into a coma, they pulled through after a couple of weeks of great care at the Key West Hospital. It took a few weeks longer, but Pete and Larry returned and began their "Staying Alive Tour" at Sloppy Joes.
July and early August they toured the Eastern seaboard, picking up Ben Taddiken in Daytona, and continued the fun for a few gigs in the Carolinas.  Pete and Larry continue to entertain at Sloppy Joe's. They are a pure unadulterated fun band.
6 Comments