Raven Cooper   "Everyone needs music, it's like magic."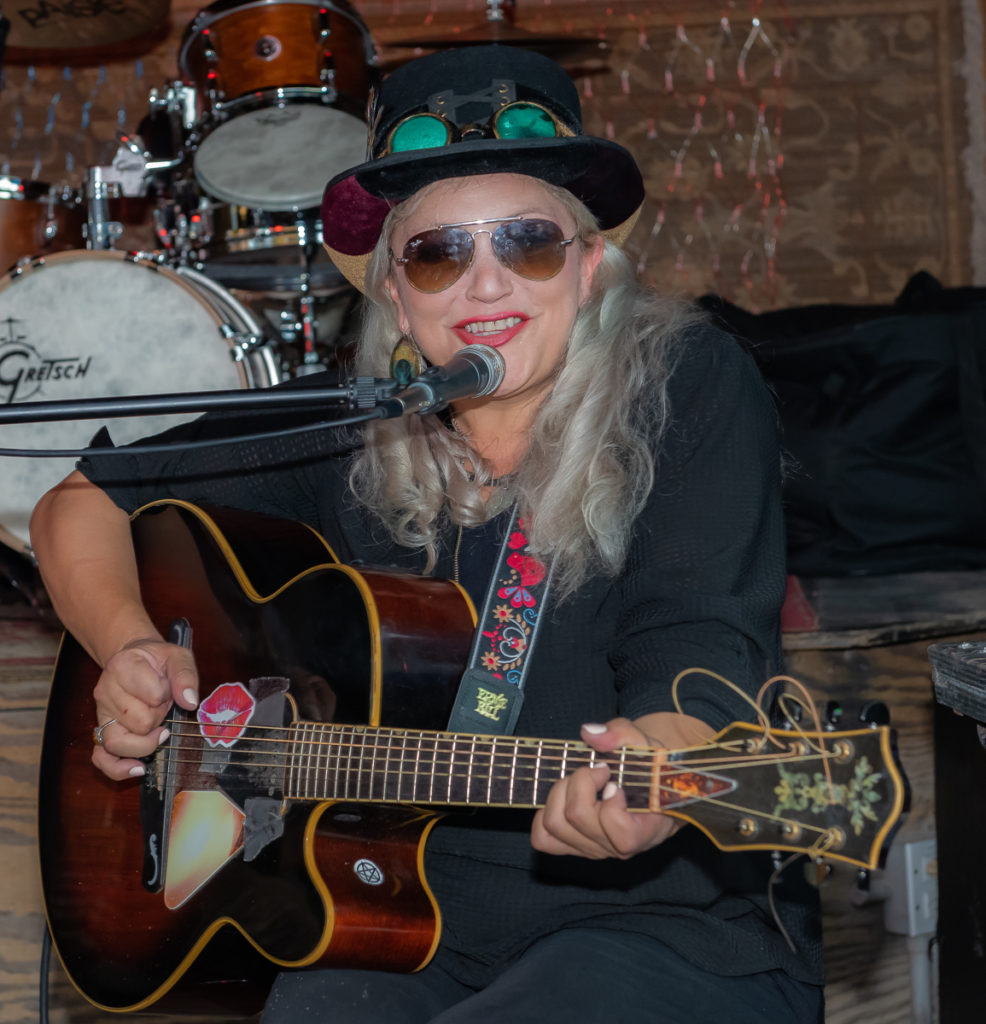 Raven grew up in Hot Springs, Arkansas and was a competitive freestyle and butterfly swimmer and diver in high school. At age five, she saw the movie, "The Color Purple." The scenes set in a juke joint inspired her to be a singer. Listening to Janis Joplin was another major motivation. Her grandmother bought her a guitar while on a trip to Mexico. At ten, Raven began learning classical guitar and singing Janis Joplin tunes.
In Hot Springs, there was a former house of ill repute from the 1930's where Chicago gangsters and bootleggers would come to town to relax. It was called Madam Maxine's and became a local bar with live music. Raven was singing in Maxine's when she was fifteen.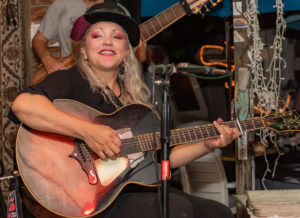 Raven left Hot Springs at seventeen. She met Victor Brown in New England, and they lived in Maine for a few years.  Victor promoted Raven's music career. They bought a motor home and decided to tour in warmer climates. Being on the road is difficult. Musicians usually don't eat or sleep well on the road and is quite a strain. 
They "toured" all the way to Key West in 2000. Their motor home was parked behind the stage at Geiger Key Marina. Sooner or later, it seems everyone comes to Key West. Raven immediately fell in love with the city. There is plenty of work for a musician. The most important factor is being accepted by fellow musicians to assure success in Key West. Her first Key West gig was at La Te Da. Later, Fritz Ziegler got her a gig at Ocean Key House.
Raven described her love of music: "Even when I don't feel great, when I start singing, it's like a natural high. You forget about your troubles, and you're making other people happy. The audience is on vacation and having fun, and they forget about their troubles at home. Music just makes things better, everyone needs music, it's like magic."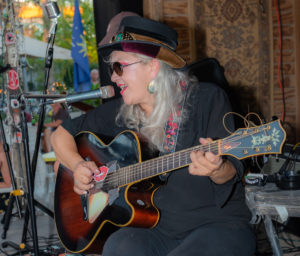 Raven gets nervous singing in front of a small crowd. When she is in front of a large crowd, it's much easier. She can sense when her audience is "getting it" and says, "It's a give and take." She sometimes teases her audience to "Please fill the void in my self-esteem" because to her, it really is all about being loved.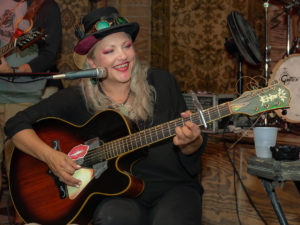 She performed with a band called Honey Mouth, formed originally by Barry Cuda, along with Ken Fradley, Bubba Lownotes, and Richard Crooks. They specialized in old honky tonk, blues, and jazz music with favorite standards from Billy Holiday and others. The band performed at the annual Wesley House Valentine's Day fundraiser at the Curry mansion four years in a row. During the 2010 Valentine's Day gig, Raven, who was nine months pregnant, had to request a chair during the performance. Shortly afterwards, she went into labor, and her beautiful daughter, Sophia, was born on February 15, 2010.
Schooner Wharf Bar is Raven's favorite place to play in Key West. The owner, Evalena Worthington, always treats musicians well and feels that Raven is a very special performer.
One of Raven's prized possessions is "Lucille", a custom-built guitar specially made for her by good friend and fellow Schooner Wharf Bar performer, Michael McCloud. She plays "Lucille" at almost every gig. Raven says when she grows up, she wants to be like Michael McCloud. She says every time they speak, Michael imparts some word of wisdom that makes her think about it for the rest of the day.
Cooper Liam Siaulnski first recorded music with his mother, Raven, at 6 years old.  They released a song together on the album, "South of North", produced for the Tourist Development Council by Barry Cuda and Ken Fradley. They sang a touchingly warm song between a mother and her son titled, "The World Is Upside Down". Cooper is now 23 years old and moving to New Orleans to study jazz.
When a new musician comes to town, Raven always invites them up on stage. She loves Key West and has lived here longer than anywhere else in her life. It's home. It's a very forgiving and caring place. Raven credits the Sister Season Fund with helping her survive the pandemic shutdown period. She says about Key West, it's the best place in the world, "When one of us falls, everyone surrounds you and helps pick you up".
2 Comments