Ray Spence  – part of the Key West music gumbo
Rayfield Spencer Beazer, born to Elaine and Ralph Beazer, is originally from the Bronx, New York. His father was a huge jazz fan and would always to listen to John Coltrane, Hank Mobley, Dave Brubeck with his son. Ray's father was also a big Doo-Wop fan.
Ray would bang around in his chair while listening to music, and at age 12, his father decided to get him a drum set. He had a few drum lessons from adult friends through age 14, and then attended Fiorello LaGuardia High School of Music & Art and Performing Arts near Lincoln Center in the Upper West Side of Manhattan (a short walk to the Metropolitan Opera House). Their school orchestra was frequently conducted by Leonard Bernstein, and graduations were held in Carnegie Hall.
Ironically, another Key West musician attended the same school, Richie Ciavolino who was also a drummer. Ray attended from 1976 – 1979. The school was famous for serious alumni including Madonna, Billy Dee Williams, Omaha King (Weather Report – Buddy Rich), Kenny Washington (bass).
After graduating from high school, Ray traveled with a music troupe from school, performing in St. Croix in the Virgin Islands. One night in St. Croix, he walked outside to a sky full of stars and was amazed – there weren't many starry nights while growing up growing up in New York City.
He attended Manhattan Community College in 1986 to learn the recording of medical records.  A friend called and asked if he wanted to tour with Sam and Dave for a few months – that was the end of his college career. He performed in top 40 bands around town, playing serious rock n roll. In December 1989, he got a gig with Sea Escape cruise ship line out of Port Canaveral, Florida and discovered the warm Florida winter weather. Another call from a friend in Orlando made the move to Florida permanent.
While in Orlando, Ray's friend, Hebrew Edwards, called with a gig at Rum Runners on Duval Street, Key West. The gig lasted for over a decade. Ray played Reggae with Duane Scott, Abdul Mateen, and a few others. He got a call from Brian Roberts to perform with the Prime Movers band that has lasted for over twenty years to current day.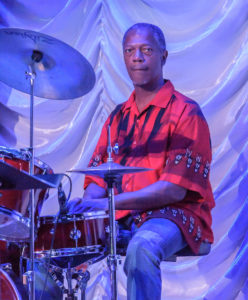 Many really good players have performed with the Prime Movers through the years including, George Victory, Tim McAlpine, Alphonse, Rob DiStasi, et al. Over the years, Ray has performed with a host of Key West special musicians like Chris Burchard, Chris Case, Jersey Slim, Keith Ricks,and made a lot of good music together.
Ray loves straight up jazz and many other genres but his favorite gigs were the five sold out concerts at the Key West Theater with Coffee Butler and the Soul of Key West Band. He got to enjoy the sublime entertainment of Coffee Butler, Cliff Sawyer, Robert Albury, Clayton and Mina Lopez and perform with an all-star cast of musicians. Those shows were special for a number of reasons. It took five great Conch entertainers to get Conch Key West music lovers to venture downtown and purchase a ticket for music. People that had never come downtown, let alone to the Key West Theater, were eager to see these legendary performers.
When Ray was performing with Coffee, and if something was wrong with the way he was playing drums, Coffee would give him "the look" and shake his head like 'no, no', Ray would change to what he thought was needed, a different method, or tempo he thought Coffee would like. After the change, Coffee would look over and smile, and Ray knew everything was right.
One post Irma observation that many have noticed is an increase in solo guitarists as opposed to duets, trios, or quartets. There is a standing joke around town that Key West has more guitar players in town than bartenders. That statement, however, includes some world class guitarist.
One gig with the late Jersey Slim at Sloppy Joe's, the management asked Chris Case to turn the music volume down a little which he did. Jersey Slim was infuriated and immediately told Chris to crank the volume back up and almost got the whole band kicked off stage. Jersey lived in the apartment above Ray. One Saturday afternoon Ray was cleaning his apartment and may have been playing music that was possibly a bit loud. Two police officers knocked on his door asking him to turn down his music. One police officer was pointing his finger upstairs – Jersey Slim had called the cops.
Ray Spence performs with Robert Albury at the Ocean Key House on Thursdays and Sundays. He also has gigs at the Kimpton Hotel on Saturdays, Mangoes on Wednesdays, and the Perry Hotel on Stock Island on Tuesdays.
There are no comments yet, add one below.