Ray West – the Pied Piper affect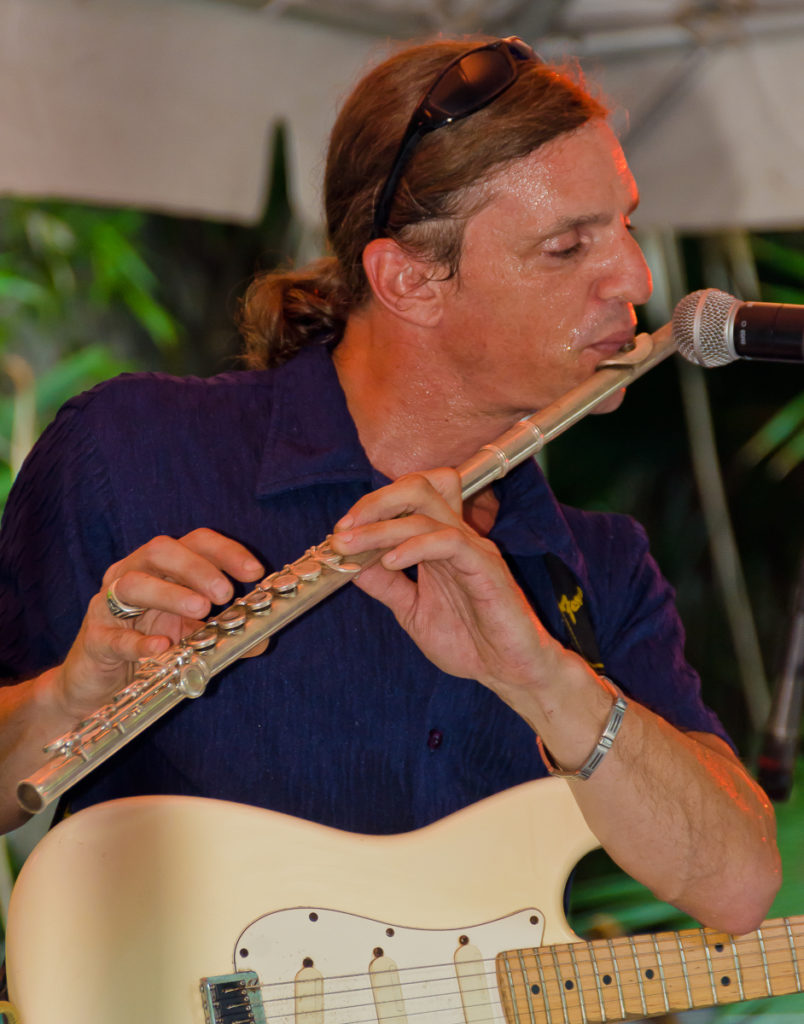 Born in California in 1967, Ray moved around a lot but calls Minneapolis, Minnesota home. He had a more difficult childhood than most, living in foster care for a number of years. He was born Monty Dean West and adopted as Raymond Blydenburg but later discovered the adoption was not completed, so he changed his name to Ray West. In 1985, he graduated from West Lion High School in Elkport, Iowa (population 250).
Childhood musical inspirations were Frank Zappa and Jethro Tull. He borrowed a flute from a cute girl he had a crush on and taught himself a few songs. One day, while on a street playing the flute, a woman wrote him a check for $20, and that was a key moment that moved Ray in the direction of a musical future.
Friend and fellow flutist, Johnny Lamana contacted Ray in 2008 and suggested he give Key West a try. John played flute on the streets in Key West for years and always had his dog with him, who wore a pair of large sunglasses.
While Ray is an accomplished entertainer, his expertise playing a flute is very unique for a guitarist and considerably appreciated by his audience – I call it "the Pied Piper affect". While performing at a venue, his audience is normally very attentive and enthusiastic. When Ray adds the flute to his performance, the audience noticeably increases and, in most cases, he fills the venue. The flute works in some places more than others. John LaMere and Jeff Clark were at the Smokin' Tuna playing a Jethro Tull song (you can't do Jethro Tull without a flute) and Ray with his flute, quickly joined in. It was a big hit.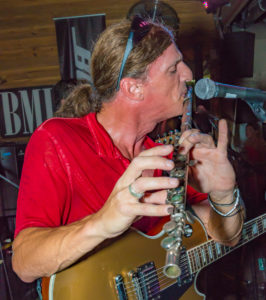 Ray loves clever music that a songwriter really put some thought into, including progressive rock and funk. He has published four CDs – Doctor Smoke in 2000, Manifold Destiny in 2007, Spinning in 2014, and Must Fall in 2018.
He studied theater at Morningside College in Sioux City, Iowa. He hadn't professionally acted until recently, when he was successfully featured in the March 2022 Fringe Theater dark comedy, Looped. He will be featured this season at the Waterfront Playhouse – Jimmy Buffett's Escape to Margaretville this month and Rock of Ages in December. Ray hasn't played any Jimmy Buffet songs in over ten years, but now performs 16 of them in the show.
In January 2022, Ray produced the first Key West Music Awards which was a huge success. Over 200 different acts were nominated for fifteen awards. This year's awards will be February 13, 2023 at the Key West Theater. He has tried to avoid it becoming a strictly popularity contest. The awards will be a combination of fan voting for nominees, and a panel of judges determining award winners.
Everyone has offered ideas for new award categories. One of the problems with the music awards is keeping the length of the show within reason.  A cool by-product of the Key West Music Awards is several Key West musicians have told Ray that the awards have inspired them to produce new music.
The Best Album and Song of the Year Awards are the most difficult. Some of the nominated albums that don't get a lot of votes may just not have been widely heard. Ray said personally he hopes the person that has produced a great album that no one has heard, wins.
There is a quiet understanding among musicians that Key West is very special. All the musicians need to keep involved with each other. There are not enough drummers and bass players to go around. A side performer has it a bit easier. When they are good enough to easily step in with others, they can perform multiple gigs daily. For a front man or solo performer, it is much more difficult to perform so many gigs a week without suffering some burnout. Key West has a half dozen venues with three shifts of music a day, some starting at 8:00 am.
Ray grew up in group homes and foster care and has always wanted to use music to help influence children, in similar conditions, to give music a chance. It has become personally important to him to help give children, that are in foster care or group homes, a chance to have some form of expression through music and help give them an identity and sense of worth. He believes that if we can help these children feel they can be good at playing a guitar or other instruments, it can also help them show adults that they can be good at something. It will help the children feel that they are not just 'screw ups', which is quite common, while showing their parents or guardians of their worth and give them much needed pride.
To Ray, it can be dramatically impactful, and he wants to help put these children on a positive path. While growing up, one of his fondest memories is the joy and pride his parents felt when he performed in a school theater. Ray turned out pretty good.
2 Comments