RB Tolar – "It was always going to be music."
Ronald Bryan Tolar, born in 1958 in Baton Rouge, Louisiana, now claims "RB" stands for Rhythm & Blues. He grew up in Gautier, Mississippi, attending school there. He started playing music at 14 and turned 'pro' at 15. He began gigging too much, dropping out of school in the 10th grade, eventually getting a GED. Music just took over his life.
He later attended Jackson County Community College, located across the Singing River (aka: the Pascagoula River), in Gautier, studying journalism but it was always going to be music.  Tolar started playing pedal steel guitar and the fiddle, gaining a sponsorship by the Sho-Bud Company ("Shot" Jackson and Buddy Emmons), a pedal steel manufacturer. He was later sponsored by Gibson Guitars.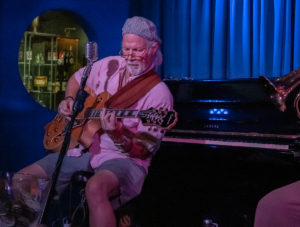 In 1980, Tolar was living in Jackson, Mississippi and playing at Wild Bill's Cadillac Grill when long time Mississippi friend, John Myler, called and invited him to come to Key West and play music at Billy's (now Salty Frog).  He was mainly a pedal steel player and there were only two or three in town. He started playing all over town and recorded live with John Myer at Sloppy Joe's. One of his first and closest friends in Key West was Rich "In Spirit" McKay. They played some special music together
The 1980s in Key West were pretty wild; he never knew what kind of mind-altering substances could be found in his pockets at almost any time. According to him, most of the scooters running around Key West were delivering kilos. He remembers sitting at Louie's Backyard one evening watching the smugglers roar into town under darkness, with no lights on.
While on a sabbatical from Key West, Tolar toured as an opening act for Johnny Paycheck, performing at the Grand Ole Opry in 1983.
Tolar also met Jimmy Buffet in 1983 and, through a mutual friend, got an appointment to see David Barber who was the Food and Beverage Manager at the Casa Marina, and almost immediately, was scheduled six months of gigs. The only problem – Tolar was not a singer at the time nor had he ever been a front man in a group. He borrowed every record he could find, transcribed lyrics, learned songs, and basically became an entertainer in a month. He was blessed with a very good voice and was a success holding the job for over three years.
One day, in 1986, while getting ready for his afternoon gig, Tolar heard a Coconut Telegraph rumor that Eric Clapton was coming to town. He arrived to find Eric Clapton sitting at the Casa Marina bar. They exchanged cordial introductions, started talking about music, and quickly became friends. After 45 minutes, RB Tolar started playing guitar in front of one of the world's finest guitarists. Later, he got to spend time with Eric Clapton around town.
Tolar also met George Harrison but the conversation was a very brief three words. In 1992, Tolar studied guitar with jazz specialist, Tim McAlpine, and later, guitarist Tom Patten introduced him to a three-finger method of playing.
He met Shel Silverstein in 1995 while playing with Michael McCloud at the Schooner Wharf Bar. They became instant friends and started to collaborate on music projects.
One day Silverstein asked Tolar to help hang some book shelfs at his home. During the work, Bob Dylan's name came up in their conversation. Tolar asked Shel if had ever met Bob Dylan. Shel responded, "No, but I heard he recorded one of my songs." Tolar inquired which song and Shel responded with the title, "A Couple More Years". This was always one of Tolar's favorite Shel Silverstein songs, with plenty of pedal steel. It had also been recorded by Willie Nelson. Shel played and sang the song that day for his friend.
The last time RB Tolar was with Shel Silverstein, Shel asked RB where he was from and Tolar responded, near Pascagoula, Mississippi. Shel explained how he had hitchhiked through the area once when he was poor. Shel passed that week from a heart attack. RB Tolar has unpublished recorded music written with Shel Silverstein that has been restricted by probate since Silverstein's passing. Many others in Key West have the same issue, and many of Shels recordings and demos have been lost with the passing of time.
In 1996, while riding his bike near Appelrouth Lane, Tolar heard some amazing guitar music. coming from what is now Mary Ellen's. It sounded like multiple guitarists ripping up some cool jazz. He parked his bike and walked in to see a single player, Mike Gillis, playing rhythm, melody and the lead guitar parts altogether. All he could do was watch and admire. He became a huge Mike Gillis fan.
In 2016, Tolar worked on the Sirius XM Elvis Live Radio Project. Four years ago, he married Amanda, a much younger woman. She also teaches yoga and loves RB's music. He has taught her how to play bass. RB Tolar is currently performing at Two Friends Patio, Viva's, and Little Room Jazz Club.
There are no comments yet, add one below.