Remembering Mike Gillis
John Michael Gillis has passed. He now performs on a much bigger stage – you know they got a helluva band. We lost a lot of music in Key West in 2022 and none more impactful than Mike Gillis.
I visited Mike a dozen or so times at his Kennedy Avenue apartment in the past few years. It was a sparsely furnished apartment with a big recliner chair in the middle of the room, a small television, a laptop, and boxes of files. It was hard to visit and not feel compassion, and a bit of sadness, for this world class musician that had performed for thousands in almost every famous venue one could imagine and had appeared on at least eight television shows.
Before vaccines, I hesitated visiting this 80-year-old high risk legend. We only spoke on the phone. He always had a project for me to help with. I digitally converted a beautiful recording of Mike and Louise Pearson and a few songs recorded with Gordy Michaels. Together, we discovered how difficult it was to post music files on Facebook. He would always have a printed story for me to take and read.
Mike had a resume a mile long – if interested, a few clips are posted on the Soul of Key West Facebook page. His resume listed a full page of major venues, another page of A-listers he performed with, and on and on. He was rightfully proud of his life's work.
When I visited Mike, he was always busy listening to old music or trying to regain his chops, while recovering from recent back surgery. Mike had battled cancer five years earlier and won. He was hospitalized in Miami in intensive care in 2016. Good friend, Harry Schroeder visited him in Cedars of Lebanon and related his worry that we might not see Mike again. Mike defied the odds many times.
I first interviewed Mike Gillis in his favorite Chinese restaurant in the Winn Dixie shopping center. He was the most fun interview of my 140 interviews. He had been a professor at the University of Miami teaching young jazz musicians, and he would always offer ways to help me learn more about music and musicians. His knowledge and understanding of music was deep, and his ability to communicate was both intense and gratifying. I always enjoyed talking to Mike.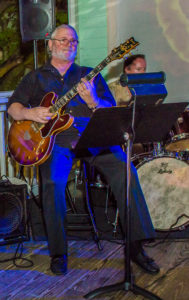 After I heard the news of his passing, I reread a few published stories Mike had copied for me. There was a very cool story by Edith Hamilton published in the Miami Herald's "Jazz Review" section (probably the early 70s when Mike taught Jazz at UM). She spoke of hearing Mike's beautiful music outdoors in a subtropical night in Coconut Grove at a venue called Tomato's. Hamilton painted a scene of jazz notes floating in the gentle breeze under the trees, "with the moon taking a back seat." In a direct quote, Hamilton describes "the Gillis group (quartet) hangs together with the ease of honey in a hive".
Another article was in the Key West Citizen's "What Is Hot" section, by Valerie Ridenour,, with a photo of Mike by my good friend Richard Weatherwax (probably early 80s). Ridenour describes a performance in a lovely upstairs room at Antonia's. She states, "Mike …has gotten everything out of the song when it is finished…" She also quotes the prophetic last lyric of a jazz standard "When my life is through, and the angels ask me to recall the thrill of them all, then I will tell them, I remember you."
Key Wester and then Citizen Reporter, Richard Hatch, wrote an article titled, "The Cream Rises to the Top", about a wonderful gig with Mike Gillis and Louise Pearson (a vocalist described as a Brazilian Ella Fitzgerald), seven stories above Duval at "The Top" of the La Concha. Hatch reminisces of Gillis performing at the Pier House, Captain Hornblower's, The Reach, and his long relationship with almost all the Motown artists.
There was a very cool 1992 Solaris Hill story, "Gillis is Back in Town", by Christine Naughton. She takes great pain to describe the sublime performance of this world class guitarist playing a hollow-bodied Gibson. Naughton describes his improvisation as "sometimes opening gradually like flower petals, sometimes bursting out like sudden fireworks."
Harry Schroeder also wrote two stories for Solaris Hill. One titled, "Great Jazz at Hickory House", a former Stock Island house of jazz that Mike frequented, and "There Are Musicians and Then There Is Michael Gillis" – the title says it all. Harry was one of Mike's best friends, and by no means objective. Harry recommended I interview Mike for my second volume of Soul of Key West book, and I'm glad he did.
Even though John Michael Gillis is gone from us, he is still alive in his own mystical way. His musical inspiration, to his many friends and students, lives on in their music. RB Tolar was inspired by Mike Gillis one day hearing guitar music coming from what is now Mary Ellen's on Appelrouth. Initially, RB thought it was multiple guitarists. He couldn't believe that one player, playing the rhythm, the melody, and the lead could sound so good.
Recently, I was enjoying a duet at the Little Room Jazz Club with Joe Dallas and RB Tolar and having a pleasant conversation about music with vocalist Carmen Rodriquez. As RB Tolar, playing a hollow-bodied Gibson, took off solo on an engaging Charlie Parker tune, Carmen stopped mid-conversation and said, "That reminds me of how Mike Gillis would play music." It made me wonder how many times that must happen all over this nation, and probably parts of the world, when someone remembers Mike Gillis.
13 Comments