Just thought we should to take a moment to remember the "Observant Lion", George Victory. He would have been 71 today (2/7) and left us far too early. George was a great musician, a fantastic vocalist, and an even better member of our One Human Family. He told me once that he loved Key West "it was like Trinidad without the mountains". I am sure he and Wayne, and Yvan will be jamming today. 
George grew up in a village called 5 Rivers in the Arouca area of Trinidad.  George's father sang, his mother sang in the Church choir.  George started performing in Trinidad at the age of 5.
A friend Victor Lynch took some photos of young George playing his guitar, he entered George in a local competition at age 9 in 1962 singing an Elvis Presley tune "Return To Sender" he won easily and the headlines in the local paper with his photo read "A Young Elvis".
After his Father and Uncles surprised him with his first guitar he taught himself to play a Louie Armstrong tune "That Ole Black Magic".  His father encouraged him to learn Frank Sinatra and Nat King Cole.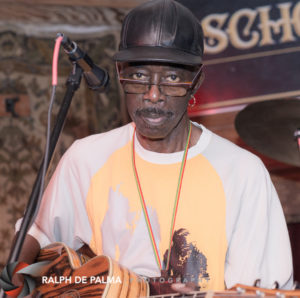 George's first musical touring began playing with the Mighty Sparrow in Trinidad traveling all over the world 1965 through 1977.  He also played with Jimmy Cliff during this period.  He later began playing in the mid 70's in New York playing with the Roy Cliff Allstars they opened for Ike and Tina Turner in Madison Square Garden.  He opened for the Commodores 1980 North American Tour, then the Spinners, then Gladys Night and the Pips, and Aretha Franklin.
One day a friend called from Daytona Beach asking him to sit in on guitar for a few weeks in 1997.  He played Spring Break on the Beach.  They did not want him to leave and made him an offer that was good so he stayed and ended up buying a house on Daytona Beach.
Later he was called by another friend whose guitar player was sick and he needed someone to fill in here in Key West in 2001. After two weeks of playing in what is now Dante's the Manager made George and offer he could not refuse and he stayed in Key West.  Starting to see a pattern. He traveled frequently to Daytona, New York, and occasionally Tampa to play with friends, but Key West was his favorite. He formed a small group "The Observant Lion" and plays regularly and loved our small island community.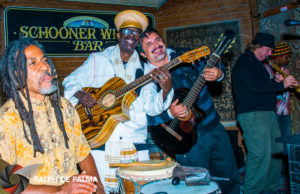 George's favorite music was the Blues.  George grew up with all the fads, gadgets, and rock and roll but as he matured he began to understand the "warmth" of music in the Blues.
George's youngest daughter Cegee a very accomplished vocalist (like her father) tours with the Wailers. George's favorite gig was playing for King Rashaad of Morocco for New Years, and Birthday Parties.  The King would fly him to Morocco and he would perform in the palace, not a bad gig.
We miss you George.
3 Comments