Richmond, Virginia Remembers Bill Blue
Ten days ago, I traveled to Richmond to attend the celebration of Bill Blue's life.  Bill left Richmond in 1982 and lived most of the rest of his life in Key West. He is a Key West legend that is revered by all. This trip to his hometown opened up a new perspective on this legendary Blues man. He hadn't lived in Richmond for 40 years but he occasionally performed there for festivals and special performances and rarely with his old Bill Blue Band mates.
In spite of that forty-year separation, the love for Bill Blue in Richmond remained profound. I attended the rehearsal in the cavernous Canal Club. They sacrificed booking a band on Saturday night in the main hall so the Bill Blue celebration group could load in, sound check the five bands to make sure everything would go smoothly, and their setup remained intact for Sunday. Bill Blue had performed at the Canal Club many times.
Every musician rehearsing had a Bill Blue story to share. They spoke of Bill as close a friend as his Key West band mates – like they had gigged together every day even though they hadn't really made music with him regularly for over 40 years. The following is a compilation of some of the Richmond memories.
Saxophonist, vocalist, guitarist, Joe McGlohan joined the Bill Blue Band in 1979. Zip Irvin was the original saxophonist. They all played at the same bars in Richmond – Hard Times, The Pass, The Back Door and several Outer Banks clubs.
Bill once told Zip, "When you were in the Bill Blue Band, it was Rock n' Roll Bootcamp". Throw everything away you learned in the high school band or any class, it didn't apply to Bill Blue music. Bill Blue called everything in the key of F sharp or G sharp, not normal saxophone keys – ergo Rock n' Roll boot camp.
Bud Myers of the Breeze radio station visits the Keys often. He says if this was a tribute for someone else, he guaranteed Bill Blue would have been here. He used my line about Bill – He's raised enough money to buy Miami. Anytime anyone was in trouble, Bill Blue was always there to lend a hand.
JB Boyer produced the Indian Summer Blues on Feather Records, their first album in 1975. He bought Bill Blue his first hard body guitar in 1972, with a credit card he borrowed from Mike McAdams' mother. Bill pawned the guitar a year later, and Boyer retrieved it from the pawn shop for him.
Bruce Courson played with Bill most of the 70s. Feather Records misspelled his name (as Coruson) on Indian Summer Blues. The album was already printed, nothing could be done to correct the error – Bruce was just happy to get his name on an album – even misspelled.
Gregg Wetzel related a funny story but swore that Mike McAdam could tell the story better which Mike later did. There was an old-school music store in Richmond called Astor Music. They didn't sell Steinways or big expensive equipment. They rented and sold new and used equipment that young rock n' roll bands could afford. You could rent instruments, PAs, and amplifiers for a day, week, or just a gig. Bill Blue was a big customer. After the release of his first album, Indian Summer Blues, Bill was invited to do an interview on local radio station WTLE. It was a big deal and a good interview about the new music release. They later opened up the show with a "Call In" session. The third or fourth call was from the music store owner – "Hey, this is Phil Astor. When are you going to pay me for that Super Fender Reverb you got from me?"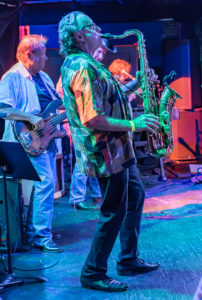 Cindy May Dodd worked with Bill's sister Jana at the Stonewall Café. She loved Bill's music as much as his personality. Cindy Mae and Band Manager Joe Sokohl were to meet Bill and Jana Blue in Nags Head. Jana was fighting a case of laryngitis. Bill, in his normally raspy voice, introduced Jana to the Joe, "This is my sister, Jana." Jana quickly responded, in a laryngitis induced raspy sound identical to Bill's voice, "Nice to meet you." Joe shook his head for a minute and said "What!". Jana quickly explained she had a cold and did not normally sound like her brother.
Around 1977, the Bill Blue Band had a schtick when they played a song called, "Gotta Be Cool". At the end of the song, the band would all start snapping their fingers to the beat – singing "you gotta be cool", then they would walk off the stage. One night at the Hard Times club in Richmond, they walked off the stage, snapping their fingers, through the crowd and out the front door. The saxophone player would carry his sax, others brought guitars, the drummer carried nothing. They all came back on stage ready for the next song and the drummer was missing. The bouncer at the front door didn't think he was with the band and wouldn't let him back in the club – not cool.
Bill Blue's life-long friend and fellow guitarist Mike McAdam organized and produced the six-hour celebration – it sold out to over 600 Bill Blue fans. Bill's sister Jana and daughter Molly were present and spoke on stage. I almost got through the entire day until I spoke to Molly about Bill, and we both lost it. I told Bill Blue Band vocalist, Sharon Garland, that we needed to learn how to talk about Bill without being sad. I'm working on it.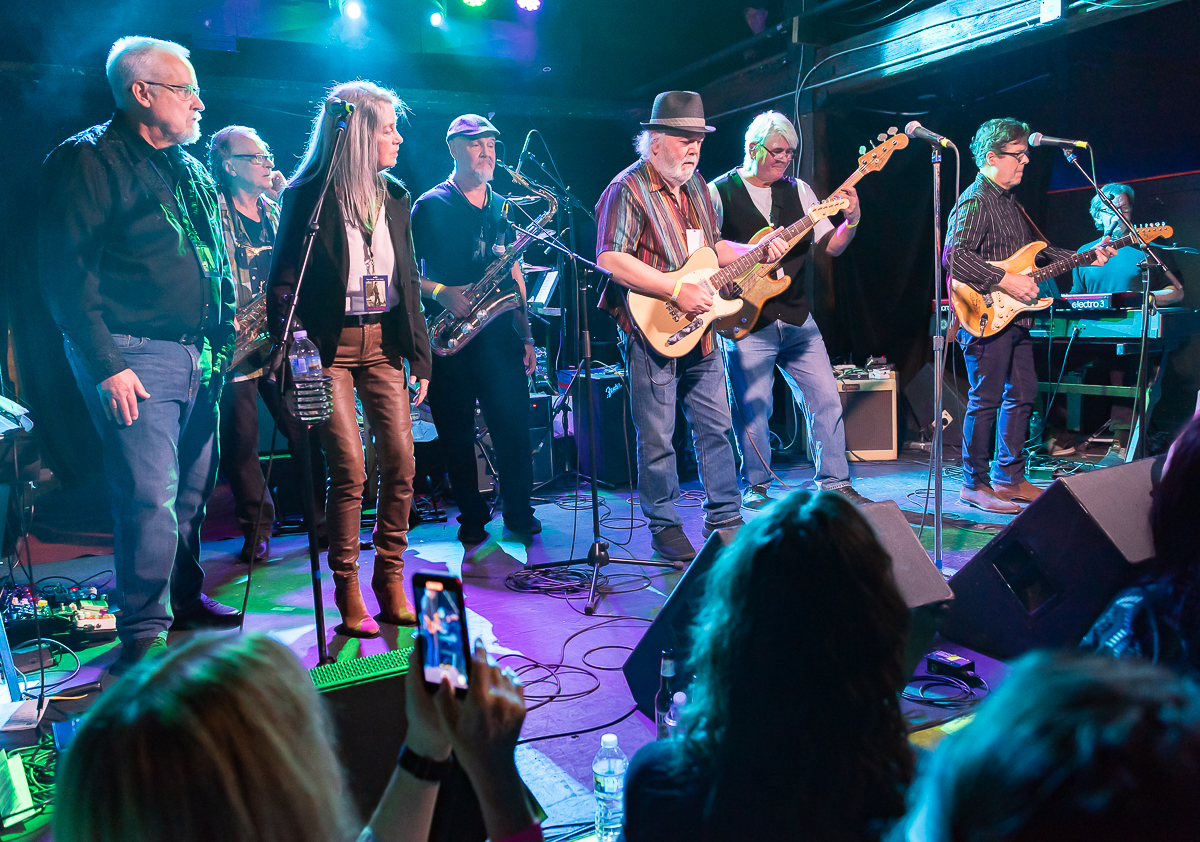 One Comment