Rick Fusco –   You Don't Choose Key West
by Ralph De Palma
Rick is from Wilmington, Delaware and comes from a large Italian family, full of musicians and vocalists. He is the sixth out of seven children. His grandfather, Antonio Fusco, came from Italy through Ellis Island. Rick remembers carrying an older brother's ukulele around the house and performing to anyone in the family that was available. At a very young age, he had a passion for the guitar. Rick would wait for his older brother to get home after school so he could practice on his electric guitar.
At age 15, Rick began playing, both private and public gigs, in his godfather's wedding band, Applause. The regular guitar player moved to keyboard, and he became the lead guitar. He never learned to read music and "faked it" for a period of time. He joined the Air Force in 1984. After ten weeks of basic and tech school, he hadn't touched a guitar – it was painful. While stationed in Anchorage, Alaska, there was a contest for a cabaret show. He won and got to travel with an Air Force band. Since he couldn't read music, Rick would perform next to a piano player who would tell him what chords to play.  He was finally busted while performing the "Chariots of Fire" theme.
In 1986, Rick joined another eight-piece soul R&B band called Final Mix, competing and winning in a Budweiser competition. They recorded a single and a B-side with Motown at the Hitsville Studio and were published in a Billboard magazine article as 'one of the up and coming' Motown groups. Motown was bought by MCA Records and shelved Final Mix.
While continuing to play on the East Coast on weekends, Rick also worked for JP Morgan Finance. One night after leaving work, he was the victim of a brutal assault and almost beaten to death. Left beaten unconscious along the side of a road, he was helped by a Good Samaritan who fortunately was an off-duty nurse. She called for help and stayed with him until an ambulance arrived. He nearly bled to death. The Good Samaritan remains anonymous to this day but Rick has written a song for her called "Roadside Angel".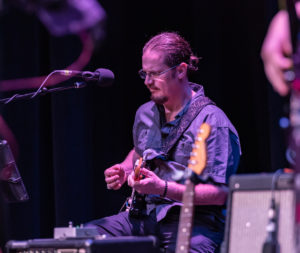 Rick suffered a traumatic brain injury from the beating that still affects his memory and ability to learn.  Initially, he couldn't play guitar anymore. His brain couldn't tell his hands what to do. A neurologist said it would take longer to recover his guitar skills. Today, it just takes a few minutes longer to learn new songs than before the injury. It's hard to keep a good musician down.
While Rick was recuperating from the injury, a friend invited him to visit Key West. He saw performers like Carl Wagoner, Rusty Lemmon, and others, and immediately fell in love with Key West.  He returned to Delaware to continue recuperating, and, in November 2013, finally decided to give Key West a try.
Rick was welcomed by many of Key West music scene players. He has thrived and become an integral player. He started writing songs and performing with everyone. Claire Finley says, "Ricky is back" – she's  the only one that calls him "Ricky." According to Rick, there is a sense of peace in the Key West One Human Family.
From Rick's perspective, had the terrible incident never happened, he would probably still be grinding away in the credit card industry and moonlighting as a musician up north. After a leap of faith (and Rick has a very strong faith) and a new-found dedication to his music, Rick is in a good place. Humans are very strong incredible beings. Three guys tried to end his life but one compassionate human saved his life – his Roadside Angel. Rick was also helped by a number of Key West musicians and has now become part of the music tapestry of Key West.
One night at the Smokin' Tuna, with Andy Westcott, Claire Finley, and Hiram Garzaro, they had taken a break and the Tuna audience thinned out. They came back on stage, hoping another wave of music lovers would soon be back. A group of guys came in and one was Grammy Award Winner, Zach Brown. He listened to their music then walked up to the stage, put money in the tip jar, and asked if he could sit in. Sure! They covered the Bill Wither's hit "Use Me Up" and "Fire and Rain", and had a blast. Zach is not only an award winner but a really funny guy.
Since Hurricane Irma and COVID, the music scene has changed a bit with more solo acts becoming common place. Ten years ago, Andy Wescott, Claire Finley, Rusty Lemmon, and Rick Fusco were all considered the "Young Guns" of the Key West music scene. Key West music scene newer players are constantly pushing players to improve, change, and get better. Some adapt quickly to Key West, others never adapt. One musician told Rick, "You don't choose Key West. Key West chooses you."
11 Comments