Robin Kaplan  –  Making Miss Ellen proud
Robin grew up in Woodridge, New York, a 'huge music town'. It was small community upstate but still closely connected to all New York big bands and stars. She studied piano, guitar, flute and trombone in school, graduating from Fallsburg Central High School in 1972.
Woodstock was planned in her basement by Mel Lawrence, a close family friend. He planned for a festival of 100,000 but when a half million music lovers arrived and the fences came down, Mel left in a helicopter. Her first band, at age 13, was named Purple Haze.
Robin moved to England to attend college, originally studying art but missed music so she performed in local pubs. She returned to the U.S. in 1976, in time for the Bicentennial. Robin had a high school boyfriend that lived in Key West and asked her to move to Key West in 1978. She played music at Mallory Square and joined the local community of hippies and sailors.
She started giving music lessons to children. Jaquelin Rosenblatt, a retired professor, living in Big Pine Key mentored Robin and helped her develop piano and teaching skills. She began teaching at almost every school in Key West.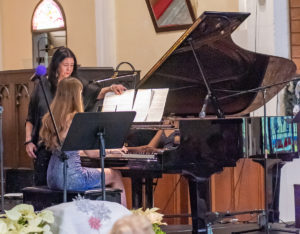 In the 1980s and 1990s, Key West had a large Jazz music scene. There were dance clubs at the Casa Marina and large bands were common. The Music Department at the Community College of the Florida Keys was much larger.
The mainstay of Robin Kaplan music instruction, The Music Room, was started in 1980 in her house on Hibiscus Lane where it remains today. Key West drummer, Skipper Kripitz joined her in the late 80s and Sugarloaf School Music Director, Joe Dallas joined a little later. They have been teaching together for well over 20 years.
Music gives children a sense of discipline that helps problem solving, math, and cognitive learning. The Music Room has become a home for all her students and their family. She has an annual New Year's Eve Party, and it's usually all her former students. At this point in here career, Robin is teaching the children of her previous students. Robin loves teaching even more than she loves performing.
Joan Leggett and Robin began working together at the Wesley House. It was through this association that Robin Kaplan met Miss Ellen Welters Sanchez. While teaching at Wesley House, Robin taught piano to a number of Bahama Village students. She always met the parents and learned about their community. Robin was also introduced to Coffee Butler who studied piano with Miss Ellen.
Miss Ellen, as she was referred by all her students, taught music all her life from the age of 17. She composed music and songs, led orchestras and choirs, and played music at several churches. She literally taught everyone piano. She formally retired in 1969 after 50 years of teaching but continued to teach first grade students out of her home on Chapman Lane, sometimes being paid with a bunch of Spanish Limes or a loaf of Banana Bread. Miss Ellen was in her late 90s, living in a nursing home with failing eyesight, when Robin first met her. The children of Bahama Village no longer had the opportunity for free music lessons at Miss Ellen's home.
A friend, Randy Sterling, worked for the city. He was asked to help find a place for Robin to teach children music in Bahama Village. They found an unused dressing room off the stage in the Fredrick Douglas Gym. Robin painted the walls, the city added an air conditioner, and several of Robin's students volunteered to help teach starting in 1999.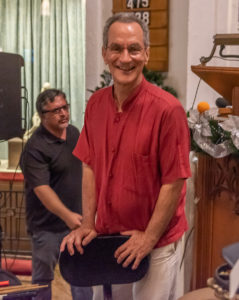 Kenny Knowles, who worked at Wesley House, knew the students Robin had been teaching. He began inquiring about others from the Bahama Village Community who wanted to study music.
Dave Parker, a vibraphone musician who worked for the city, tipped Robin that the old band room had been rehabilitated and the city wanted it to be used for the community. So, in a year Robin went from a tiny dressing room to the four room Fredrick Douglas band room (now the new clinic). Joan Leggett's Blessed Community Gospel Choir used the space for rehearsals. The number of students went from 10 to 25. Robin received donations of keyboards, sheet music, and started to apply for grants. The Bahama Village Music Program was gaining popularity.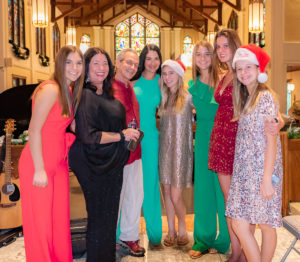 Robin remembers a fundraising concert at the San Carlos for Bahama Village in 1999, and Miss Ellen was sitting in the front row watching and tapping out the beat exactly like Robin does with her students. Then in his 60s, Coffee Butler was back stage and got really nervous when he saw Miss Ellen in the front row. He didn't want to make a mistake in front of his now legendary piano teacher.
The donations and grants continued to grow, and Robin was advised to setup a non-profit 501c3 entity separate from her personal business, The Music Room. The new Bahama Village Music Program continued to grow, and in 2002, they moved to their current location on Olivia Street, with even more space.
There was a large gathering held at the American Legion Hall on Thomas Street across from the Frdrick Douglas Gym, to celebrate the move and honor Miss Ellen. Skipper Kripitz, Coffee Butler, and a host of other Key West musicians joined in the musical celebration. They moved over to the new Olivia street location to dedicate the new band room.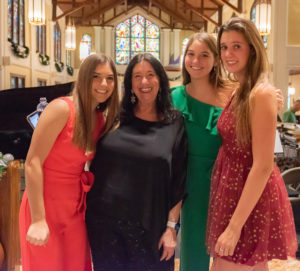 Then 100-year-old Miss Ellen attended the celebration. Joan Leggett had a friend that sculpted a bust of Miss Ellen. The new BVMP band room was dedicated as the Ellen Welters Sanchez Band Room, and her favorite piano student, Coffee Butler performed Miss Ellen's famous song, "The Beautiful Ilse of Key West".  They made the legendary "Miss Ellen" proud of a lifetime of music.
There are no comments yet, add one below.