Rolando Rojas
By Ralph De Palma
Rolando's original home is in Concepción, Chile.  He studied music, learning classical guitar in high school. Later, in a vineyard/wine-making region of Viña del Mar, he studied classical piano and harmonies. While in music school, Rolando stopped playing guitar and learned the piano. He loves both instruments but did not play guitar for fifteen years. In 2004, he fell in love with the guitar again and now plays both keyboard and guitar.
He and his former wife moved to Key West in 1993 to be close to her family who had lived here for years. His first gig in Key West was with the original twelve-piece Conjunto Caribe band, with Jose Rodriquez. Caribe, comprised mostly of Navy musicians, was originally formed in 1989. In 1993, the original band downsized and changed their name to Caribe of Key West.  The combination of Conjunto Caribe and Caribe of Key West have been performing continuosly for over 30 years and combined, is the longest continually running Key West band.
Today, Caribe of Key West is made up of a number of musicians who move around, playing at various venues: Lu Annen, Kenny Fradley, Roy Chavez, and Hiram Garzaro.  Most of their gigs involve a three-piece group playing seven days a week at El Meson de Pepe.
Rolando has long running engagements at El Meson de Pepe, Sunset Pier, Sloppy Joe's, and Little Palm Island. The high-end gig on exclusive Little Palm Island is all classical guitar. Rolando says performing solo with a small intimate audience helps him get his "chops". He has to be at the top of his game.
In a modified Caribe group called Mojito, Rolando provides the only Latin music featured at Sloppy Joe's. He finds his popularity at Sloppy Joe's interesting because the audience is accustomed to hearing blues and rock and roll but everyone loves that Latin beat.
Today, Rolando usually mixes up his repertoire of songs with Latin and popular songs, some with a distinct Latin flare. He enjoys jazz, blues, Cuban, rock and roll, Santana, classical, flamenco, and almost any other type of music.
Together, Rolando and I produced three concerts, titled "Havana Nights", at the Key West Theater. The concerts tried to bring a little of the famous Havana Tropicana shows, including costumes and dancers, to Key West. He is currently working on songs for the play "Bum Farto: The Musical", scheduled November 9-11, 2021 at the Key West Theater.
Rolando has lost two very close friends recently: the amazing George Victory in July 2016 and Yvan Agbo, one of the most talented guitar players in Key West, in August 2018. It still hurts deeply, and he speaks of them often.
They performed magically together on stage but their real bond was their similar approach to music and the raw pleasure of playing music together. The three would sometimes have a stated reason to work on a particular song or to try something new, but more often, it was just for their own personal joy of playing music together.
One day, in Rolando's living room, the three of them were working on an instrumental version of Bob Marley's famous song, "Is This Love". It was going so well that, as a lark, they setup an iPhone and recorded their magical version. Yvan later posted it on his Facebook page. In two days, it was viewed over 40,000 times. Rolando is glad to have recorded it as he is still able to enjoy the magic of his good friends, playing a beautiful song, in his living room.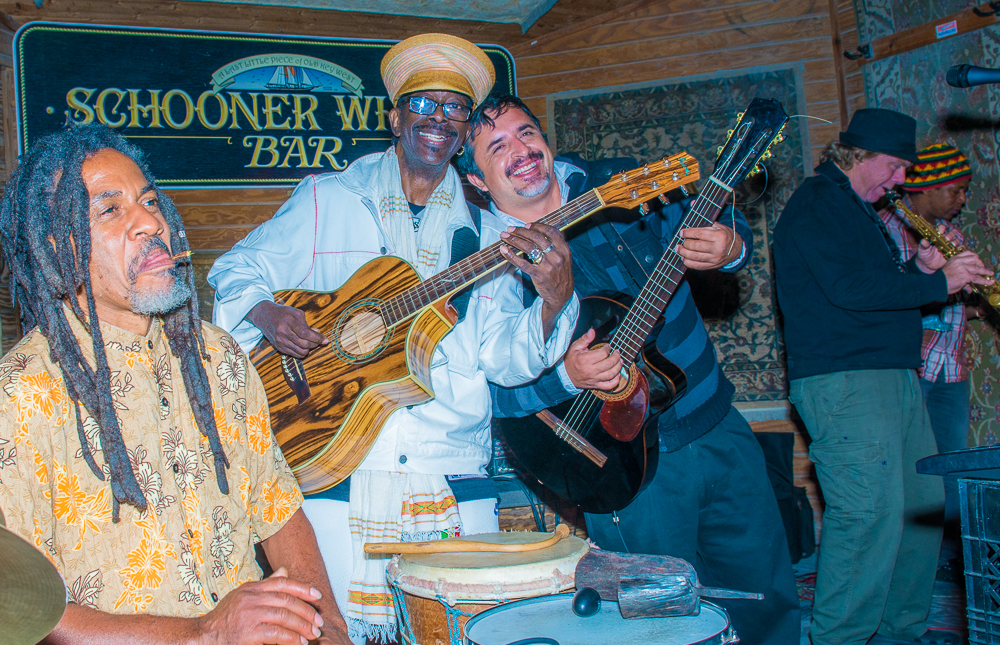 Recorded in Rolando's living room – George, Yvan, and Rolando  "Is This Love" : https://www.facebook.com/rolandosproject/videos/509141060165303
Rolando played tribute to Yvan Agbo at the opening of one of our Havana Nights concert at the Key West Theater shortly after Yvan's passing. It was a beautiful acoustic solo of "Fields of Gold" (Sting). Yvan had posted a version earlier that year celebrating his father's passing. We ran a slide show behind him of photos of Yvan as he played the tribute – it was very moving.
5 Comments