Ross Brown  "The warmth and closeness of the music brotherhood is uplifting."
Ross Brown grew up in Allentown, Pennsylvania. His father and grandfather were musicians. His father always seemed to have a Blues band. Ross has been playing music all his life. He graduated from Drexel University, in Philadelphia with a degree in Computer Science.
There were really good players in the Philadelphia area but the gigs did not pay well. Temple University and The University of the Arts keep supplying Philadelphia with a large talent base. Ross says one of the best things about being a musician in Philadelphia is also one of the worst things – there are so many talented musicians.
While there are a large number of venues for live music in Philly, the audience is much different than Key West. Philadelphia is not a tourist hub. It's more of a working-class audience with fewer music appreciators venturing out, mostly on their days off. Also, there's a large number of musicians that are part time and have day jobs. They are willing to work for less and substantially impact the music marketplace.
Most clubs pay bands based on the "gate" –  the number of people entering the club during gigs. Some nights, he would net as little as $25. He started to run the venue sound equipment as it was steady pay.
Brown had traveled extensively in Latin America, the Caribbean, Europe, and the Far East. At one time, he considered relocating to Costa Rica. He even drove his car from Philadelphia to Costa Rica, to perform with bands called Tour de Funk and Macana. It was difficult to make money, roads and travel were difficult, four-wheel drives required, but he loved the Latin vibe. He learned Spanish and, more importantly, learned to appreciate Latin music and culture.
Ross met Claire Finley in Philadelphia, and she introduced him to Jeff Clark. They introduced Ross to Key West in 2012. As soon as he performed in Key West, he was hooked. The Key West community, especially the musicians, are friendly, helpful, non-judgmental, and according to Ross, are the best part of being here. The small town makes it easy to get around. The staggering number of Key West music venues always had gigs available that paid well.
Key West attracts a lot of tourists, over 1 million per year. The tourists come for different reasons, mostly for the water and the reef. Part of the attraction is the mythical Margaritaville tropical vibe, the unique local color, and the amazing music scene.
Fort Lauderdale may have better beaches but the quantity and quality of music found in a small safe walking area near Duval Street is the cause that many tourist to return looking for more live music. In Ross's opinion, there are a fair number of tourists that return every year seeking live music and are becoming a larger part of the Key West economy.
Ross includes a lot of percussion in his act. He considers himself a lead guitarist and can sing but would rather be backing up a lead singer. He is the only musician, to date, that has attempted two of his very complex original instrumental compositions at the January 2020 Sunday Ramble.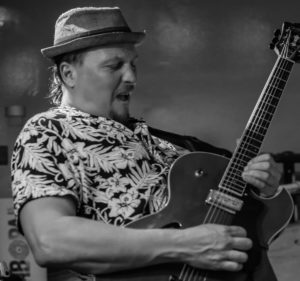 It was the music that he composed while in Philadelphia. He switched around playing both the congas and guitar. He had some of the best musicians in Key West backing him up, the rhythms were strong, energetic, and convincing, and the audience loved it. There seemed to be an unusually strong audience connection with these Ross Brown original instrumentals.
Performing this type of music requires at least a five to six-piece ensemble which need to rehearse their parts. The instrumentals make more sense when all the musicians are in synch with their individual musical components. That's why the eight-piece Ramble Band, with a great sound system, worked so well.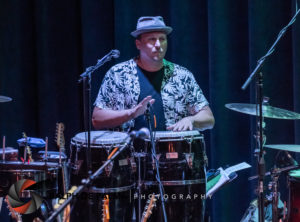 While living in Philadelphia, Ross recorded two albums, mostly instrumentals, of Jazz fusion he called Fuzilla. Influenced by Herbie Hancock, they are mixed with newer funk, R&B, soul, and Latin sounds. Ross loves jazz but he understands he cannot use the four letter "J" word in the Key West music market. He loves to write jazzy instrumental music featuring the melody and rhythms – it's the way he listens to music. He hears mostly the rhythm and bass rather than vocals and lyrics.
Working hard, performing 7 – 10 gigs a week, and playing the kind of music that helps Ross make a living doesn't leave enough time in his schedule to work on the music he loves to compose. It doesn't allow enough time to even re-release an anthology of his existing instrumentals.
With Ross Brown's latest incarnation, Cayo Ritmo, he brings his multi-cultural background to the forefront with songs from the Caribbean and Latin America. He loves the closeness and warmth of the music brotherhood in Key West and finds it amazing and uplifting.
Check out his website at:  https://rossbrownmusic.com/home
There are no comments yet, add one below.