Bill Blue  –  Timing and A Touch of Serendipity
By Ralph De Palma
I assume that everyone reading this title knows a little something of the Key West Legendary Bluesman and entertainer extraordinaire, Bill Blue. Or has at least attended one of his almost monthly "Sound Checks" at the Green Parrot. If not, there is plenty to read between the lines.
Like most musicians, Bill has a cool story – his is cooler than most, starting with that very cool family name. The story begins in North Carolina, extends to Colonial Williamsburg, Virginia, and today, Bill claims Richmond and Key West as his home towns.
Like many in the day, Bill saw Elvis Presley on the Ed Sullivan Show in 1956 – guitars were enormously popular overnight. On Monday after the show, Gibson Guitars had its best sales day in their history. Most guitarists of Bill's era will say the same thing. Later in his music career, Bill got to meet and talk to Elvis.
After two years of graphic arts and political science study, Bill and a friend decided they needed a break from school in 1966. The Vietnam War was ramping up and over 10,000 young men were drafted into the service every month. The Marines offered a two-year enlistment. The Marine recruiter told them because they were highly educated, they would get good duty assignments (1960s recruiter nonsense).
I only mention this because when Bill related this story to me, close to fifty years later, Bill said he didn't blame the recruiter, or the Marines. It's the typical character of "this old Marine".
Like most other events in Bill's life, it's all about timing with a touch of serendipity. Bill had been playing in a few pick-up bands, little did he realize while picking strawberries at a truck farm that he would meet this older black gentleman Big Boy Crudup that wrote the first song Elvis ever recorded, "That's Alright Mama". They formed a band and started gigging locally. About the same time Bonnie Raitt's manager Dick Waterman was gathering old Blues musicians for their tour. Crudup got a call and was asked if he could put a band together and join their tour. Bill and Big Boy went from picking strawberries on Wednesday to touring with Bonnie Raitt on Saturday, and he never looked back, absolute pure serendipity.
Later, Bill started touring on his own, opening for big name acts, such as B.B. King, one of his favorites. B.B. King always had time for Bill – they became good friends. Bill also toured with ZZ Top, The Allman Brothers, and many others. He recorded two albums with Feather Records and later two more for the famous Adelphi Records. He loved touring Northern Europe including Estonia and Lithuania. There was a group of musicians he met while touring. He liked them so much he suggested they form a band and call themselves the "Rolling Estonians."
Bill toured for over a decade, and it took its toll. Serendipity helped again on July 4, 1979 during his first Key West gig at Sloppy Joe's. His marriage had ended earlier. He had hit a rough patch and was growing weary of touring. Bill returned to Richmond, told his band he was moving to Key West, and offered them the opportunity to join him. They all thought he was absolutely crazy. Key West became his safe harbor that lasted almost 40 years.
Promoters tell all musicians never get married and never buy a house. Bill broke both of those rules (a few times). While in Key West, Bill married two more times, bought a house on Whitehead St., and nearly bought an old church to set up a recording studio. "Bill Blue and the Nervous Guys" were the first "house band" at Sloppy Joe's, the first band to play the Green Parrot, the first band to play Schooner Wharf, and the last band to play at the Full Moon Saloon.
One night while performing at Sloppy Joe's, Bill's former Williamsburg High School sweetheart, Beverly, walked in the front door, and he immediately saw her. They had never had a chance to really connect until then – serendipity strikes again. They were soon married, and local music legend Coffee Butler played at their wedding.
Bill played the late-night shift at Sloppy Joe's for years. Growing tired of it, he switched to the 5:00 pm shift, but found out he would stay out even later and got into more trouble. Bill always said "On any given night, you can listen to more live original music in Key West than anywhere else in Florida and probably the US." Although many complain about the changes in Key West, Bill finds the island "comfortable like an old shoe."
After 31 years of marriage, Bill's life took a sudden turn with the unexpected passing of Beverly in 2019. He found he could no longer live in their houseboat at Garrison Bight with all the memories they shared. He moved to Crescent City, Florida, returning frequently to perform.
On March 12, 2020, Bill released his latest album, "The King of Crazy Town" on the Conch Town Record label … and then, the world shut down on March 17th. Bill was dealt another cruel blow with the diagnosis of cancer in his esophagus, requiring the removal of his vocal chords on November 4, 2020 after singing for his supper for over 50 years.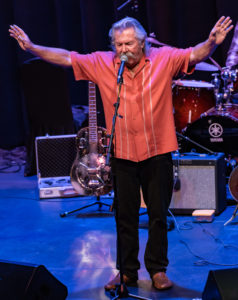 This 'tough old Marine' performed again November 12th, 2021, at the Riverhawk Music Festival. His vocal prosthetic allows him to speak and sound very much like his old self. He cracked a couple of jokes on stage. I, jokingly suggested he must have gotten the B.B. King prosthetic. He still has a hard time laughing.
Bill was looking forward to a planned February 2022 concert with all his friends at the Key West Theater but his cancer has returned and he is now battling again. The concert has been cancelled but I'm confident of the strength and character of this 'tough old Marine' – my friend, Bill Blue. We'll plan another one.
3 Comments