Terry Cassidy – with a banjo on my knee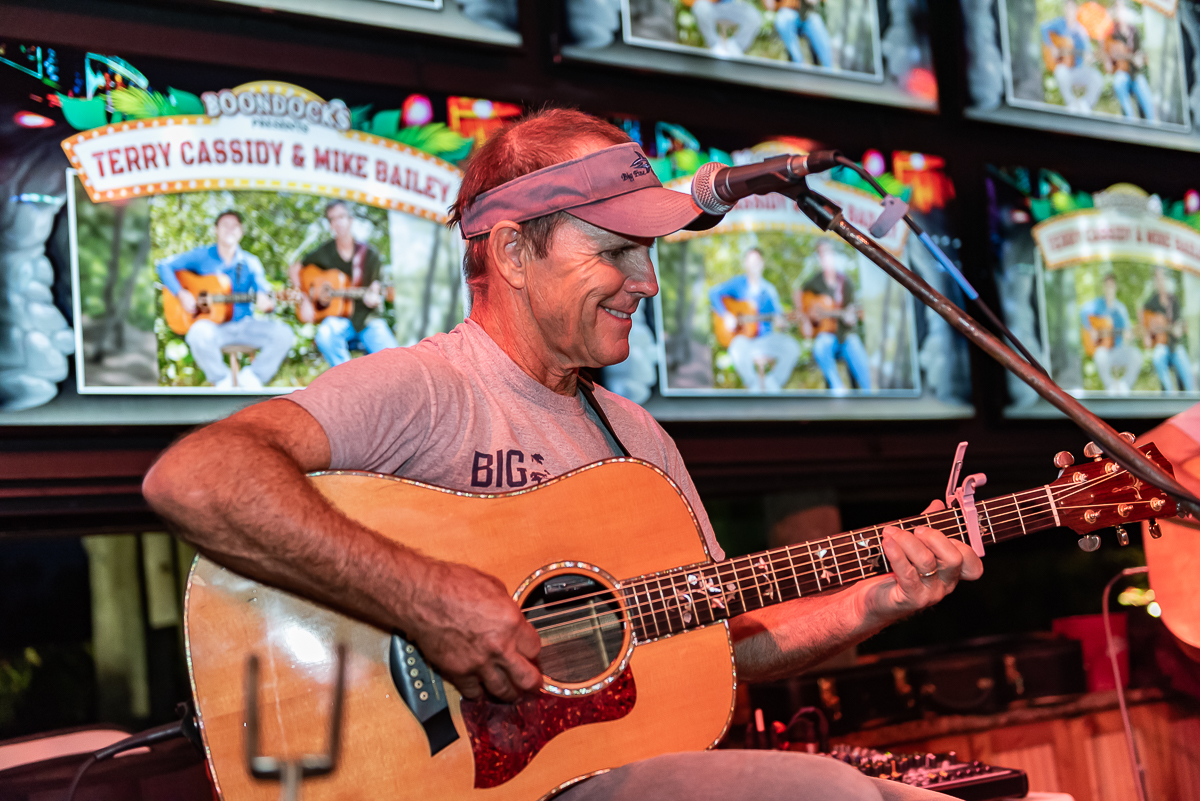 Terry Cassidy, born and raised in the Cleveland area, comes from a family of musicians, learning the guitar very early and later, the banjo at age 17. His first gig was a duo with his Uncle Gordy – they "tickled the strings" together.
In November 1979, twenty-one-year-old Terry arrived in Key West for a two-week vacation that lasted until November 2021 when he left paradise and moved to Brooksville, Florida.
When he arrived, Terry formed a group called the Buttonwood Band, playing in Big Pine and Marathon. In 1980, he joined another band, Key Lime Pie Band, with Joe and Meri-Lynn Britz. It was "THE band" around that time and became the house band at the Brass Monkey in Marathon for 5 years. The night before the opening of the new Seven Mile Bridge, the Key Lime Pie Band held a concert at the hump in the middle of the bridge.
Songwriting comes easy for Terry. The inspiration in the Florida Keys for a song can come from something said or an idea. Lyrics, words, or phrases sometimes help build the song. He will have an idea and know how it's going to end. Terry feels you can tell the story but the song has to have a good ending. He writes songs differently, depending on the story – sometimes he writes the melody first, and other times, the words first. The melody can make the story, or it can make him feel something that helps him tell the story.
The song, "Seven Miles", about Henry Flagler's railroad, is one of Terry's favorites. The melody of the song did not come first. He started with a big sheet of paper and began writing down everything he found out about the railroad. The song has been recorded by other artists which is the biggest compliment for Terry.
One night a bartender at the old Sugarloaf Lodge Restaurant said, "Terry, no one has ever written a song about the bat tower". So, Terry wrote "Bat Tower". In 2005, he and friends built a replica of the Bat Tower for the Fantasy Fest Parade. Singer songwriter friend, CW Colt, joined him on the float that evening. They played "Bat Tower" and CW's "Mi Amigo Mosquito" throughout the entire route of the parade.
Former Key West City Commissioner Harry Powell threatened to blow himself up in protest of a planned Navy housing project (now Perry Court). Shel Silverstein wrote a song about Powell and while in Dan Simpson's studio recording the song, with a cast of special musicians, said, "there was something missing" – it needed a banjo. The best banjo player in town was Terry Cassidy who had just got married the day before and was out late and had slept in. Dan Simpson called and told Terry, "Shel said you can get married any day but recording is forever." Terry rushed to the studio to record "The Ballad of Harry Powell" which was played every year on the anniversary of the stand-off, for over 30 years, on US 1 Morning Magazine by host Bill Becker.
Years ago, a friend advised Terry to go on tour and take his music to other states. Terry responded by saying that in one afternoon, while playing at Sloppy Joe's, he could play to people from all the 50 states plus Hong Kong, China, Europe, and all over the world. Terry told his friend that he was on tour here in Key West.
The music scene has a lot to do with our geographic location and the laid-back atmosphere of the Florida Keys. It's not the real world. Everything slows down, everybody wants to enjoy themselves while in the Keys. Places like Nashville, New Orleans, and Memphis are a very competitive 'dog eat dog' world but in the Keys, it's laid-back. In our music scene, there's competition for work but it's not as bitter or strident.
Musicians that come to the Keys either change and adapt to this location, or they leave. Consequently, we end up with a pretty good bunch of musicians in the Keys. We are attracting and keeping some very good people.
Authors Note: When I first arrived in the Keys, I stayed on Summerland Key where Rob's Dog House had free draft beer on Friday nights with chicken wings and usually live music. It was always a well-attended. One night, two musicians were playing acoustic guitar on the seawall and the music was great – one was Terry Cassidy and the other, local fishing legend and host of the ESPN sport fishing show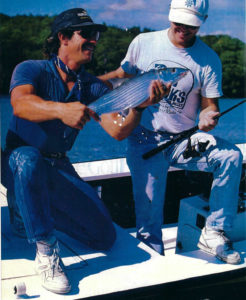 "Spanish Fly", Jose Wejebe. They were very good friends and fishing buddies. Jose was also a very good musician. He didn't perform often but when he did, it was usually with Terry. The very first Spanish Fly fishing show on ESPN was shot with Jose and his buddy Terry Cassidy out tuna fishing. They were two friends sharing two very different passions – only in the Keys.
Jose Wejebe was tragically killed in an airplane crash in 2012. The guitar that Terry plays today belonged to his buddy Jose. The Jose Wejebe Foundation will host the Spanish Fly Music Festival January 29th from 1-6pm at Boondocks Grille on Ramrod Key.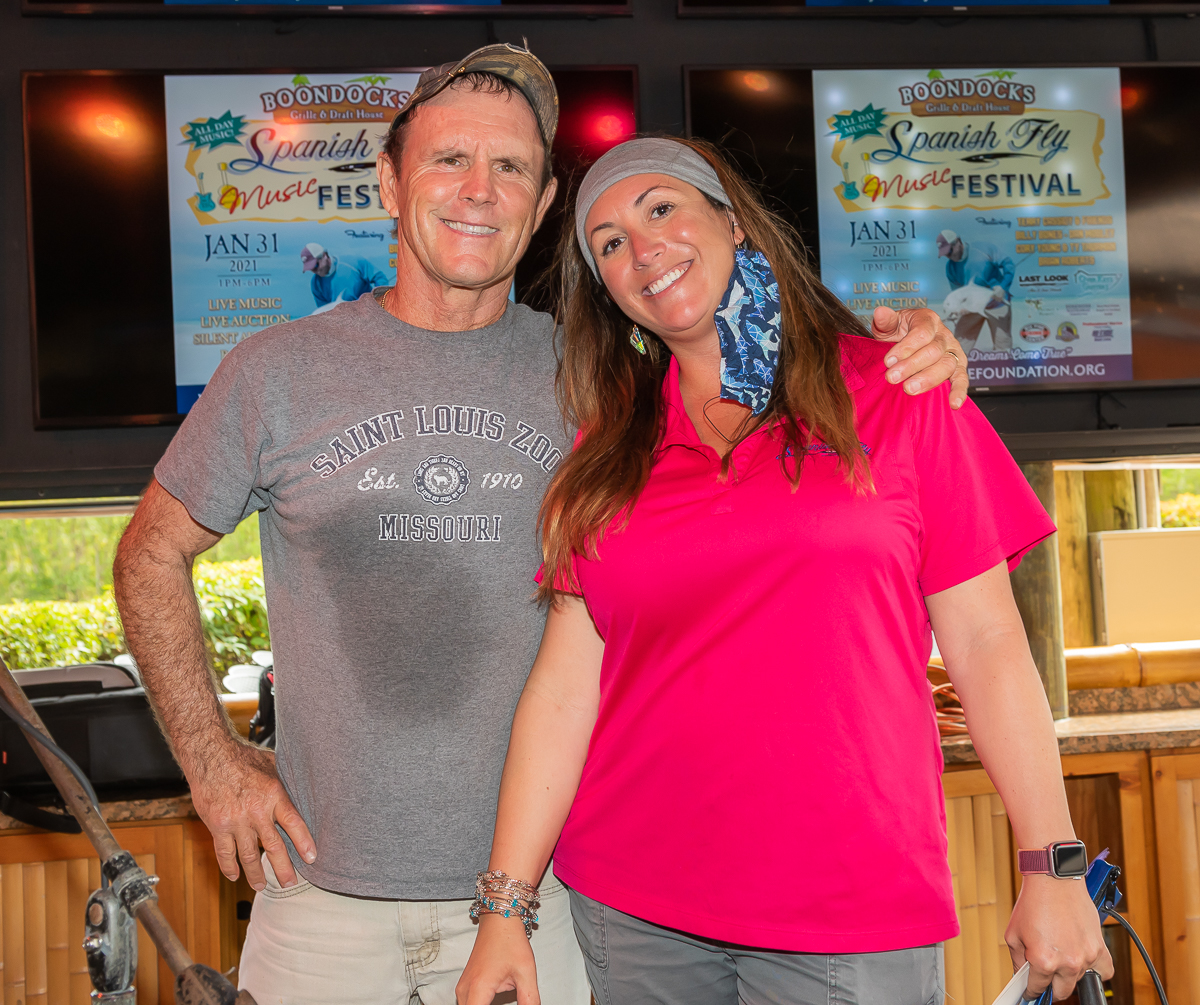 One Comment