Lance Taylor    – Woody Guthrie Was the First Punk Rocker
By Ralph De Palma
Lance Taylor was born in Honolulu, Hawaii, in 1973.  His father was in the Navy so the family moved frequently. He started playing the trombone in the sixth grade. He received a partial scholarship as a pitcher to West Virginia Wesleyan College. He eventually turned away from sports and returned home to Maryland.
Lance attended Woodstock's 25th Anniversary and was mesmerized by Bob Dylan on stage. He decided to start playing the guitar. Borrowing a guitar from his sister, he began guitar lessons and studying music at Salisbury State University in Maryland.
A friend asked Lance to work week-ends at Acme Bar and Grille in Annapolis.  Every Sunday, the bar had a blues jam where Dean Rosenthal played every Bob Dylan song there was.  He showed Lance how to play Dylan's music.  Lance drove all over Maryland to play at "open mics."
Lance moved to Key West in 2001. He rigged a battery-powered amp and played on the street for six or seven hours every day. He loved the freedom of playing on the street, playing whatever he wanted and for as long as he needed.
Key West musicians take songs we all know and love and add their own interpretation. He loves writing and recording music. At a Key West Musicians Festival, Raven Cooper sang one of his original songs, "Big Mouth Girl".  It's a huge compliment when a fellow musician performs your song.
Lance always had some kind of recording equipment setup. First a home recording setup, then a pro studio setup, and now, more than twenty years into the music business, Lance is a resident artist at The Studios of Key West with a full recording studio. He finds recording music in a studio environment fascinating, where he can make a song sound "larger than life."
In 2000 Lance saw Richard Crooks preform at the Hogs Breath. Usually when he hears a good band, it's a lot of fun but this one was different. Lance immediately asked, "Who's that drummer?".
A friend said it was Richard Crooks, a famous New York studio musician who helped record Bob Dylan's Blood on the Tracks album which includes one of Lance's favorite Dylan songs, "Meet Me in the Morning".
It wasn't until 2007 that Crooks and Taylor met. Lance had formed a band with drummer Michael Dixon who was studying with Richard. Lance was immediately taken by Crooks' unassuming personality. He never bragged or name dropped but most musicians knew he had recorded with almost every A-list artist except the Beatles and Rolling Stones. Richard never talked about himself nor all the music he had worked on, his gift was making music better.
Lance wrote a song, "The Village Girl", that he was very proud of and wanted to record it with Richard. Lance played part of the intro for him. Crooks interrupted almost immediately and said, "All right, let's record it." Lance replied, "Richard, you don't even know the song yet." Richard quickly responded, "Neither do you. Let's go!" Richard tried not to over think the process too much.
The older studio recording veteran Richard and the young songwriter became very good friends. Lance would send Richard demos and said, "He always treated my songs like he treated Bob Dylan's songs." Their friendship and collaborations continued to grow. In 2013, Richard and Lance spent a weekend together recording 30 songs. Lance says it was Richard doing his thing on my songs. Lance has since grouped them into albums. One album is almost ready for release. Richard Crooks passed away in December 2014, Lance was devastated, but happy for the time he spent with Richard and all he had learned.
To write a song, Lance says this "Thing" has to happen before he can do the work. For example: Woody Guthrie was a huge influence on Bob Dylan who influenced Lance Taylor. Lance was driving past Woody's home town Okemah, Oklahoma.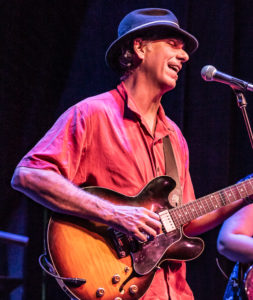 He decided to stop and spend a day looking for inspiration and a song. In the 1940s, many considered Woody radical and rebellious. Lance told this story to a fellow musician who blurted out, "Woody was totally punk rock." Something snapped, and it all made sense. It was the "Thing" Lance needed. He wrote, one of his now favorite songs, "Woody Guthrie Was the First Punk Rocker."
In 2018, Lance recorded some raw tracks to 12 new songs with his friends in Nashville. This album, titled Back From the Dead is almost completed.  He is also nearing completion on an acoustic album titled Kickbox Tambourine, and one of the Crooks albums, not yet titled – all to be released in a very busy year.
There are no comments yet, add one below.