Gary Hempsey    The Hippie Doctrine
By
Ralph De Palma
The original American Bandstand was in Philadelphia, and Gary Hempsey's older sister took him along to listen to the music. Gary was thirteen when Woodstock happened.  He loved the music and began playing the guitar and taking lessons in Center City, Philadelphia. At seventeen, he started playing in local bands. He moved from Philadelphia to San Francisco, and then to Las Vegas. Hempsey had a routine of playing a mixture of original music and covers. He later toured with a Grateful Dead tribute band.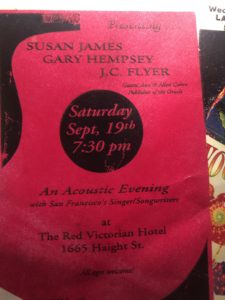 Gary said, "In the early 70s, all the compasses pointed west to California for a couple of years. I followed it." His first gig in San Francisco was at the Red Victorian Hotel, located in the Haight Ashbury district.  It was a pure hippie gig with acoustic music, including beat poet Allen Cohen, publisher of the Oracle, a local Haight underground newspaper.
Hempsey had heard about Key West all his life and finally came here in 1996. His first gig was for Richard Hatch at Blue Heaven. Gary was nervous because he did not know any Jimmy Buffett songs. One of his first requests came from a lady who wanted him to sing "Lather", an obscure Jefferson Airplane song – No Problem! Later, Richard asked if he knew any Pink Floyd. Gary could easily perform an entire Pink Floyd album. He was a big hit. However, he did learn to play Buffett's "Blue Heaven Rendezvous".
Gary was in town for six weeks when Mary Spear asked him if he could play bass guitar.  Hempsey asked her what type of music, and she said her friends played mostly Grateful Dead music. He smiled and said, "Sure ".
After Hempsey had been in town for a few years, he met Terry Cassidy and they became great friends.  Later Terry had a health issue and his voice was not 100%. Hempsey tried several times to get Terry to play a gig but Cassidy refused. Finally, Hempsey schemed with Russ Scavelli to fake an emergency "fill in."  Scavelli said he was ill and could not make a gig. Hempsey got Cassidy to finally come and work with him. At the end of the gig, Cassidy told Hempsey that he knew Scavelli wasn't really sick.
For several years, there was a concerted effort to paint the Hippie movement as a bunch of misguided, acid-dropping, unpatriotic, and dirty group of kids. The counterculture Hippies of the 60s and 70s were about cultural change, protest, and most of all song. Their philosophy was about peace, non-violent political change, protecting the environment, and amazing music. Terms like "Flower Power" and "Make Love Not War" became part of the counterculture. Earth Day was practically invented by the Hippie movement after the polluted Cuyahoga River in downtown Cleveland, Ohio caught on fire. Today, salmon swim up the Cuyahoga to spawn.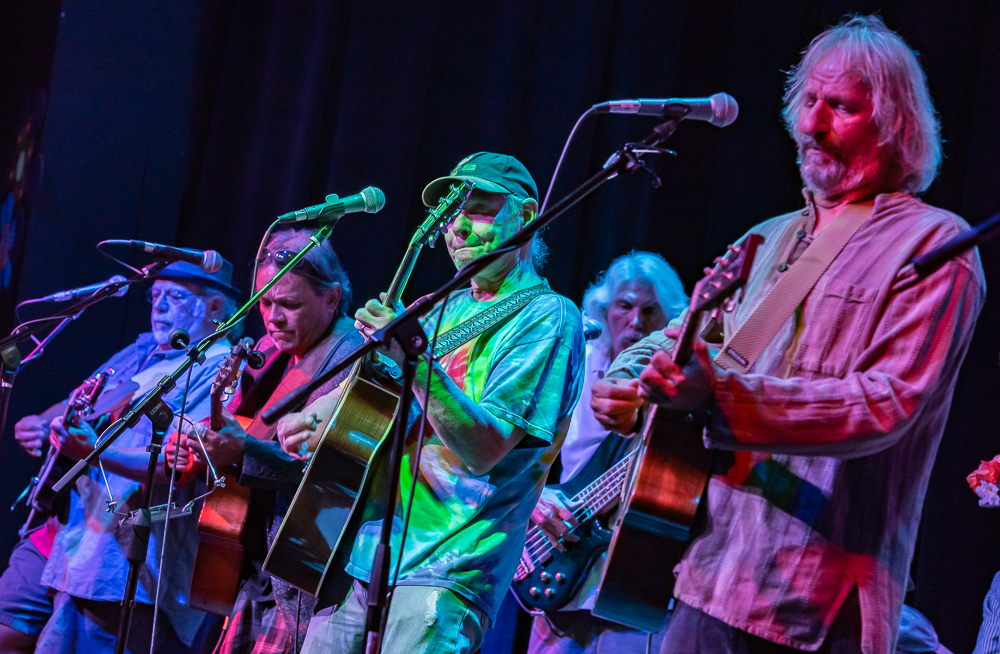 Hempsey gathered a group of fellow travelers of the mystical music journey of his favorite era and formed That Hippie Band with Terry Wetmore, Tom Conger, Will Hoppey, Pete Jarvis, and Russ Scavelli, and young Emily Springsteen. All the band members all smoked pot, had longish hairstyles, and could play any song anyone could remember from the 60s. They frequently played at Schooner Wharf. Originally, the band had a different name but every time Gary would meet a fan, they would ask, "When are you playing with that old hippie band again?", so the fans named the band.
One night while That Hippie Band was performing, someone from the audience came up to Hempsey and said "Your band is too loud." The man was Jerry Jeff Walker.  Hempsey suggested. "It's a lot quieter up here on the stage."  Walker hopped on stage and sang his famous song, Mr. Bojangles, with That Hippie Band.
That Hippie Band has performed three out of the last four Earth Day Celebrations – in 2018 and 2019 at the Key West Theater and in 2021 at the Coffee Butler Amphitheater. There is no more appropriate place on earth to celebrate Earth Day than Key West.
Gary and "That Hippie Band" motto is if one of the band knows part of an old Hippie song "we'll follow them to the gates of hell." The unique talent of the band was the way they could effortlessly cover songs from so many diverse hippie era bands. Most tribute bands focus on one group. That Hippie Band would cover, in a set, a dozen different songs from a dozen bands and perform them all incredibly well. They easily cover Buffalo Springfield, Crosby Stills & Nash, Grateful Dead, Jefferson Airplane, Janis Joplin, Joe Cocker, Iron Butterfly, and they were last working on Steppenwolf's Magic Carpet Ride.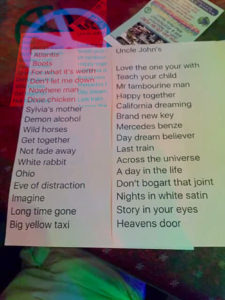 The first Earth Day Celebration the set list included 32 songs. It would have taken performance past midnight and the theater closed at 11 PM. We had a discussion to reduce the number of songs. After an hour of back and forth ("If we don't do that one we might as well not have a concert.") the Hippies agreed to remove two songs. We finally compromised with three combination medleys combining three songs in each and barely made out at 11 PM.
To Gary, music is a celebration not a competition. Many of his favorite musicians are not "Juilliard-trained," but they have a gift and are entertainers who make you want to be in their presence.
Fellow Hippie Band member, Pete Jarvis said it best, "It's what I call the "Hippie Doctrine, which is:  If one could mix all these ingredients in a bowl – the optimism of the 60's/70's peace and love movement, some stardust from the age of Aquarius, Jerry Garcia's beatific smile and twinkled eyes, the gentle serenity of a calm sea, the melodious song of the evening bird, you will find a genuine belief that there's still hope for mankind."
Terry Cassidy commented; "First time I saw That Hippie Band it was the early years and it was a trio Will Hoppey, Pete Jarvis and Gary Hempsey it was at Geiger Key and it was apparent they were just jamming but they were sounding like they have been playing together for 30 years and the crowd was loving it along with myself. I did walk offer them some advice later, "whatever you guys do, don't ever practice." Their spontaneity what the ticket for them.
6 Comments