Caffeine Carl Wagoner – The Real Thing
By Ralph De Palma
Carl Wagoner was born and raised in Key West.  His father played ukulele in a barber shop quartet. There was a Hammond organ in the Wagoner home, and by the time he was five, Carl had learned to play quite well. Radio station WKWF, broadcasting during an open house for a local music store, offered a best song music contest. Six-year-old Carl Wagoner entered the contest, played "Blue Spanish Eyes", and won.
Carl taught himself to play by listening to the music. He took piano lessons in school but never learned to read music.  When in class, he faked it by turning the pages along with the other students. He almost always received A's in music classes.  Carl graduated from Key West High School in 1985.
In 1980, Carl's mother gave him his first guitar and amplifier, purchased from a Sears catalog, for Christmas. She said "I don't know why I'm getting this for you.  You'll probably never play it."  Carl switched from the piano to the guitar and never looked back. His mother quickly changed her opinion and was Carl's biggest fan until she passed in 2015.
Steve Mello played in a band called Dog House Zydeco. He played the drums and a xylophone, and just about every other instrument he could get his hands on.  Steve was the first to use the nickname "Caffeine Carl" because of the way Carl enunciated his words quickly with a slight stutter – like he had too much caffeine.
There's a legendary argument in Key West about who taught Carl his first guitar chords.  Both Bill Blue and Clayton Lopez laid claim to teaching Carl to play the guitar.  Carl says it was Joel Nelson who taught him his first chords at the radio station WIIS on Stock Island. Joel was a DJ/radio host at the time, and during station breaks, he showed Carl and his friend David Freeman their first chords on David's acoustic guitar. Carl credits Joel with being his biggest first influence. Joel Nelson modestly says he still plays those same four or five chords.
Calvin and Clayton Lopez also helped influence him. Carl played in their band, Masterpiece, named after the Temptations 1973 Motown album. Carl learned a little funk from these two musical Conch brothers.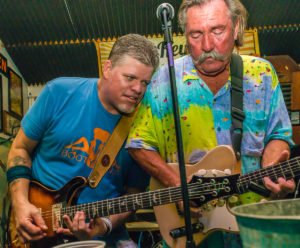 Another early influence on Carl was Bill Blue.  One of Carl's earliest gigs was with a band called Bad Oscar at the Hemingway House during the 1984 Hemingway Days Festivals.  They were the opening act for Bill Blue and the Nervous Guys.  They watched as these burly long haired guys came on stage and were overwhelmed by their music.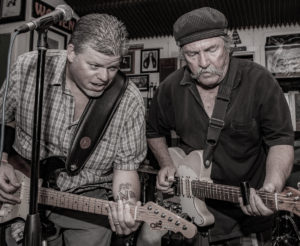 Carl was amazed at Bill's raw guitar skills. He says Bill Blue played music with a serious conviction. Carl later played with Bill in the early 90's at the Bull & Whistle, and became a regular with Bill's band. Carl and Bill's guitar solos have become epoch in Key West. They performed together often for the next 25 years.
Chris Case, another stellar guitarist, and Carl formed a band called Double Bucci (like the Cuban coffee). They performed at Boston Billy's Blues Club where, in 1997, Carl met the love of his life, Erin.  Ironically, it became the Smokin' Tuna where today Carl headlines four nights a week and Erin manages.
A Double Bucci performance was recorded live one night, and the place went crazy. Carl and Chris had dueling guitar solos on the stage, then on the bar. The more the audience encouraged them, the wilder the music. Later at the studio they were surprised how well the recording turned out.
It's been jokingly said that there are more guitar players in Key West than there are bartenders. Most of the guitarists in town play the same riffs and licks but even an amateur can tell sound of a guitar on Duval Street played by Caffeine Carl Wagoner. Former Key West musician/vocalist Melody Cooper once said about Carl, "People always know the real thing. When Carl plays (music) he can do that six nights a week, and you feel the joy and energy in him. It's the real thing."
Many visitors plan their vacation activities around evenings spent listening to Caffeine Carl and the Buzz. Carl opened the 20th Key West Songwriters Festival and amazed some Nashville promoters who unsuccessfully tried to get him to move. His style is distinct and unique. Like Bill Blue, Carl plays with conviction and a whole lot of passion, the audience hangs onto every note. Melody Cooper is correct, Caffeine Carl Wagoner is the real thing.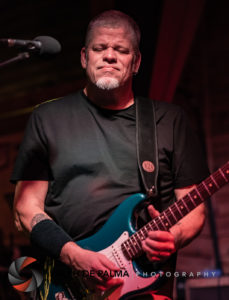 If you get a chance, try to find a copy of "Double Bucci Live at Boston Billy's."
3 Comments