Turner Harrison – attracted to vintage cars and vintage music
Turner Harrison was born in Nashville in 1984 to Jim and Connie Harrison, a country music family that play in some famous country bands. Every generation grows and changes – his parents did not try to encourage Turner or his brother, Miller to learn or play music. However, they listened to a lot of Motown music while he was growing and may be the reason Turner is attracted to late 60s, early 70s, R&B, and Soul music.
Both Turner and Miller became music lovers and players. Turner is mostly a self-taught musician. He started playing bass, at age 13, in Harding Academy Middle School. Turner attended high school but dropped out in 2002 and received a GED. He also joined a punk band – an unusual sound for Nashville music scene.
After receiving his GED, Turner joined NOLES, a non-profit home builder, and traveled to Jamaica doing roofing. He fell in love with Reggae music. While living in Jamaica, he would frequent a home for the elderly and perform the Reggae that he was learning.
In 2003, he moved to France to study at a culinary institute. After graduation, he did an internship in Naples, Italy for six months and then got a job in Iceland as head chef. Very quickly, it became clear his weak sense of smell and taste are not good traits for a chef.
While living in Prague, Czech Republic, Turner decided to return to school studying graphic design. He attended Prague College of Design for one year and then transferred to Charles University, graduating in 2009 with a Bachelor degree in Graphic Design Fine Art.
Traditional Reggae is very popular in Prague. He began playing and singing twice a week in clubs while attending class. He and his brother formed a band called Aphrodisiac. They traveled all over the Czech Republic playing roots Reggae music.
Later, Turner formed another band called TiNG, along with his brother and Tommie Tangie on trumpet. They opened for a major band called Irie Revoltes at Lucerna Music. Turner also opened for his favorite Reggae artist, Toots and the Maytals, in Prague. TiNG toured the major festivals of Europe for almost ten years.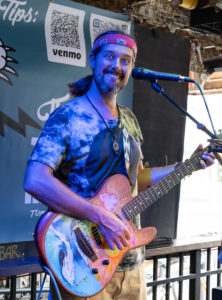 Turner left Europe in 2009, bought a sailboat, and toured the Caribbean through 2011. He visited Key West in 2011 to sell his boat, met local musician Jeff Clark and started playing gigs. For the next seven years, he was a musical snow bird performing in Prague during the summer, returning to Key West in the winter.
He lived in Europe from 2003-2018, except when he was sailing the Caribbean. He plays several instruments – trombone, bass, guitar, keyboard, and drums. He learned to speak French, Italian, and Czech. He says his Spanish is getting better since he married his Argentinian wife Rochi in 2021.
Rochi met Turner in Key West, and they worked a few gigs together. They became friends first, enjoyed performing together, and then started developing a relationship.
She returned to Argentina after the season but they continued an online relationship, and when she returned to Key West, their shared love of music and their relationship grew and soon they were married.
International culture has heavily influenced Turner. Language and music go hand in hand for him. He brought several players from Prague to Key West, including Martin Sedlak (fiddle player). Turner is an audio learner – he can't remember what he reads but he remembers what he hears. He enjoys the older Gypsy Jazz and modern Swing that have become popular again. He is attracted to vintage cars and vintage music. He admits that he knows only three songs written after 2000.
To Turner, the Key West music scene seems to be changing, adding new players from all over the nation. It has caused him to become a better guitar player. He has also perfected the use of a looper for solo gigs, combining instruments like bass and even the trombone. Turner took a few formal lessons from Joe Dallas for trombone and Izzy Zaidman for guitar.
He describes Tony Baltimore, Ross Brown, and a few others as the next generation of Key West music, continuing the Key West music spirit of the past four decades. Some newer musicians, like Rob Benton and Nick Brownell, also brought a professional level that they felt was lacking but they might seem a little more corporate influenced and less unique Key West. To Turner, it may just be a symptom of the overall change in the American cultural and the modern music business. As an example, he cites a tourist coming to Key West and requesting a song they enjoy back home, like Toby Keith, rather than listen to a Latin infused island sound of Ross Brown's band, Cayo Ritmo, or an original song reflecting Keys spirit like Tony Baltimore's "Let's All Go Insane".
His latest endeavor is a new band, Astro Yeti, with Hiram Garzaro, and Mark King. All three are very good vocalists and get along famously.  They will be releasing new singles and music videos. It's a funky cosmic roadtrip with sonic twists and turns to be released October 31. They will also be releasing new singles and music videos. He is working on a very cool duet album with his wife Rochi who has an Amy Whinehouse style of vocals. Both should be very interesting.
One Comment