Wayne Sorbelli   "A woken lion"
Wayne Sorbelli grew up in an Italian family in Eastern Pennsylvania's Poconos area. His father was a drummer in a Beatles tribute band. Early in life, Wayne was amazed people would gather and pay to listen to music and that being in a band could be a job. His grandmother had an upright piano and there was always a drum set in the basement–he was surrounded by music all the time.
When he was 8, Wayne found a guitar magazine with story about Eddie Van Halen with a photo of him playing music to a huge crowd. It was life changing and he started taking guitar lessons His father warned him to not start and then stop without giving things a chance. For additional motivation, his father told him if he stopped taking lessons then he would sell Wayne's guitar.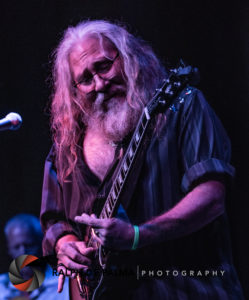 Sorbelli was a Led Zeppelin fan early on. At thirteen, he met a friend who had the same interests and really started to learn and play. He attended a community college first and then Misericordia University in Dallas, Pennsylvania where he met the love of his life, Jamie Maniskas. They both loved music so they formed band with a cousin. Jamie rocked the keyboard belting out Ozzie Osbourne tunes (so out of character for Jamie today). They graduated in 1993 and opened a music store in Pittston, Pennsylvania. They soon married and have been together ever since.
He began teaching music, as many as 60-65 student lessons per week. The music store, Wayne's World Music, grew and expanded with multiple teachers. They opened a second store in Dallas, Pennsylvania that grew to 11,000 square feet.
Wayne didn't get to perform much for the next fifteen years. There were only a couple of bars in town that would have music a couple of times a month. A neighbor, Sylvia Hatton, had a home in Key West and suggested they visit. The first night in town Wayne was at a realtor's office explaining what he had in Pennsylvania and asked how and where he could duplicate that in Key West.
In 2010, he transitioned from Pennsylvania to Key West, opening Island Guitar, and his first reaction was "he was in music heaven." After being in business for 12 years, Wayne has a unique view of the Key West music community.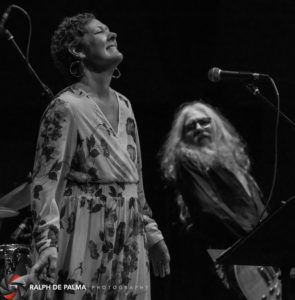 He has met every musician in town and knows their styles, experiences, and music instrument needs.
Jamie and Wayne went through a terrible experience of losing a child to cancer. Wayne couldn't believe how many children were battling cancer. The economic effect on every family is devastating-they all need help. Wayne credits Key West for helping him get through this ordeal. The music community responded immediately and hugely with fundraisers. During the fight, his son Nicky went through a period of remission and was planning how he could help others.
After losing Nicky, Wayne said he felt like a sleeping lion that had been awoken. He went from being in music heaven in Key West to watching hundreds of children battling cancer. He started a nonprofit fundraiser, Nicky's Celebration, to help families battling cancer. He and Jamie have planned and promoted several sold out shows at the Key West Theater. All the musicians volunteer and perform their hearts out, the music really rocks. The 2022 fundraiser was titled Parrothead Massacre. Wayne has even had performers on stage that were cancer survivors. The joy of playing music in front of an audience is very real, invigorating, and addictive. He has turned a horrible tragedy into a celebration of Nicky.
Teaching 50-60 young students a week has given Wayne a different perspective of what younger musicians are attracted too. Today's students do not follow TV, and they don't listen to music on the radio. Kids under 20 have never heard "Brown Eyed Girl" or Jimmy Buffett tunes. They still seem to like electric guitar music but really like the added electronic influences. He feels the image of the rock star holding a guitar is still in their heads but the music is more electronic and the music is the star. They view the rock star as a product more than a star.
6 Comments