TODAY IS THE 89th BIRTHDAY – of Willie Nelson.
February 17, 2020 Willie Nelson packed the new Key West Coffee Butler Amphitheater with 4000 loving fans. It was the largest crowd ever for a Key West concert. It was a privilege to hear this legendary performer live. The seven time Grammy award Winner has scored more than 60 Top-40 Country hits and was inducted into the Country Music Hall of Fame in 1993 and the Songwriters Hall of Fame in 2001. He has appeared in more than 30 films including my personal favorite the 1979 romantic drama "Electric Horseman" which included Willie Nelson songs almost exclusively.
Along with his many awards Willie Nelson received the Gershwin Prize for Popular Song, established by the Library of Congress. In his honor, a packed auditorium gathered at Constitution Hall in Washington DC on November 18, 2015.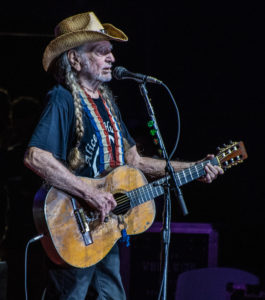 It was a special night with fellow Texan Don Johnson as Master of Ceremonies, Neil Young, Paul Simon, Cyndi Lauper, and a dozen other amazing performers covering some of Willie Nelson's greatest songs. At the end of the incredible 90 minute show, Willie himself took the stage, with his two sons and many friends, and he performed three wonderful songs.
Willie could have played On the Road Again, To All the Girls I've Loved Before, and Crazy, and left it at that. It was his night, receiving one of the highest honors the country can bestow on a songwriter. But what made this night really special was Willie Nelson knew that the House of Representatives had just hours before the concert, passed a terrible slam-the-door-in-their-face bill to block the entry of Syrian refugees.
Images of their suffering had been in the news for weeks. One image of a drowned three year old child on a Mediterranean beach while seeking safety, had probably tugged at Willie's heart. The United States Congress had just turned its back on them and many of the leaders of this Congress were sitting in his audience.
So Willie Nelson saved his best for last. He reached deep down in his personal playlist, and pulled out a song written nearly three decades earlier. His last song that night was a musical middle finger to those who had voted, just a couple of hours earlier, to turn away people in danger and in desperate need.
The song is called "Living in the Promiseland":
Give us your tired and weak,
And we will make them strong.
Bring us your foreign songs,
Leave us your broken dreams,
We'll give them time to mend.
There's still a lot of love,
Living in the Promiseland.
Is there no love anymore?
Living in the Promiseland."

Willie Nelson wrote and recorded Living in the Promise Land in 1986 and it fit perfectly into that evening and the 2015 political environment. The audience went absolutely wild. Willie chose to make a statement as he was being celebrated. I stay out of politics most of the time but I'm with Willie on this one. We are all fortunate to live in this promised land and there is still a lot of love here. God Bless Willie Nelson. It reminds me why I love music.
There are a few more versus but this gives you an idea what the song was about. You should listen to the entire concert on PBS.Org — Gershwin Award
There are no comments yet, add one below.